Everton sack Sam Allardyce: Why owner Farhad Moshiri now faces defining moment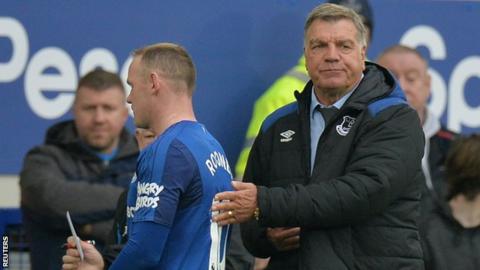 Everton owner Farhad Moshiri faces the defining moment of his stewardship at Goodison Park as he starts the search for a successor to sacked manager Sam Allardyce.
It was only 12 months ago that Moshiri was preparing to bankroll the biggest spending spree in Everton's history under Ronald Koeman, a manager he made it his mission to secure from Southampton.
Now, after a joyless season of underachievement and growing fan unrest, Moshiri must rip up his first blueprint for success and start again.
Why Allardyce had to go
Allardyce's sympathisers were swift to use Everton's eighth-place finish in the Premier League as justification for their belief he had been treated harshly by Moshiri.
There is no doubt the 63-year-old accomplished the job he was asked to do when he was effectively last man standing in Everton's flawed pursuit of a manager five weeks after Koeman's sacking.
The former England boss started effectively but then encountered a familiar problem - hostility from his own fanbase as a result of a style of play that was perceived as pragmatic at best and deadly dull at worst.
Everton's losses away to Watford and Burnley, following heavy defeats at Tottenham and Arsenal, brought the ill-feeling to the surface and Allardyce was simply never going to win the fans over as he became the subject of regular abuse from the stands, including banners demanding his removal.
| Everton under Allardyce in the Premier League | Stats | Rank |
| --- | --- | --- |
| Goals | 27 | 11th |
| Shots | 213 | 20th |
| Average possession | 44.2% | 13th |
| Passing accuracy | 72.9% | 16th |
| Clean sheets | 8 | 6th |
| Goals conceded | 30 | 8th |
| Points | 34 | 8th |
Allardyce was also not helped by a PR blunder in which the club asked their own fan panel to rate his performance on a scale of one to 10 - the results of which were never going to be flattering.
Their season fizzled out as it became clear Allardyce would not survive, his fate probably sealed by Moshiri's presence at home games, particularly the 1-1 draw against Southampton when fan discontent was at its height.
This was a loveless association borne out of Everton's desperation and Allardyce's availability in November and has carried the feel of a temporary arrangement for the past three months.
Moshiri will have known he was risking a toxic summer, and season, had he kept faith with such an unpopular figure - a combination that only ever ends one way.
Why has Moshiri's blueprint gone wrong?
Iranian billionaire Moshiri's purchase of a 49.9% stake in Everton in February 2016 brought a wave of optimism that was built on the appointment of Koeman and a seventh-place finish in the Dutchman's first season that secured Europa League qualification.
This was followed by a summer outlay of £150m to secure signings such as £30m goalkeeper Jordan Pickford from Sunderland, defender and fellow England international Michael Keane from Burnley for £25m and Iceland midfielder Gylfi Sigurdsson, who was a £45m club-record purchase from Swansea.
Moshiri was then let down by the failure of director of football Steve Walsh, who has been a huge disappointment and is also under threat, and Koeman to replace leading scorer Romelu Lukaku after the Belgium striker was sold to Manchester United in a deal that could eventually be worth £90m.
The Toffees' squad lacked pace and width and was not helped by a transfer strategy lacking in structure and logic, with £24m Netherlands international Davy Klaassen - a flop - Sigurdsson and the returning ex-England captain Wayne Rooney all effectively lining up to play in the same number 10 role.
The seeds of failure were sown then, and not helped by a fixture list that included visits to Manchester City, Chelsea and Manchester United in the first six games.
The pieces were in place for a season almost totally lacking in excitement and hope, the make-do-and-mend appointment of Allardyce exposing Moshiri's own failures as Everton became involved in an acrimonious stand-off with Watford over their approach for Marco Silva, which ended with a legal threat from the Hornets demanding the pursuit be ended.
Put simply, Everton's season has lurched from shambles to acrimony in the space of nine months and now Moshiri is effectively having to start all over again.
Moshiri's pressing problems
Moshiri has wasted no time in tackling the many items piling up in his in-tray, from the boardroom reshuffle which sees the safe in-house appointment of Denise Barrett-Baxendale as chief executive to replace the departing Roberto Elstone to sacking Allardyce.
He still has much to do - not least leading on the appointment of Allardyce's successor, with Silva now firmly back in the frame.
The arrival from PSV Eindhoven of Marcel Brands as the club's new director of football is imminent with Moshiri hoping he can rekindle his success in the Netherlands.
Walsh is likely to make way, although a return to his speciality of scouting is a possibility having used his expertise to help assemble Leicester City's 2015-16 Premier League title-winning squad.
And the backdrop to all this is the question surrounding Rooney's future at Everton, with a £12.5m deal agreed in principle with Washington-based MLS side DC United but the 32-year-old waiting to see what transpires at Goodison Park before making his move.
Everton are also looking to make progress on their new stadium at Bramley Moore Dock, very much the centrepiece of Moshiri's long-term ambitions.
These are all pressing issues for Moshiri - and issues he must resolve quickly.
Has Moshiri got what it takes?
Moshiri has kept a low-profile since arriving at Everton, with interviews scarce and delegation often the order of the day.
Now, though, the first serious questions are being asked about how he will take Everton forward and it may be time for the fiercely ambitious billionaire to demonstrate he will lead from the front and place a sure hand on the running of the club.
Moshiri still has a large fund of goodwill among Everton fans because of his obvious willingness to invest in the squad, riches they were never able to enjoy under chairman Bill Kenwright's ownership, and his determination to build a new stadium on the banks of the River Mersey.
Now, in the short-term, he has to start getting all of Everton's big decisions right after a season that did not even qualify as an anti-climax after the high hopes of last summer.