David Hopkin adds new chapter to story of Livi's rise, fall and rise again
Last updated on .From the section Livingston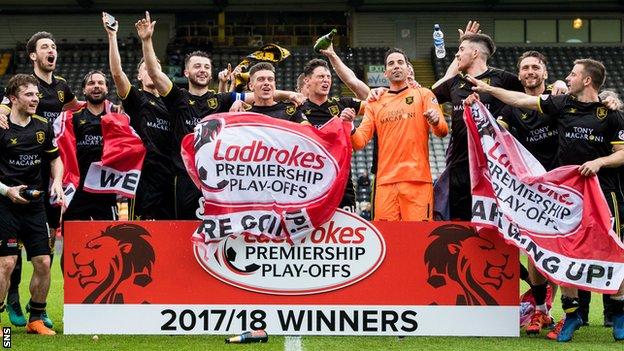 After 12 years littered with regrets and despair, Livingston have returned to the top flight.
Defeating Partick Thistle in the Premiership play-off final secured back-to-back promotions for a side that had become accustomed to toil.
Livingston once rose from the bottom tier to the Scottish Premier League in just six seasons, but then there were relegations, financial crashes and a prolonged period of exile.
"It's a magnificent achievement," said manager David Hopkin in the aftermath of the 1-0 Premiership play-off final second leg win over Partick Thistle.
"Two promotions in two years is fantastic. The club deserves it. We've worked hard to try to get the fans back.
"I'm delighted for everybody connected. I didn't expect it to happen and this is the hardest way to go up."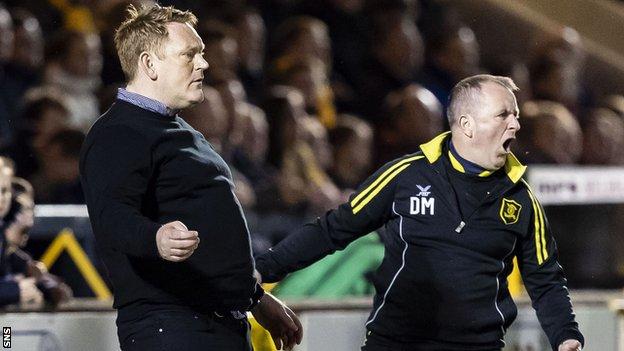 Hopkin has been part of the Livingston story for three years, but he will know what went before, what the club has been through.
After rising from the Third Division in 1995-6 to the Scottish Premier League in six seasons, Livingston achieved a third-place finish behind the Old Firm, a dalliance with European football in the Uefa Cup, and a Scottish League Cup trophy in 2004.
But things turned sour fast. Shortly after lifting their first piece of major silverware, Livingston fell into administration, and it was not to be the first time.
A period of relegation, administration part II and further demotion spelled out a frustrating time for Lions fans, with managers and shareholders keeping the front doors of Almondvale revolving.
And on the pitch, players like Spanish international and long serving Barcelona midfielder Guillermo Amor were on the team sheet.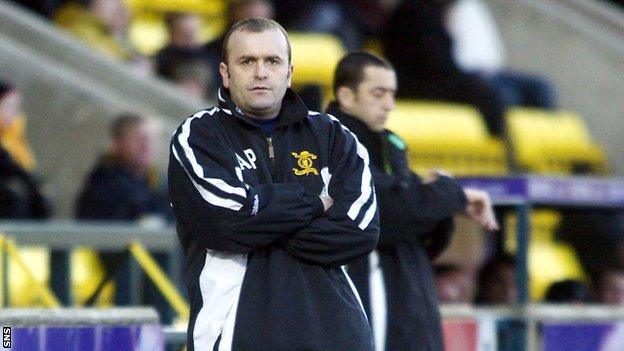 "They were spending money they couldn't afford and that happened to a lot of clubs," explained Allan Preston, the manager back in 2004.
"But that didn't concern us, we weren't the money people, we were just there to do our job and did it well - we finished third, we won the League Cup after administration."
It was in League One and under Hopkin that Livingston found their feet, and before long the former Chelsea, Crystal Palace, Leeds and Bradford midfielder had them back to winning ways.
In the 2016-17 season, they took the title and did so comfortably with a 19-point gap at the top of the table, and continued this form in the Championship.
"The last few weeks have flown by really," said Livingston director John Ward, who admits they were not necessarily planning an attempt at promotion.
"We knew had a decent team, we kept the team together just after we got relegated the season before last and took the decision to keep them full-time.
"They ran away with the season last year and watching them I was fairly confident that team wouldn't be relegated - they're a really good team and worked together really well."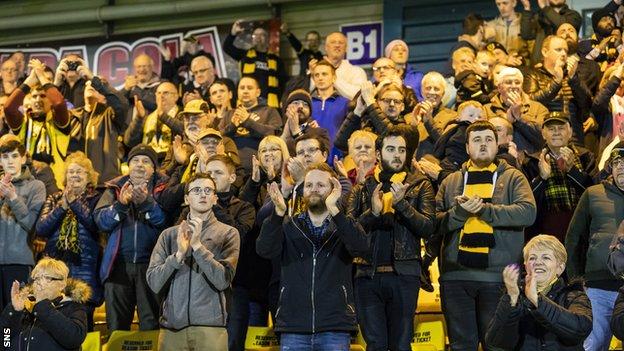 For a club with such a chequered period since the millennium, Ward believes under the current head coach that the fans, club and community have a cause they can back.
"Given where the club were and certainly during their last administration they were almost toxic, the board had abused their relationship with the council who were their landlords, they'd lost the good will of the community and I that's what's caused the decline in fan numbers and sponsorship," he told BBC Scotland.
"It's incredible really. You can physically see it, [Hopkin is] not doing anything magic it's just hard work and making sure the guys follow routines."
Hopkin has added to the Livingston story and he doesn't want this chapter to end yet. He is out of contract and due to hold discussions about his future with the club now that the season is over.
"Sometimes it just takes someone to come in and get players believing in themselves," he said.