Charly Musonda: Chelsea man cuts short Celtic loan stay after eight appearances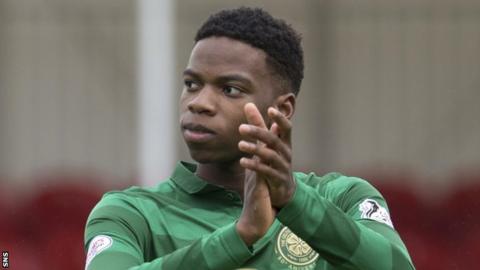 Celtic manager Brendan Rodgers has confirmed midfielder Charly Musonda has returned to Chelsea.
Musonda, 21, joined Celtic on an 18-month loan in January and featured in eight matches this season.
However, the Belgian has cut short his stay in Glasgow to go back to London.
"He was a joy to work with, wanted to learn, but he's at the age where he needs to be playing week-in, week-out and unfortunately I couldn't promise him that," said Rodgers.
"I met with Chelsea on Monday. Charly's contract was set in that there was a review at the end of the season, whether they wanted to take him back. The idea for Charly to come out [on loan] was to play as many games as he possibly could.
"Between us both we were thinking he may not get the games that they would like him to get for next season. My job when I bring in young players is to give them the environment, and hopefully give them as much game time as I possibly can.
"If that doesn't happen then of course we don't own the player.
"He's a terrific young player. I think the level the team has been playing at has been difficult at times for Charly to get in. But there's no doubt he's a talent and I'm sure next year he'll go on and hopefully get the games that he wants."
Rodgers, who has had Patrick Roberts at Celtic on loan from Manchester City, says he will not rule out heading south of the border in future to bring in loan players.
"It always has to be a possibility," he added. "The finances will always dictate what we can bring in. My first look is always at our own, at the young Scottish players here or at another Kristoffer Ajer [the Norway and Celtic defender].
"However, Patrick Roberts is a brilliant example of what a young player can do. Moussa Dembele has also come in as a young player [from Fulham]."