Shrewsbury Town: League One club can earn huge cash increase with promotion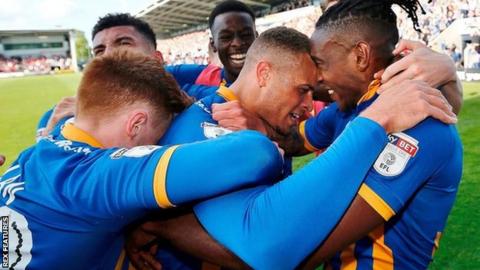 Winning promotion in the League One play-off final at Wembley on Sunday would mean a huge increase in Shrewsbury Town's annual turnover.
Shrewsbury chief executive Brian Caldwell says they would do that just with extra money received from the English Football League.
"The central money from the EFL in the Championship is around the £7m mark," Caldwell told BBC Radio Shropshire.
"Currently we get £1.4m. There is also a TV fee we don't get in League One."
Shrewsbury, favourites for relegation at the start of the season, are now just one victory away from a place in the Championship.
And if they can break their hoodoo of never having won at Wembley in four previous visits, the most recent against Lincoln City only last month, the rewards for beating Rotherham United would be a lot greater than they were when Graham Turner first took Town to the second tier in 1979.
'A different ball game'
"Financially, it's a totally different ball game," said Caldwell.
"We have a solid financial footing. We have a healthy bank balance.
"I know what Northampton's budget is and Bury's. They're two teams who have gone down with higher budgets than us.
"We've proved this season you don't necessarily have to have the biggest budget in the league, if you look at what Paul Hurst and Chris Doig have done this season and how hard the players have worked to achieve it.
"But to go from £1.4m to £7m would change a lot of things.
"We've spent quite a bit on fees this season, on the likes of Omar Beckles and Stefan Payne. But it's still a stab in the dark as to what you'd need. You've just got to try to put as much as you can into the wage structure."
'Some of the figures are frightening'
However, teams teams dropping down from the Premier League into the Championship for next season will bring £35m worth of parachute payments with them and almost every club in the division have crowds that dwarf the 10,000 capacity at at the Meadow.
"Some of the figures I've heard are quite frightening," said Caldwell. "I heard that Derby's wage bill was £35m.
"Some teams are really gambling to get in the Premier League. From £7m in the Championship to £180m in the Premier League, League One and League Two really are the paupers of the EFL.
"In League One next season, Sunderland will have a massive advantage with their huge parachute payment from two seasons ago."
But the Scotsman, who came to Shropshire from St Mirren in 2016, points out that the riches in England's second tier still outweigh what is on offer north of the border.
"Celtic will get £3m for winning the Scottish Premier League," he said. "In the Championship that goes to £7m. Even us, at £1.4 m, you have to look at finishing fifth or sixth in Scotland to get that sort of money."
Shrewsbury at Wembley: P4 L4
14 April 1996: Rotherham United 2-1 Shrewsbury (Auto Windscreens Shield final)
26 May 2007: Bristol Rovers 3-1 Shrewsbury (League Two play-off final)
23 May 2009: Gillingham 1-0 Shrewsbury (League Two play-off final)
8 April 2018: Lincoln City 1-0 Shrewsbury (Checkatrade Trophy final)
Hurst's Rotherham reunion
Shrewsbury Town manager Paul Hurst was once a fans' favourite at Rotherham after his long playing-career there - and remains good pals with Millers manager Paul Warne, with whom he shared a dressing room for six years.
"Warney's a great guy, as is his assistant, Richie Barker. In fact, there's a lot of good people there. There's one guy who was a commentator when I was playing and we we had our successful times, reaching the Championship. He still messages me after every game. But we all know that goes out of the window," said Hurst.
"When we won at their place earlier in the season, there were a few who seemed to forget that I had played at the club for some time. But, it doesn't matter who you're playing for or against. We all know it's an emotional game we're involved in at times."
Given that Shrewsbury were last in the bookmakers' betting lists back in August, he also refutes the notion that there was an air of inevitability about being paired with his old club.
"People might have said that at the start of the season about Rotherham, but not about us" he said. "Anyone who had said then that we might go up we'd have had them taken away by people in white coats."
'I take the dog for a walk'
As it was, after flirting with automatic promotion and remaining in the top two for much of a memorable campaign, Shrewsbury have already over-achieved.
And although slightly frustrated at the job not already having been done, Hurst made it quite clear that his confident team would rather be at Wembley than on the beach.
"I've bumped into a few managers who have been away already," he said. "They get that in to make you envious but, when there's a prize as big as this at stake, there's not too many complaining that we're still in training.
"In any case, it's always so difficult to get a proper down period in this job. There's always something flying around your head.
"I just try to watch a bit of TV, watch a bit of football, watch a bit more football and take the dog for a walk."