Champions League final: Liverpool fans' innovative journeys to Kiev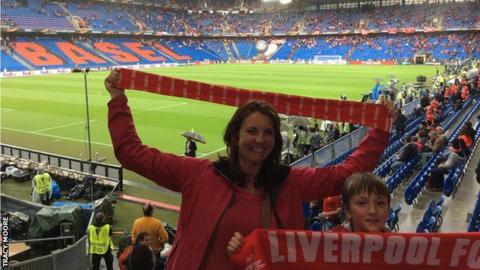 A Champions League final against Real Madrid is a pretty big deal and some diehard Liverpool fans are willing to do just about anything to get there.
From couch-surfing with the locals, to risking your own honeymoon, and detours through Scandinavia - the road to Kiev is proving to be more complex than most anticipated.
BBC Sport spoke to some Reds fans who are going to extremes to see their team play in Ukraine on Saturday.
The Champions League final...via Sweden?
Flight prices soared when the final was confirmed. Some fans opted to take direct chartered flights from Liverpool to Kiev. Others, however, will be facing a much lengthier journey...
Rameez Tahir, 22, from Chesham, Buckinghamshire: I am travelling across four countries over four days: Sweden, Latvia, Ukraine and Lithuania and then back to London on Monday. Each trip one way worked out cheaper than the other flights to roughly a total cost of £610. Accommodation has been free due to the kind people of Ukraine opening up their apartments as part of the "Free couch for Kiev" Facebook campaign. I am also fasting for 19 hours a day due to the religious month of Ramadan over that period - like Mo Salah and Sadio Mane.
John Dixon, 39, from Bebington, Wirral: I'm leaving on Thursday at 12pm. I'm getting the train to Glasgow from Liverpool Lime St, flying from Glasgow to Palanga in Lithuania, then hiring a car to drive to Vilnius airport - about three hours across Lithuania. Then we fly from Vilnius to Kiev, landing at 9am on Friday. We booked before the Roma second leg so paid £100. We don't return until the Tuesday after the game as anything else was too dear. The return is flying via Romania which was quite simple and was £200 for three of us the travelling this route. We all got lucky in the ballot and we are all 40 in the week before and after the game. Hopefully we will be celebrating with title number six!
Tom Whitehead, 22, from Heysham, Lancashire: I'm taking eight trains to get from Lancaster to Kiev - via Paris, Frankfurt, Dresden, Wroclaw, Krakow and Lviv. I bought all the tickets separately and it came to around £400 and it's taking four days. I'm setting off on Tuesday.
Jake Norris, 30, originally from Australia: I'm travelling from Hanoi, Vietnam, via two stops in Moscow and Minsk to get to Kiev. It's costing me upwards of £1,500 at this stage. I'm living in Hanoi at present, teaching English. I couldn't miss the opportunity to hopefully see Liverpool win number six! I would have flown from anywhere in the world to see this game.
'I might miss my own honeymoon'
Steven Thompson, 33, from Chorley, Lancashire: I get married the day before the final. I paid £1,050 for a return flight that gets back at about 5.30am on Sunday (hopefully), then we go on honeymoon at 9am. The ticket cost £140... and potentially one marriage. My fiancée Rachel has known about it for months. She's probably secretly been hoping we'd get knocked out. She says she's not too bothered but I think she'd be quite annoyed if I miss my flight on the Sunday morning. The honeymoon is in Australia, so my contingency plan is to get a later flight and meet her there. There's a flight an hour later, or failing that one in the evening or next morning that would get me to Brisbane a day after her. Hopefully she doesn't go shopping with all the spends while I'm not there.
Ryan Stuart, 23, from Wirral: I'm in Greece for my sister's wedding. I'm travelling from Rhodes at 6.40am on Friday 25th to Athens, then I have a six-hour wait in Athens. I'm then flying to Kiev where I arrive at 8pm. I'm staying over that night, watching the game, then I need to be at Kiev airport at 8am to fly back to Athens. I've got to wait another six hours in the airport, then I have to fly to Rhodes and I get back there for 10pm. I'll then travel the hour and a bit back to Lindos and the wedding is on Wednesday 30th. My sister is not happy. We had been joking and singing about going to Kiev for months, not knowing it would actually happen. I wanted to take the groom and he was all in... she was not. Hopefully the flights aren't delayed and I get to see the actual wedding!
'Only three out of five of us got tickets in the ballot'
With the demand greatly outweighing the 16,000 tickets Liverpool were allocated for the final, thousands of Reds fans were left disappointed. But, ticket or not, many are still making the trip to Kiev.
Mark Dalton, 51, from Chester: I'm leaving Widnes by coach at 9am on Thursday 24th. It's a 1,750-mile journey and includes a stop-off in Poznan for two and a half hours to change drivers. I don't have a ticket yet as I gave mine to my 15-year-old son Matthew. I'm still praying I'll get one!
Jake Chesworth, 23, from Aberdyfi, Wales: Me, my two younger brothers, my dad and my uncle are all making the trip over to Kiev. It all began after we beat Manchester City. We'd been to Basel a couple of years prior and found out how difficult it was to get cheap flights and accommodation to the final. So I took a chance and booked flights, trains and accommodation for all of us. No free cancellation. We leave on the Wednesday, fly from London Stansted to Warsaw, have a six-hour wait in Warsaw until we catch the overnight sleeper train to Kiev. We're then spending four nights in a hostel in Kiev. We leave Kiev on the Monday night on the overnight train to Warsaw and fly to London on the Tuesday. We each paid £120 for the flight, £100 for the train, and £50 for the hostel, so not bad. The only issue is that only three out of five of us got tickets in the ballot, so I've been practising my coin toss and rock-paper-scissors skills ever since!
Ivan Mulla, 46, from Liverpool: It's been a nightmare. I'm flying from Leeds to Rome then from Rome to Kiev. The return is from Kiev to Ankara and then Ankara to Antalya then Antalya to Leeds. I'm meeting my son in Kiev who is flying from Adelaide. We don't have match tickets as of yet but we are still hopeful! This behaviour may seem strange but when you're born a Red it's pretty normal.
Louis Lovett, 15, from Crosby, Liverpool: I'm travelling from Manchester to Dusseldorf with my dad, before staying the night in Cologne and then going from Cologne to Kiev. We are staying in Kiev for three days - one without a hotel - and don't have any tickets yet! It cost £1,400 for us both, which isn't the ideal situation but the Reds are in another European Cup final.
'We're staying with some Ukrainian lad'
With most hotels booked up and others charging extortionate rates, some fans have resorted to fully immersing themselves in Ukrainian culture as a cheaper alternative...
Neil O'Flynn, 44, from Lincoln: I live in Lincoln, but I'm travelling to London Stansted on Thursday to catch the plane to Katowice, then I'm getting bus to Krakow where I will stay on Thursday night. On Friday morning, I'm getting the train to Lviv where I will stay the night, and on Saturday morning, I'm getting the train to Kiev and will stay the night with a Ukrainian lad who's put us up on the night of the final, which we found out about through a Facebook page set up for fans struggling to find hotels. On Sunday morning, I'm getting an 11-hour train back to Krakow and I'm staying there overnight before flying home on Monday to Stansted and then doing the car journey back to Lincoln. It cost £350 each and there are four of us going.
Luis Guillen, 26, from Garden Grove, California: I'm flying from California to Germany then from Germany to Kiev. I spent $1,200 for the flight and $2,600 for a match ticket from Stub Hub. I'm renting a room in a flat located in Kiev for five nights for $200, so it's the most expensive trip ever but hopefully it's worth it!
Mum and son on tour
One mum is embarking on a "mum and son adventure" with her 11-year-old. The pair have driven thousands of miles to follow Liverpool, and previously travelled to Basel for the 2016 Europa League final between Liverpool and Sevilla.
Tracy Moore, 46, from Dorchester, Dorset: I'm picking my son Freddie up from his school residential trip a little early at 1pm, before driving from Poole, in Dorset, to Bristol Airport for a flight to Rzeszow in Poland. From there, we are taking a bus across the border to Lviv in Ukraine. At 6am on Saturday we take a train to Kiev. The reverse journey on Sunday leads us to Warsaw in Poland and we land back at Bristol on bank holiday Monday. We went to all home games this season, driving thousands of miles from our home in Dorset, and ended up with two final tickets which have been given up by a fabulous fellow Red who couldn't organise travel. I will be forever grateful. It's a proper mum-son adventure.