Real Madrid v Liverpool: Sergio Ramos - the Real talisman who can hurt Liverpool
By Eduardo Alvarez
Spanish football writer
Last updated on .From the section European Football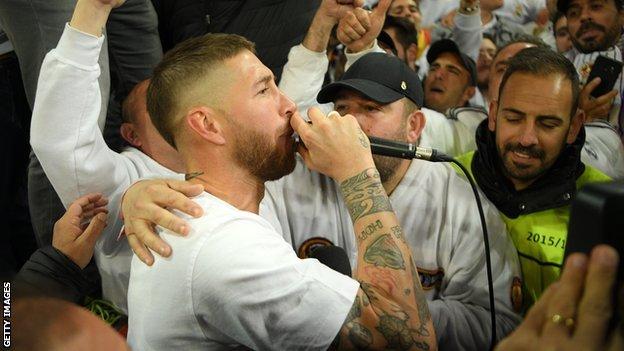 It was the moment that said everything about the relationship between Sergio Ramos and Real Madrid.
There he was, the 32-year-old defender, veteran of more than 150 caps for Spain, winner of just about every honour in the game, in among the fans, singing and celebrating with them.
The second leg of the Champions League semi-final between Real Madrid and Bayern Munich had finished half an hour earlier at the Bernabeu, the Spanish team through to their third successive final after a 4-3 aggregate victory.
The Grada Fans - the supporters' group who occupy the seats behind the South End goal - were still there and when Ramos heard, he and his team-mates left the dressing room to join them.
Ramos jumped over the advertisements behind the goal, grabbed the microphone and led the remaining 2,000 fans to sing "Reyes de Europa, somos los Reyes de Europa!" (We're the kings of Europe!), a chant reserved for memorable Champions League victories.
Ramos even started another Bernabeu favourite, "Cómo no te voy a querer" (How could I not love you).
It was a moment that exemplified the deep connection he has developed with most Real Madrid supporters.
Only a select few Real Madrid legends have managed to build such a remarkable emotional attachment with the fans.
Ramos has reached the levels of forward Raul Gonzalez, who celebrated with a bullfighting routine, and even the much-missed Juanito.
Juanito is a Real Madrid legend. Tragically killed in a car crash at the age of 37 in 1992, fans loved him so much that he's remembered on the seventh minute of every match at the Bernabeu with a song that simply consists of his nickname, "Illa, Illa, Illa, Juanito Maravilla" (Vel, vel vel, Johnny Marvel).
His feisty temperament, his desire to win and love for the club saw the fans take him to their heart.
It is now the same for Ramos, but it has not always been that way.
The positional switch that saw Ramos reborn
Ramos arrived from Sevilla for 27m euros in 2005 when he was just 19.
"No defender in the world is worth all that money," Sevilla's president Jose Maria del Nido famously remarked after the transaction was complete.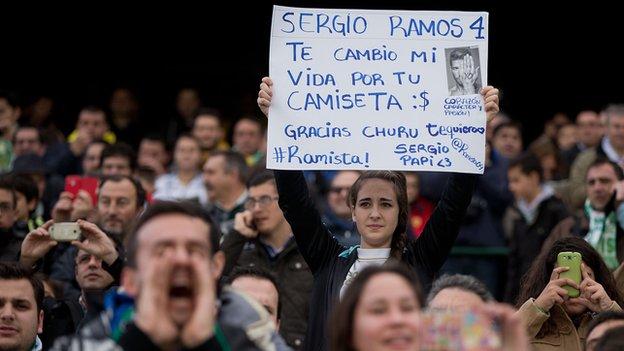 Ramos' lack of tactical discipline led a sizeable part of the Bernabeu faithful to wonder at first whether he was serious enough for Real Madrid.
Always talented and impressively fit, something nonetheless seemed slightly off to the eyes of the average fan.
Ramos spent most of his first six years at the Bernabeu playing as an attacking full-back.
At times he starred in moments of glory - such as the sequence of comebacks at the end of the 2006-07 season that gave Real Madrid another La Liga title.
But he was also involved in catastrophe - a good example being his defensive performance in the 6-2 defeat at the hands of Barcelona in 2009, where he chased the shadows of Thierry Henry & co.
However, Ramos' place at Real changed forever in October 2011.
Jose Mourinho used him as a centre-back in a match against Espanyol to cover for the injured Ricardo Carvalho.
Ramos started the next seven matches in that position and Real Madrid conceded just once.
"That was the key for Sergio to become the player we know today," said Fernando Hierro, another Real Madrid legend from whom Ramos inherited Real Madrid's number four shirt.
"He'd played as a centre-back before, but just as a stand-in. Thanks to those few matches in a row, he started to develop a tactical awareness he didn't have as a full-back, gained importance in the central axis of the team, became more vocal with his team-mates. That move made him click."
The move turned him into a more focused, dependable defender who became a leader at the back.
Ramos is a natural leader, a characteristic that most of his coaches have been quick to highlight.
Sevilla's Joaquin Caparros said: "You could see he was a leader since he was a kid."
Former Real Madrid coach Carlo Ancelotti even went a bit further: "Ramos has everything that Italian Paolo Maldini had: his persona, his technical skills, his ability to lead on and off the pitch."
'A defender with a striker's soul'
And then there are the goals.
Lots of them and not just any kind of goals, as Ramos has always found a way to score a few every season. He's now reached 77 goals in his career, a number that could easily reach three digits before he retires.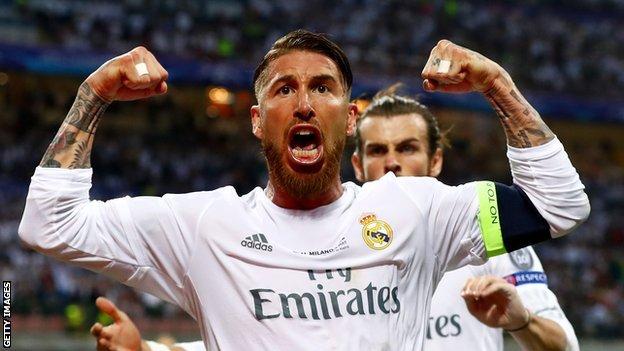 But the latter years of Ramos's career has seen him score an incredible number of crucial, game-changing and, in some cases, season-defining goals.
You could argue it all started at the Allianz Arena in Munich, in 2014, when Ramos scored two headers in the space of four minutes that saw Pep Guardiola's Bayern Munich lose another Champions League semi-final.
Then came his memorable equaliser after 92:48 minutes of the final against Atletico Madrid that same season, the one that led him to tattoo '92:48' on his body.
"I'm thinking of starting him as a striker," said Ancelotti, only half-jokingly.
Ramos scored again in the 2016 Champions League final against Atletico, and in the subsequent Supercup final against Sevilla, then in the Club World Cup semi-final and the final.
| Sergio Ramos - what he has won with Real | |
| --- | --- |
| La Liga | 4 |
| Champions League | 3 |
| Super Cup | 3 |
| Uefa Super Cup | 3 |
| Copa del Rey | 2 |
His equaliser at Barcelona's Camp Nou during a key La Liga match last season - another key goal in the dying minutes of the match - gave the team a much-needed draw to keep pushing for a title they would end up winning.
That year saw Ramos score 10 times in 44 matches, remarkable numbers for a defender.
"Ramos' goals are illogical, but football isn't logical," observed Ancelotti.
The belief that Ramos will score when the team needs a goal most is the reason behind Ramos' tribute song at the Bernabeu.
"Si marca un gol, si marca un gol, si Sergio Ramos marca un gol" ("Yes, score one goal, yes, score one goal, yes Sergio Ramos score a goal" sung to the tune of 'When the saints go marching in').
It is always chanted when Real Madrid are about to take a set-piece.
Ramos describes himself as a "defender with a striker's soul", one that idolised no other than Argentine striker Claudio Caniggia when he was younger.
The man who can break Liverpool's hearts?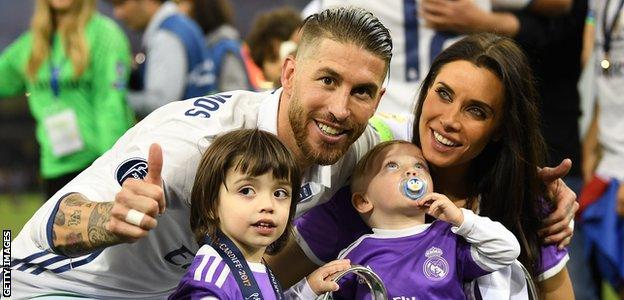 Ramos, a father of three who is married to the Spanish TV star Pilar Rubio, is far from perfect.
He has been sent off 24 times, missed five penalties for Madrid, the latest just two weeks ago in Sevilla, and famously dropped the Copa del Rey trophy off the celebration double-decker bus, which then ran over it, back in 2011.
But even his shortcomings have become positives in the eyes of the fans, since they are seen as by-products of his hunger to win and his authenticity.
His affair with Manchester United, who almost signed him in the summer of 2015, becomes a case of "Sergio saw the light" among the fans and turned into another reason to root for the skipper.
And in Kiev on Saturday he could further strengthen his bond with the club's fans if he can keep Liverpool's much-vaunted forward line in check.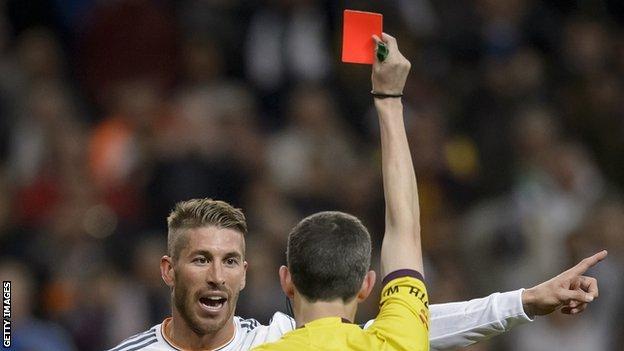 Mohamed Salah will try to take advantage of left-back Marcelo's tendency to push forward.
It will be left to Ramos, who plays alongside Marcelo in Real's back four, to cover for the Brazilian and take care of the Egyptian star.
Ramos is not as fast as he used to be, and in a previous encounter when Salah played for Rome in 2016, the Egyptian showed that he was remarkably quicker than Ramos.
However, the Spanish defender has improved positionally the longer he has played in the centre of defence and, according to his own words, he is not afraid of Salah: "He's just one of 11 players," Ramos said when asked about the striker.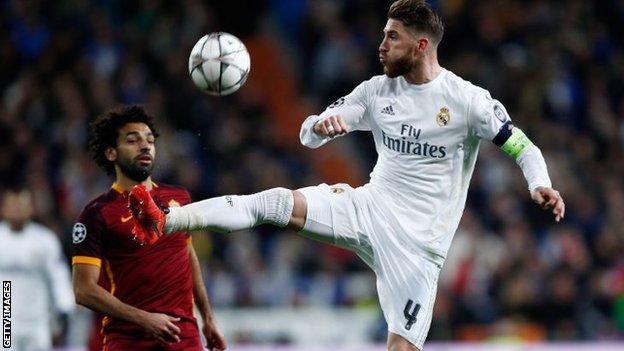 Zinedine Zidane's rotation policy has helped Ramos reach the end of the season in great shape, having been regularly rested in La Liga matches this season.
And perhaps Liverpool's focus on Ramos should be further up the field.
The defender has not scored in the Champions League since he struck against Apoel Nicosia in a group match back in September. But who would be against him scoring on Saturday?