FA Vase: Thatcham Town beat Stockton Town 1-0 to win title for first time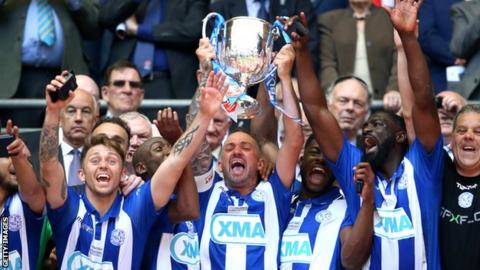 A Shane Cooper-Clark penalty helped Thatcham Town beat Stockton Town and win the FA Vase for the first time.
The Hellenic League champions led midway through the first half after winger Jordan Brown was brought down.
Cooper-Clark, who has scored more than 60 goals this season, almost had his spot kick saved by Stockton keeper Michael Arthur's right hand.
It proved enough as three last-ditch clearances on Thatcham's goal line denied Northern League Stockton a goal.
Victory at Wembley capped-off a remarkable season for west Berkshire club Thatcham in which they went 41 matches unbeaten in all competitions.
They were forced to cling on in the closing stages as Stockton, from Teesside, forced a succession of corners but could not find a way through.
Thatcham should have doubled their lead midway through the second half when Gavin James struck the underside of the crossbar from just six yards out. Goal line technology showed the ball was inches from crossing the line as it bounced back down.
Then in the closing moments of stoppage time, Ross Cook saw his goal-bound effort cleared by Matthew Garbutt who raced back for Stockton after they had thrown everyone forward in search of a leveller.
Thatcham Town manager Danny Robinson:
"It's unreal and unbelievable. An absolutely great feeling.
"We had to dig in at times, but I think on the balance of the game, we deserved it.
"Full credit to everyone at the club, we've all been part of this victory and it's all for them.
"To have someone like Shane in the side, he handled the pressure well and took that penalty very calmly."
Thatcham Town goal scorer Shane Cooper-Clark:
"It's the best season I've ever had and I don't think I'll ever have a better one.
"But, what an achievement for all of the lads. Everyone has been brilliant this year to win the league and then to win this, just caps it all off really.
"To get the winning goal here, I just can't put into words how it makes you feel.
"I was very nervous standing over that penalty, but I just wanted to make sure I hit the target and it went in in the end."
Stockton Town manager Michael Dunwell:
"The players couldn't have given any more and in the second half, we're immensely proud of what they did.
"Maybe with a little bit more luck, it would've gone our way and we'd have nicked a goal. Had we got one, I think we'd have gone on to win it as their legs were tiring more than ours.
"First half I thought we were poor and sloppy and that's where the goal came from, but we'll dust ourselves down and commiserate this evening."