FA Cup final: Chelsea need to convince Eden Hazard to stay - Alan Shearer

By Alan Shearer
Match of the Day pundit at Wembley
Last updated on .From the section FA Cup271

Whatever happens next with Antonio Conte, Chelsea need to sort out Eden Hazard's future too - and try to convince him to stay at the club.
The Belgium forward has got two years left on his contract but he knows that if he wants to leave, he can do.
Real Madrid and Manchester City are supposedly interested, and understandably so. He showed again he is a game-changer with his winner in the FA Cup final on Saturday and he is good enough to go wherever he wants to.
When Chelsea won the Premier League under Jose Mourinho in 2015, Hazard was voted the PFA Player of the Year and I felt he had the potential to go on and become the best player in the world.
That can still happen. At 27, this is a big World Cup for him and if he wants to showcase his abilities to get a move then he has got the perfect stage, because there is no bigger or better place.
He has not been as effective this season for Chelsea as he was last year - but none of the Blues players have been.
Hazard was still the one who did something special to beat Manchester United at Wembley on Saturday and now he has a great opportunity to make a real impact in Russia this summer too.
Hazard waiting to see who Chelsea's manager will be
I can understand why Hazard is not committing to anything at the moment, because he wants to know what is going on with Chelsea's manager situation first.
It looks increasingly likely that Conte will not be in charge of the Blues next season - but, whether he stays or goes, they need to sort it out quickly.
If there is going to be a new manager, he can come in and plan - not only for which players are coming in, but also who might be leaving - including Hazard.
So, it is a crucial time for Chelsea, and not an easy one.
If they want to keep Hazard, they will probably need a manager he wants to play for and they will have to attract him - and any potential signings - without the carrot of Champions League football.
In terms of new players, Chelsea have to do better than last summer when they did not get their recruitment right.
I have heard a lot of Conte's interviews this season where there have been little digs here and there about the players who came into the club last year, and whether it was with his consent.
The players picked up on that and that gave them some sort of excuse for not performing as well as they did when they won the title in his first season in charge.
Having said that, if Conte does leave Stamford Bridge in the next few weeks, then he is going as a successful manager with a league title and FA Cup from his two seasons in charge.
As I said before Saturday's game, he would love to put the FA Cup on his CV and get one over Jose Mourinho at the same time. He has done both.
Finishing empty-handed a big blow for Mourinho
The success of Chelsea and United's seasons depended on them winning the FA Cup, so for Mourinho to end the campaign empty-handed is a big blow.
Yes, he has taken United from sixth to second place in the Premier League but that football club is all about winning trophies and in style.
Mourinho won two in 2016-17 - the Europa League and League Cup - so he will be bitterly disappointed he has not taken any silverware back to Old Trafford this time.
The way Chelsea kept his side out in the second half at Wembley clearly frustrated him but I would still ask the question why he waited until then to play on the front foot?
United were terrible in the first half and offered absolutely nothing. But they were much better after the break, when they started getting behind the Chelsea defence. It was too little, too late.
Romelu Lukaku was only fit enough to come on as a substitute with 20 minutes left and, in his absence, Mourinho felt his side lacked a presence in attack.
I don't see that as an excuse. They still had plenty of options up front with Alexis Sanchez and Marcus Rashford, as well as Anthony Martial on the bench.
They still created some great chances too - in particular Paul Pogba's header when he was unmarked but missed from seven yards out - but I still do not agree with Mourinho's claim that the best side lost.
With the way both teams are set up, I always felt that whoever got the first goal was going to go on and win the game, which is how it turned out.
United need new players, and a new mindset
United do not look like they are anywhere near champions Manchester City, who finished 19 points clear.
City's dominance is a worry for all the top teams because of the financial clout Pep Guardiola's side have, and the way they won the title.
They are already a long way ahead of the rest and they are going to invest again this summer - I am pretty sure of that - so they are only going to get stronger.
United will need to bring some new players in if they are going to get nearer to City, but they also need a new mindset - and their fans will tell you that they need a better brand of football.
For some clubs, the way they play is very important. For example, Everton did not sack Sam Allardyce for finishing eighth, they sacked him for the style of football his team plays.
United fans want some more flair as well. They have been used to being entertained for so long but some of the football they have seen this season has not done that. It has at times, but not often enough.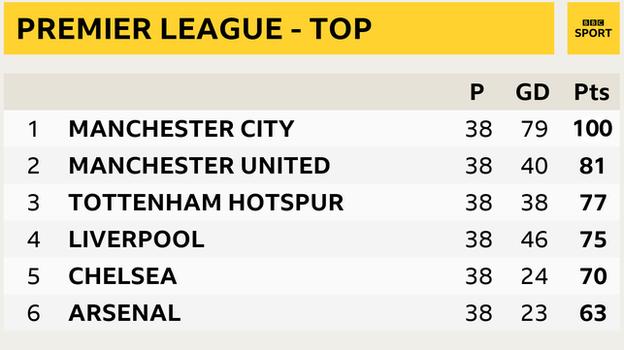 Alan Shearer was speaking to BBC Sport's Chris Bevan at Wembley.