Bernd Stange: Syria boss on coaching a team in a war zone
Last updated on .From the section Football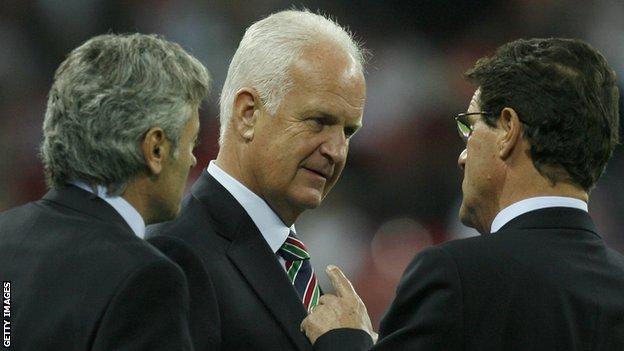 From Saddam Hussein to Bashar al-Assad. From bullets being fired at his bodyguard to witnessing sites of suspected chemical attacks.
Bernd Stange is evidently not a man who believes in an easy life.
A former coach of Iraq, the 70-year-old German has signed a contract to lead Syria until the 2019 Asian Cup.
But what motivates him to work in a country where, according to the Syrian Observatory for Human Rights, more than 400,000 people have been killed or reported missing over seven years of war?
"I believe we should bring back a smile to Syrian people who have suffered for such a long time," he told the BBC's World Football programme. "They love football."
But, for a man who spends half of his time in capital city Damascus, there are psychological challenges that come with life in a war zone.
"I saw destroyed Ghouta and Douma," he said, referring to the sites of suspected chemical attacks.
"Sometimes you hear what you think is lightning but it's bombing.
"I will not say it is normal life. If you are travelling to Aleppo, to Homs, and you see what's happened there, left and right of the street, you cannot speak for a while and you are deeply depressed.
"It's such an old country, and Damascus is a wonderful city. If you feel how long it will take to clean up the country and to bring back normal life, maybe it will take one generation."
'They sang my name - my heart was broken'
For some, the Syrian national team is a representative of Assad's brutal crackdown against rebellion.
Stange is yet to meet the Syrian president but said: "If I have the chance to see him, of course I will go.
"The football federation is run independently by only a few people, and it's not involved in any politics. I can take my own decisions, it's part of my contract."
Stange also never met former president Saddam Hussein while coaching Iraq, a job he held for two years from 2002.
Nevertheless, he was referred to as 'Saddam's Coach' in his homeland, and heavily criticised.
"I coached the national team of Iraq before the war, and I was blamed for that, especially by Western media," he said.
"I coached the same national team three weeks after the war, when everything was destroyed, and from this moment I achieved so many awards for doing the same job: coaching a football team to put the ball in the net."
A day before the US-led invasion that finally toppled Saddam in 2003, Stange left Iraq on the orders of the German embassy.
"I went back one week after the war with the idea to tell them face to face that I will not continue my contract," he said.
"When I arrived at the hotel, I saw the players and their families, and the whole football federation. They were waiting for me and singing my name: 'Captain Stange is back, is back.'
"My heart was broken and, being honest, I was not able to tell them: 'I will let you down.'"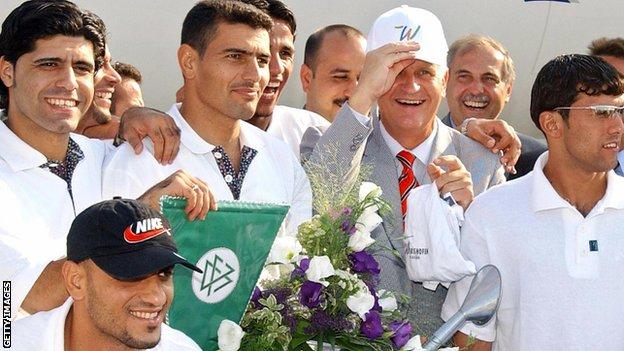 Bush, Blair - and a fateful photograph with Jack Straw
Having changed his mind, Stange began to build a team that almost secured an Olympic medal in Athens in 2004, and went on to win the 2007 Asian Cup.
"Everything was destroyed, we didn't even have any balls, we had absolutely nothing," he said.
"We were training using sandbags. We had no warm water, we could not practise in the evenings because of attacks.
"I tried to take the team out of this horrible Baghdad at the time and I needed support. We needed money for flight tickets; we needed visas."
Stange sought help from world leaders including former United States president George W Bush, then British Prime Minister Tony Blair and ex-Italy Prime Minister Silvio Berlusconi.
"I wrote letters to to help us to build football," he said.
"I still have the letter that Tony Blair wrote to me."
That led to a brief tour of England in 2004.
"The Football Association managed hotels and games for us and they provided us with 5,000 balls," said Stange.
But a photoshoot with then Foreign Secretary Jack Straw ultimately prompted his departure from the team just weeks before the 2004 Olympics.
"There was a photo in the garden of the parliament and half the team didn't want to be in it," he said.
"They said, 'maybe we will be blamed by terrorists or other people, that we take presents from mortal enemies'.
"But I thought it was very important to bring Iraqis to London and to play football there, to show that we are out of politics.
"Unfortunately I got threats after this trip and very bad letters, and my bodyguard had a bullet in his car.
"I decided to finish because it was too dangerous."
Stange returned to Iraq in March, when Syria played in a friendly tournament in Basra, nine months after the return of international football to Iraq.
What he saw gave him hope for the future of Syrian football.
"If you see the capacity crowd - 65,000 cheering people - if you see in the neighbourhood a stadium showing a public viewing with 10,000 people watching, then you can feel how happy they are to have their most-loved sport back in their country.
"Hopefully it will be soon for the Syrian people, to play matches in Aleppo and Damascus."
Stange's travels - his managerial career
1982-1988:
East Germany
July 1989-May 1991:
Carl Zeiss Jena (East Germany)
July 1991-August 1992:
Hertha Berlin (Germany)
August 1994-March 1995:
Hertha Berlin (Germany)
April 1995-June 1995:
Dnipro (Ukraine)
July 1996:
CSKA Kiev (Ukraine)
July 1998-December 2000:
Perth Glory (Australia)
June 2001-September 2001:
Oman
November 2002-June 2004:
Iraq
January 2005-January 2007:
Apollon Limassol (Cyprus)
July 2007-November 2011:
Belarus
May 2013-April 2016:
Singapore
February 2018-:
Syria
Also on this week's World Football, Spain striker David Villa gives us his World Cup memories.