Doncaster Rovers Belles: WSL 2 champions discuss integration into Club Doncaster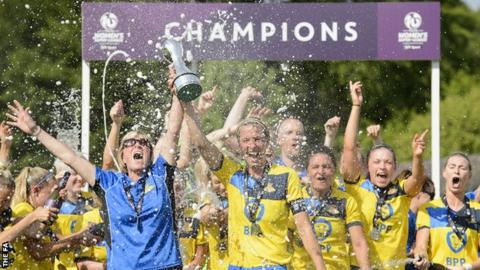 Women's Super League Two champions Doncaster Rovers Belles are in talks about integrating into Club Doncaster, outgoing chair Faye Lygo says.
The Club Doncaster group contains men's club Doncaster Rovers, the town's rugby league side and community projects.
As part of restructuring, clubs had to apply to play in WSL 1 for 2018-19.
The Belles won the WSL 2 title this term but will remain in the second tier as they cannot afford a licence to play in the top flight from next season.
"I have been in discussions with Doncaster Rovers about the possibility of the Belles joining Club Doncaster and being integrated with the men's club," said Lygo.
"The board of the Belles have concluded that this would be the best option going forward and would give the Belles the best chance of joining the top tier of women's football.
"Discussions have been ongoing over the last 12 months and we hope for a positive response from Doncaster Rovers."
Lygo has been chair of the club for the past five years and has overseen promotion to and relegation from the top tier, but has now decided to step down.
"It is really unfair that the Belles are not being promoted on the basis of their football abilities," Lygo added.
"Sadly, it is money in the bank that counts for promotion and I am sorry to have disappointed fans that we could only afford to bid to retain a second tier licence.
"I congratulate Brighton for meeting those requirements and for effectively being promoted ahead of us."