Notts County: Owner announces women's team to be reformed 13 months after folding
Last updated on .From the section Women's Football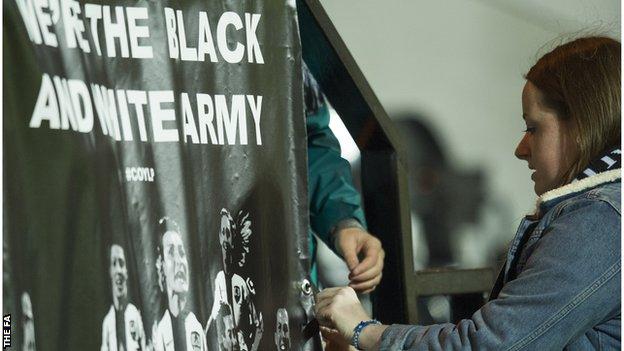 Notts County are to relaunch a women's team just 13 months after giving up a place in the top flight and folding under financial pressure.
Club owner Alan Hardy "called time" on efforts to save the Women's Super League 1 side in April 2017 when faced by debts of around £500,000.
But Notts aim to join a regional league for the 2018-19 season and hope to reach the second tier in five years.
"We will be basement level working our way," Hardy told BBC Sport.
"I always said that I would relaunch it at some point in the future when the foundations were right and more importantly there was a pathway in place.
"We have built from the Under-8s to the Under-14s and the next logical step was a senior team.
"We understand that we may need to start at the bottom and work through the leagues. In five years we want to be at WSL 2 level (now known as the Championship), and that is a realistic ambition."
The new team will be called Notts County Women to distinguish it from the old one, Notts County Ladies.
While the old club played their home games at Meadow Lane, the newly formed side will play at a smaller venue, possibly 10 miles away at Ilkeston Town - a non-league club that Hardy also owns.
'Hardest decision of my life'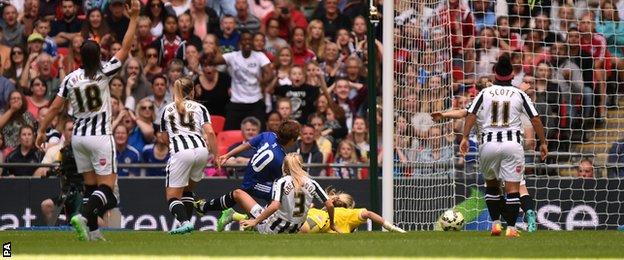 The demise of the Lady Magpies left players with ambitions of featuring at the 2017 European Championships without a club, and some feared being left homeless.
The timing, and Hardy's handling of the announcement, were criticised by players, but he maintains the club was "unsustainable", having previously settled a winding-up petition to keen the men's club afloat.
"There were two reasons the ladies had to be folded, firstly the ongoing costs, but more important was the legacy debt that came with the club, which meant I had to pay half a million pounds," he said.
"I've always said it was the hardest decision of my professional life, but we had to do it for the survival of the bigger club."
From Four Lions to five prospective players
When Notts County Ladies folded two days before the start of the 2017 Spring Series the squad included a number of England internationals, including Carly Telford, Laura Bassett, Jade Moore and Jo Potter.
Now the club are searching for amateur players to form a squad and will hold an open trial at Meadow Lane on Sunday, 28 May.
Hardy says five players have already committed to the club and a manager has been lined up to take charge.
"We have five great players for that level who are so keen to come join us," he said.
"And for those ladies who want to be part of the Notts County resurgence, then brilliant, come on down."