World Cup 2018: England's bid to be host was hacked says ex-FA chairman
Last updated on .From the section Football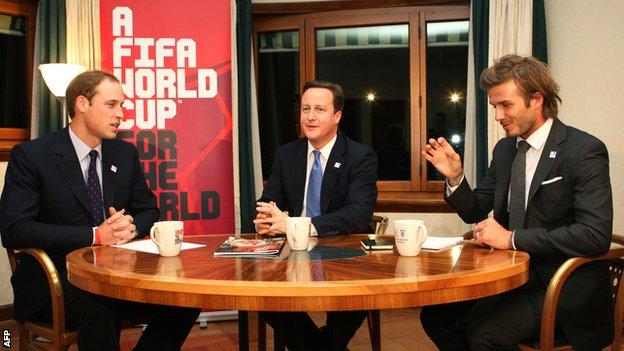 Computers were hacked during England's failed bid to host the 2018 World Cup, according to former Football Association chairman Lord Triesman.
In 2010 Russia beat England as well as joint bids by Spain and Portugal and the Netherlands and Belgium to stage the event for the first time.
They were later cleared of corruption allegations in the bidding process.
Triesman alleged on Danish documentary 'A World Cup of Spies' that he was "surprised about the extent of the penetration of our computers".
"We did take some measures in case we were being spied on," the 74-year-old said. "We began to make sure that we were much more security conscious."
Triesman said he knew who had hacked them, but would not name them, adding: "I think if I do say, I will end up accidentally revealing how I know."
Speaking on the documentary, which details the battle between Russia and England to win the 2018 World Cup bid, Russia 2018 chief executive Alexei Sorokin said he "never encountered any involvement of intelligence services".
Triesman also admitted England's own intelligence gathering was at times "systematic".
The 2018 World Cup starts on 14 June with the hosts facing Saudi Arabia.
Analysis
BBC Sport correspondent Richard Conway
It is Peter Hargitay, the long-time Fifa insider, who sums up Niels Borchert Holm and Jon Adelsten's riveting documentary what bidding for the World Cup has become.
"It's not about football, don't misunderstand that, this about status, this is about legacy, this is about portraying to the world you're a cool nation, you can do stuff," he says.
"So to the fan it's about football. To the spectator, to the viewer on TV, it's about football. But it's only about football the day [the World Cup] starts and the day it ends with the final. Before and after it's nothing about football. It's about politics."
That view prevails, especially in light of the on-going battle between the joint bid of USA/Canada/Mexico and Morocco to host the 2026 tournament. President Donald Trump's recent interventions show just how much it matters both economically and politically to win staging rights.
So these comments concerning espionage and intelligence gathering from Lord Triesman in the run up to the December 2010 vote should not necessarily shock.
Instead they serve as a reminder that sport and politics are often indivisible and that with such a lucrative prize on offer as the World Cup some nations will go to extreme lengths to win.