Sunderland: Stewart Donald completes takeover from Ellis Short
Last updated on .From the section Sunderland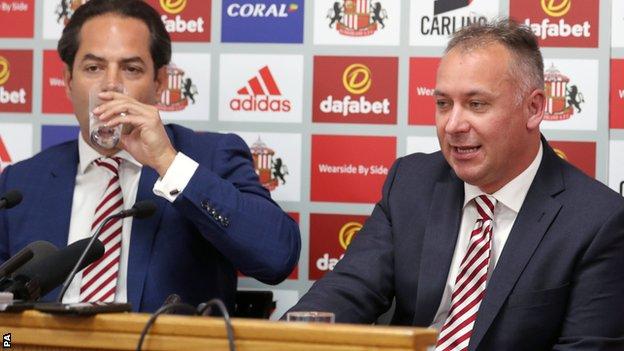 Former Eastleigh owner Stewart Donald has completed his takeover of Sunderland from Ellis Short.
Texan businessman Short, who has ended a nine-year spell as owner by writing off the club's debt, received £40m in return for the League One club.
The English Football League has ratified the change of ownership.
Donald says the club is now "debt-free" and added that he hopes to appoint a new manager to succeed Chris Coleman "within the next seven days".
Previous boss Coleman left the club at the end of April, on the same day that Donald's interest in taking control of Sunderland was made public.
Sunderland will begin the 2018-19 season at their lowest position in 30 years, after successive relegations from the Premier League to League One.
To pave the way for the deal to progress, Donald has agreed to pass his ownership in National League side Eastleigh to existing board members.
"We've given Ellis £40m, so that's the deal, and in return Ellis has tidied up his debt and that's now gone from the football club," Donald told a media conference on Monday.
"Ellis was very clear he didn't want the debt, but we didn't want the debt either so we refused that.
"The reality is Sunderland is debt-free which, for the fans, is good news."
'Considerable investment is needed'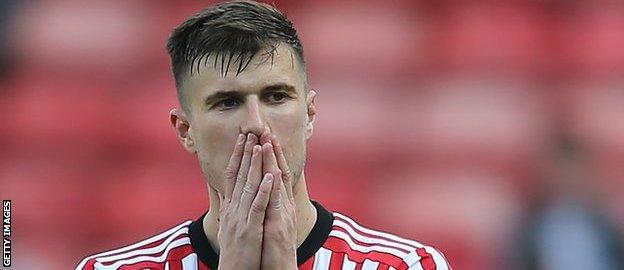 In addition to sourcing a new manager at the Stadium of Light, funds also need to be made available to that appointment for the overhaul of Sunderland's playing staff after back-to-back relegations.
Donald has agreed a staggered payment with Short in the purchase of the club, to free up further funds for the season ahead.
Decisions on individual players such as Jack Rodwell, or the future of chief executive Martin Bain, will be taken once the owners have 'taken stock' of the club.
"We'll make as much as is needed, the transfer fees aren't large," Donald continued.
"Looking at the numbers we've put through, the budget for Sunderland is going to be pretty hefty, and much more than of the teams that were promoted last season.
"We can generate the funds we need for that, there's a quite a huge discrepancy between the remaining player income in relation to transfer sales and going out, so that needs funding - which we've committed to fund of course. We tidy that up, that leaves us neutral.
"We're looking at the playing budget, there will be transfer fees involved, and that's going to be a good budget for Sunderland - one that a few Championship clubs would like."
Donald's business partner Charlie Methven added: "This summer there needs to be a turnaround, as this is an organisation that is used to failure.
"The club has lost more games than any other club so there's a real, proper job on our hands to get everyone facing in the same direction."
What happened to the consortium?
Donald was initially named as the front man of an "international consortium" which would complete the purchase, but that plan was eventually scaled down to allow a deal to be struck.
"The timescale was getting crunched, and anything that delayed the process of the takeover would have a material impact on the summer business," added Methven.
"We took advice from contacts around in the game and the EFL and what became clear was the process would be quicker and more straight forward if the club was simply taken over by Stewart.
"There are other people we have in mind who have further capital and contacts that we think could be useful for Sunderland going forward, and there are people who have expressed an interest.
"Stewart will be the majority shareholder whatever happens, it may well be that other people add expertise to our team, but for the time being it's Stewart and to a lesser extent me."