Champions League: Wales great Joey Jones has 'every faith' in Liverpool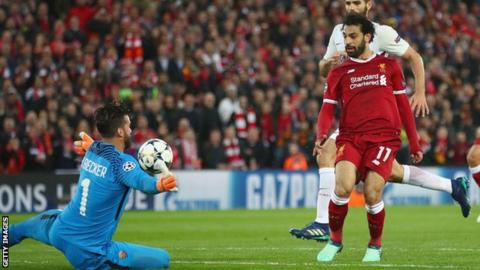 Wales' first European Cup winner has backed Liverpool to beat Real Madrid in Saturday's Champions League final.
Joey Jones won the cup with Liverpool in 1977 and 1978, having joined the club from Wrexham for a fee of £110,000.
Now a part-time youth coach at The Racecourse, Jones said he has "every faith" that Liverpool can win it for a sixth time in Kiev on 26 May.
"I think they've got a great chance if they do what we did 41 years ago."
Jones returned to Wrexham after his Liverpool success in 1978 and finished his career at The Racecourse after spells at Chelsea and Huddersfield.
He won 72 caps for Wales before hanging up his boots in 1992 at the age of 37.
He went on to coach Wrexham and despite standing down from a full-time coaching role last summer, has continued to work with the club's youth team.
Jones said 12-time champions Real Madrid "are not the same team as old", despite having world class players such as Cristiano Ronaldo and Wales' own Gareth Bale.
"I think they'll [Liverpool] play a high tempo game. Jurgen Klopp normally has them doing that," he said.
"It's just a bit worrying at the back sometimes, they've got one or two frailties there, but going forward they are fantastic.
"I think everyone enjoys watching Liverpool."
Asked about Bale, Jones said he is a "tremendous" player.
"I certainly won't catch him up, that's for sure."
But Jones hopes Bale finishes on the losing side in what will be his fourth Champions League final.
"I hope he doesn't get the winners one [medal] this time, even though he is Welsh, because I want Liverpool to win."