Chesterfield: Shwan Jalal, Sam Wedgbury & Michael Nelson join, Kristian Dennis transfer-listed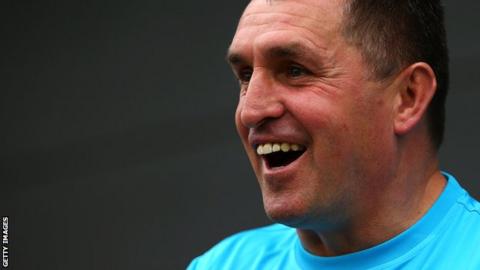 New Chesterfield manager Martin Allen was quick to make his mark at the club with a frantic day of ins and outs a week after his appointment.
As well as transfer-listing top scorer Kristian Dennis, the Spireites boss also signed goalkeeper Shwan Jalal, midfielder Sam Wedgbury and defender Michael Nelson.
All three signings were announced with first-person statements on the club's website from the 52-year-old, ending each one with "Take care. Martin."
"Shwan has just won this division, playing 41 games and I think it's important to have a solid, reliable and decent keeper," Allen said of 34-year-old Jalal, who was released by Macclesfield despite being named in the National League team of the year.
"On top of that, he knows what it takes to be a champion. He will do well for us. Take care. Martin."
Of Wedgbury, 29, Allen said: "Sam is a local lad. He's experienced and knows the league and he's a player I've tried to sign many, many times.
"He's a central midfield player. He's a competitor and he will be good for us. Take care. Martin."
Former Barnet centre-back Nelson, 38, was described by Allen as: "Very old with great experience and good knowledge. He is a leader of men and he knows how to win games. He is as fit as a butcher's dog and he is a great man to work with. Take care. Martin."
Despite their relegation from the English Football League, Dennis scored 19 times in the 2017-18 season, but rejected the offer of a new contract with the club.
"I had a long chat with Kristian Dennis and his agent and he has reiterated his desire to play in the EFL," Allen said.
"We agreed that if this doesn't happen, he would be more than happy to sit down and talk about a new contract and continue playing for Chesterfield FC. Take care. Martin."