Champions League final: Gareth Bale's Real Madrid expectations 'blown out of water'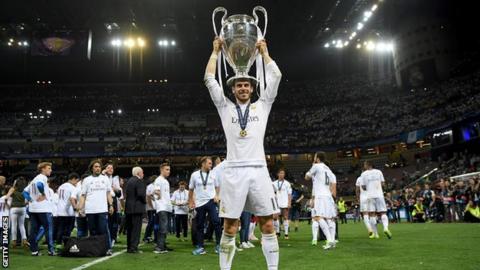 Champions League final: Liverpool v Real Madrid
Venue: Olympic Stadium, Kiev Kick-off: 19:45 BST
Coverage: Live commentary on BBC Radio 5 live and the BBC Sport website
Real Madrid forward Gareth Bale says reaching a fourth Champions League final has "blown any expectations I had out of the water".
Bale, 28, became the world's most expensive player when he joined Real from Tottenham for £85m in 2013.
Real face Premier League side Liverpool in Saturday's final at the Olympic Stadium in Kiev (kick-off 19:45 BST).
"This is history," said Bale. "I came to this great club to win titles and it is going to be a special day."
Real have won the competition three times in the past four seasons, while Liverpool's last success was in 2005.
Welshman Bale featured in all those Real triumphs and has also won La Liga and the Copa del Rey with the Spanish side.
Manager Zinedine Zidane has to decide whether Bale starts after the Wales international's five goals in his past four starts.
"He is playing very well, he has scored many goals recently," said the Frenchman.
"Not only that but he has been very consistent. He has not played so much, but the last three games he has played he has played well."
Bale added: "I feel great, I am ready for the final. Last year we got our second Champions League in a row and now we want more.
"We know this is no mean feat, we are up against a determined side. I think I am on fine form physically.
"I never imagined playing in so many finals. I have played in three and this could be a fourth win, it has blown any expectations I had out of the water."
'A chance for something historic'
Liverpool manager Jurgen Klopp has spoken about his side's "desire" to overcome 12-times winners Real.
The last team to win the competition in three successive seasons was Bayern Munich between 1974 and 1976.
Real won the trophy in its first five years, 1956-1960, when it was known as the European Cup.
Zidane said: "You can't say Liverpool have more hunger than us - it simply isn't true. Nobody can take our hunger away from us. We will give our all to get more.
"We're in a third final and we have the chance to do something historic."
Zidane called Klopp's work "formidable" and says Liverpool "got to the final and deserve to be there, just like us".
He added: "Everyone speaks about the three up front (Roberto Firmino, Mohamed Salah and Sadio Mane) and says they're less at the back, but they're a team unit.
"My work with the staff is to prepare for the game well, as we always do, and try to do them damage."
'I think we are better than Liverpool'
Zidane believes forward Cristiano Ronaldo will have the "most possible" influence in the final as the Portugal international "is the best so it will be the maximum".
Ronaldo scored twice in last year's 4-1 victory final over Juventus, netted the winning penalty in the shootout against rivals Atletico Madrid the year before and scored in extra-time against the same opponents in 2014.
"We can make history if we win three Champions Leagues in a row, but we're not looking at it like that," said Ronaldo.
"I am keeping the faith, I feel good about it. These finals are always special occasions. We need to respect Liverpool. They deserve their place in the final.
"They remind me of the Real Madrid of days gone by, with fast, pacey forwards. I think we are better, but of course you always have to respect your rivals."
German midfielder Toni Kroos added: "Liverpool will have 11 players running like wild animals, they will be driven for the full 90 minutes and they'll be playing at 100% or more if possible.
"Their front line is impressive but they have a good defence and a solid midfield. Being favourites does not mean anything."
BBC Euro Leagues Football Show analysis
Julien Laurens: "I think Liverpool have been the best team in the competition this year - they've been outstanding from start to finish. The two weeks' break they will have had since their last Premier League game could be huge - just to get some rest and prepare in the right way. It's quite an even final despite the experience Real Madrid have over this Liverpool squad."
Raphael Honigstein: "The biggest problem that Liverpool have is there is no Team B. There is very little they can do to change the flow halfway through the game if they're not on top. Real Madrid are the exact opposite. They have Gareth Bale in reserve, probably Isco and Marco Asensio too. It's a bit frightening. Liverpool need to score a lot of goals before thinking Real can't come back."
James Horncastle: "Liverpool know all they need is 20 minutes of that surge football where they're so hard to live with. I followed Juventus all the way through last year's campaign. The feeling within that group of players was that it was their year. And then Madrid found a way. They are also a team that in 15 minutes can completely blow you away - they have a gear some other teams don't have."