Ian Maxwell: New chief executive hopes 'unique' insight can boost SFA
Last updated on .From the section Scottish
New Scottish FA chief executive Ian Maxwell believes he is a leader with a "unique understanding" of football who can help invigorate the organisation.
"The Scottish FA's vision is to inspire a nation," he said. "That's exactly what we are here for.
"I have led teams from playing in them, from being an assistant manager to then running a club."
Maxwell started his playing career as a defender at Hampden with Queen's Park before spells with Ross County, St Johnstone, St Mirren and Thistle.
He was assistant manager to Ian McCall at Firhill before being appointed general manager in 2011 and then managing director three years later.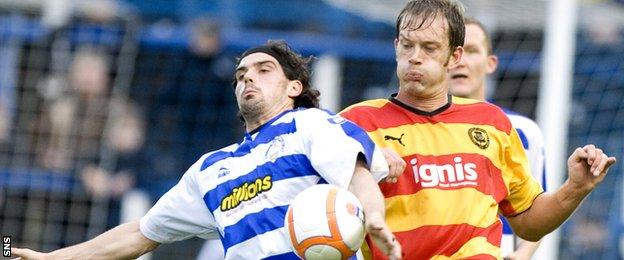 "I've played the game, I've run a club, I've sat on boards at the SFA and [Scottish Professional Football League]," said Maxwell.
"Outside that, I've been involved in coaching my sons' local boys club and I still play over-35s on a Sunday.
"I have a real breadth of understanding of Scottish football as a whole.
"It's a jump but a jump I'm definitely ready for. I need to back myself with the ability and skills I have got and look forward to the challenge.
"It's a different type of organisation [to Partick Thistle] but a lot of what we do, it's similar to what we do at a club in terms of putting matches on, picking teams. We have supporters we need to look after, we have corporate partners and a lot of that is what I've lived for a large part of my life so I think I'm very well equipped to handle this."
No merger with SPFL
Maxwell, who came off the SFA board in March, is keen for greater harmony between the SFA and SPFL but thinks the bodies should remain separate.
"Everyone wants what's best for Scottish football," he said. "The SFA and SPFL are made up of members and a lot of those members are the same. The closer we work together, the better.
"But we're set up for different reasons. The SPFL run the league and commercialise the league. The SFA govern and have a much wider remit."
Hampden decision 'a big one'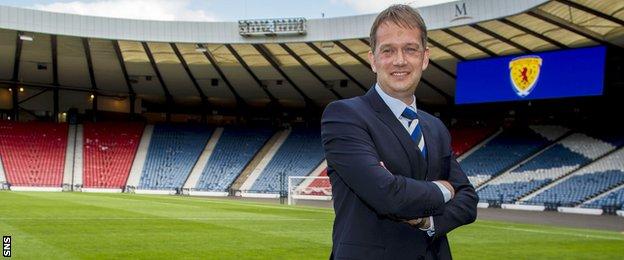 The Scottish FA's current lease for using Hampden runs out in 2020 and Scottish Rugby have pitched Murrayfield as an alternative home venue for Scotland football internationals.
Hampden, on Glasgow's south side, also hosts domestic cup semi-finals and finals and is the regular home ground of SPFL club Queen's Park.
"The Hampden decision is a big one," said Maxwell. "I was involved in the process until I stepped off the board.
"The plan is round about August for making a decision."
Maxwell also said he hopes to announce news on a new title sponsor for the national team "in the coming weeks".
Euro 2020 qualification 'would be incredible'
Scotland last featured at a major tournament 20 years ago, with Maxwell describing qualification as "a game-changer".
Alex McLeish was appointed as Scotland coach for a second time after Regan failed in a bid to lure Michael O'Neill away from Northern Ireland.
The Scots, who face Peru and Mexico in friendly matches over the next 12 days, begin their inaugural Nations League campaign in the autumn, with Euro 2020 qualification beginning early next year.
And Hampden will host some matches at the Euro 2020 finals, with Glasgow one of 12 cities holding the 24-team event.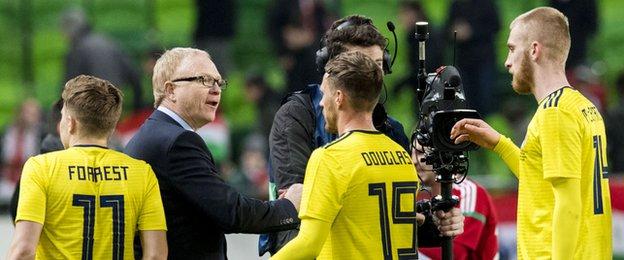 "It's not happened in a long time," Maxwell said of Scotland being at a World Cup or European Championship. "Because there are games in Glasgow it would be incredible to get there.
"With the manager we have and the squad we have and the Nations League, I think we have a really good chance of doing it. We're all working together to make sure Alex and the players have the best possible chance of qualifying.
"Football is consumed on a huge level, whether that's playing, watching, talking about it at school, in work, in the pub. There is a massive focus on football. We've got the most watched top division in Europe in terms of per head of population.
"It's a real privilege and an honour - and an opportunity - to go and harness that energy and drive that the public have to try and move things on."
Analysis - Gordon Smith, SFA chief executive from 2007-2010
"You are the front person and you have to speak about all the things that are happening. But a lot of things have to go through at board level. It is a decision from the board.
"I found that everything had to go through committees and the board. I could make recommendations but I couldn't make decisions on a lot of key aspects that needed addressing.
"He has got slightly more powers now. I think Stewart Regan had more. One of the things we spoke about was that the chief executive should be able to take some decisions - not everything obviously, because it is a democracy and you are looking after the Scottish game in general, and there are different opinions and ideas from within the game."