Dorsaf Ganouati is a Tunisian female referee with a mission
By Souhail Khmira
For BBC Sport, Tunisia
Last updated on .From the section African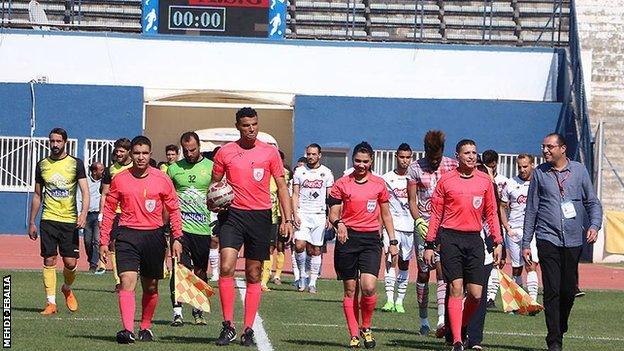 Tunisian Dorsaf Ganouati has her eyes firmly fixed on becoming a referee in a local Ligue 1 match.
Last May the 33-year-old refereed in Ligue 2 and a year later she was the fourth official for the top-flight clash between CA Bizertin and AS Gabes.
Quite a journey already for the PE teacher who only started officiating for 'fun'.
"When I started it wasn't because I specifically wanted to be a referee, I did it for fun," she told BBC Sport.
"And then I noticed that most of the referees were men and that female presence was "ignored".
"At the beginning, there were few international female referees but they hadn't really made a mark in Tunisian stadiums (in men's matches).
"Women were limited to women's matches or youth games. Why does it have to stop there? So I decided to try other categories."
Ganouati is one of three Tunisian women on Fifa's list of international referees and has been on it since 2015.
The only other woman to have been a fourth official in Tunisia's Ligue 1 was Monia Bedoui back in 1997 season for a match between CS Sfaxienand Club Olympique du Transport.
She is well aware of the pressure involved in making the step up from Ligue 2, when she worked with an all-female team of officials.
"There's more pressure because there's a bigger number of fans in the first division. Especially with the big teams who have a bigger fan following," she said.
"The main source of pressure will be from the fans then on the pitch it comes from officials or players."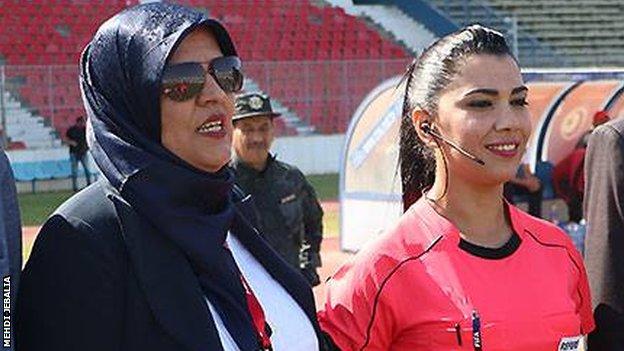 "Fear is present in every game. Even when I'm refereeing in international games outside the country, there are some concerns.
"You're responsible for the teams and you have to be just and fair to everyone.
"I have my reputation as a referee and people are always watching closely, and any mistake can cost dearly.
"But all that fear goes away once the first whistle blows and you get involved in the game"
Ganouati admits in the early days it was not easy to make progress in a sport dominated by men.
"The main obstacle we have is that we don't have the concept of females being part of professional football matches."
"When I was working in the regional league, they were a bit unwelcoming to women, they would often say: "A woman in the regional league? No!"
The challenges she faced simply spurred her on and the attitude towards her and other female referees is improving.
"Quite the opposite, I insist on taking part now and must carry on," she explained.
"It has gotten better. I have refereed many teams in the regional leagues with fewer issues and things are improving when I referee in 3rd and 2nd division games."
She also feels like an equal among her male colleagues and has earned their respect.
"As far as my colleagues go, we're familiar with each other, we're all equal," she insisted.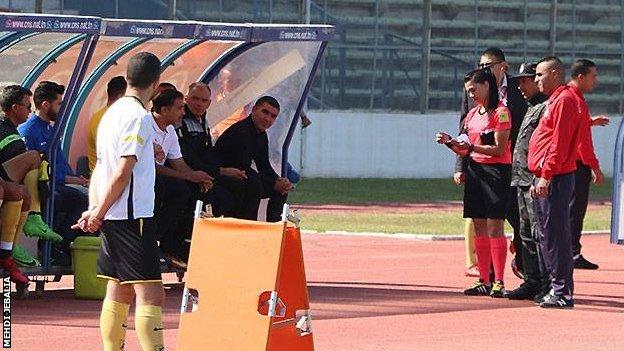 "There's no difference between male and female referees.
"They might actually be more respectful since I'm a woman but I also impose my self-respect. The same thing goes for players; I'm in charge of keeping everything in order"
While Ganouati was pleased to get a chance to be part of an officiating team at the highest level she was less happy that it only happened on the last day of the season.
"I don't like the idea of bringing in a female referee solely at the end as a way of "polishing the season", she argued.
"I will try and get given games right from the beginning of next season, at least in the 2nd division, that way even if I'm assigned at the end of the season to a top-flight game, it won't really be a big problem."
She also has a philosophical approach to the violence that was a regular problem at Tunisian stadiums last season.
"I don't feel a threat per se. I feel sorry when I see what happens since this is not a beautiful image of Tunisia especially as our league is viewed practically everywhere," she pointed out.
"But I'm just like every other referee, I know when I go to the stadium there could be a positive or a negative outcome, I'm prepared.
"Fans getting onto the pitch is always a possibility but not that likely. The violence doesn't come from players but from certain fans.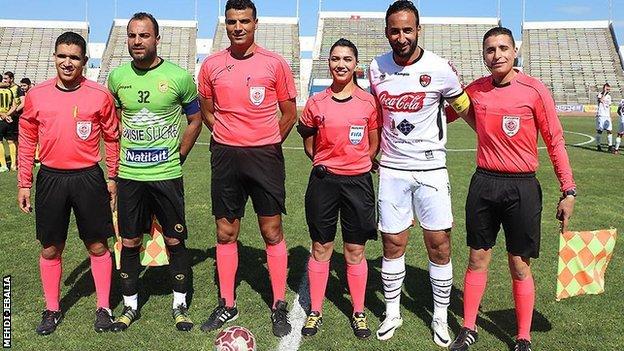 "It's still unacceptable for a man to hit or try to assault a woman and I'm thankful that idea still exists."
Awwaz Trabelsi, head of the Tunisian National Referees Administration insisted that there will be more opportunities for female officials.
"Women are represented on the national committees, Fifa is encouraging more female participation in football," he added.
"There are many women refereeing games in Germany for example and why not, we could the see the same for Tunisia.
"It's very possible and very soon that we will see a woman as a main referee in a Tunisian League 1 game."
Ganouati believes that Trabelsi's organisation is doing its best for female referees and has been motivated by their backing.
"When I am given a chance I have to prove myself. If I fail they might not give other women the chance, and if I succeed, I will be given other chances and other women will be as well," she told BBC Sport
With more Tunisian women becoming active in sports, she hopes that others will follow in her footsteps.
She believes that having diversity amongst Tunisian referees will be a beneficial factor for the nation's football.
"I'd advise women to take part in refereeing and get more motivated. The more women we have as referees, the better the competition will be."
She is hoping her next major task will be to take charge of games at the Women's Africa Cup of Nations later this year in Ghana.