Ukraine match fixing: 35 clubs accused following raids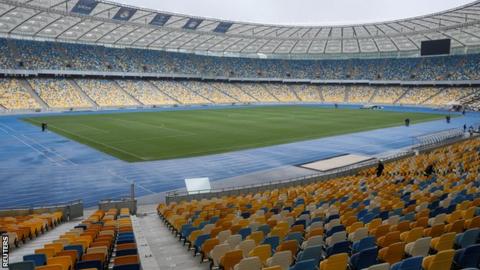 Thirty-five Ukrainian football clubs, including five in the country's top flight, have been accused of being involved in a match-fixing operation.
Neither champions Shakhtar Donetsk nor 15-time winners Dynamo Kiev are among those named.
Officials carried out raids on Tuesday and later said criminal gangs were involved in widespread match-fixing.
Saturday's Champions League final between Real Madrid and Liverpool takes place in Ukraine's capital Kiev.
This year's World Cup takes place in neighbouring Russia, but Ukraine failed to qualify after finishing third in their qualifying group.
Authorities claim the operation uncovered five criminal groups involved in at least 57 cases of match-fixing involving more than 300 people.
"We have been collecting and documenting the proof for over a year," said Serhiy Knyazev, the head of the National Police of Ukraine.
And writing on Facebook, Interior Minister Arsen Avakov added: "Club presidents, former and current players, referees, trainers and commercial organisations were involved."
He said the match-fixers earned up to $5 million (£3.72m) a year making bets in Asia on pre-determined results of Ukrainian matches.
No charges have yet been announced.