Jon McLaughlin: Hearts exit not certain as goalkeeper weighs up options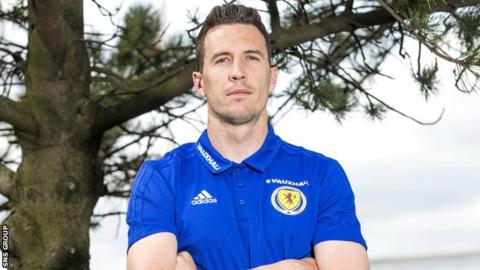 Jon McLaughlin says his days at Hearts are not necessarily over although the lure of the Premiership or Championship in England would prove hard to resist.
The 30-year-old goalkeeper is out of contract at the end of May after one season at Tynecastle.
"At the moment, we certainly haven't decided where we're going next and we haven't even decided that we are leaving Hearts," he said.
"We're still undecided, we still don't know where the next chapter lies."
McLaughlin flew to Lima with the rest of the Scotland squad on Tuesday ahead of the friendly double-header with Peru and Mexico.
The former Bradford City and Burton Albion player is likely to win his first cap on the summer tour.
Hearts boss Craig Levein has admitted the Edinburgh club cannot afford to match offers from England.
McLaughlin says he has thoroughly enjoyed his first experience of the Scottish Premiership with his next challenge, should he decide to move on, to find a club that offers a step up from the top flight's top six.
"We've had conversations, myself and the gaffer," he said. "They've always made it clear that they'd be very keen for me to stay. So far, we haven't come to an agreement.
"I'm always open to talking to anybody who would be interested in having me as a goalkeeper at their club. So we just wait to see who we hear from.
"Of course, it would be great to have another experience somewhere else but equally, when you've had such success somewhere and really feel that you fit in at a club, that's also a very important thing for a goalkeeper so I certainly wouldn't dismiss still being at Hearts next season.
"You always want to play as high as you possibly can, trying to mirror the standard you're playing at and you've been successful at here in Scotland. You certainly want to look for that similar sort of challenge again.
"I had a season with Burton Albion in the English Championship and that's the sort of bar you want to set yourself."
McLaughlin is joined by Jordan Archer and Scott Bain in a much-depleted Scotland squad, with all three as yet uncapped.
"It's an amazing opportunity, hopefully for myself, but also for the other goalkeepers, all looking for that first taste of international football," he added.
"There are a lot of players chomping at the bit, I'm sure, to try to put their marker down for the new manager and to try to get into his thoughts for the upcoming fixtures going into next season. Against such talented teams, on their home soil, is going to be a huge opportunity and an amazing experience for everyone involved."
Scotland's opponents are both bound for this summer's World Cup; the first friendly will be against Peru in Lima on 29 May before a trip to the famous Azteca Stadium in Mexico City on 2 June, which will be the hosts' farewell before they head off to Russia.