AC Milan facing Uefa financial fair play sanctions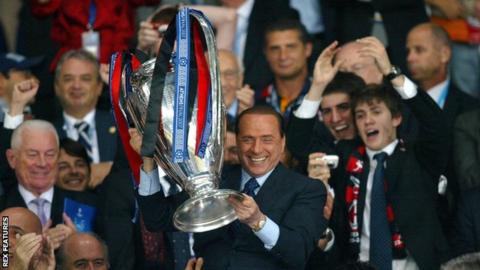 AC Milan are facing punishment for breaching financial fair play rules.
European football's governing body Uefa has referred the case to its adjudicatory body to make a ruling.
It follows an investigation into the Serie A club's financial affairs over which, Uefa said, "there remain uncertainties".
Uefa's financial fair play rules were brought in to stop clubs running up huge debts, and they can be punished if they spend more money than they earn.
Sanctions for breaching the rules range from warnings and reprimands to points deductions and transfer embargoes. A decision will be made "in due course", Uefa said.
The Italian club was owned by former Italian prime minister Silvio Berlusconi from 1986 until it was sold to a Chinese consortium for 740m euros (£648m) in April 2017.
The club then embarked on a £200m spending spree in the summer, bringing in Leonardo Bonucci from Juventus for £35.1m and Andre Silva from FC Porto for £33.6m. It was the first time since 2002 that the club had broken the £30m barrier for a player.
Uefa said the "uncertainties" related to the refinancing of a loan due to be paid back in October 2018.