Brandi Chastain: Plaque of US footballer sparks debate on social media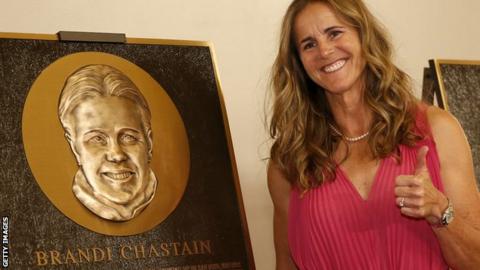 There has been a dodgy Cristiano Ronaldo and a dreadful Diego Maradona.
But the plaque for United States legend Brandi Chastain may well be the worst yet.
Chastain is an icon of the US women's team.
She has won two Olympic gold medals and two World Cups, scoring the winning penalty shootout goal in the 1999 World Cup final.
On Monday she was inducted into the San Francisco Bay Arena Hall of Fame in California and the plaque unveiled in her honour has gone viral on social media - and not in a good way.
Chastain's response was understated.
"No, I didn't feel it was a perfect representation," the 49-year-old told KTVU on Tuesday. "But I'm not an artist."
The main debate centred on who exactly the image most resembled. Chastain said she had been told the bust looked like Biff from the film Back to the Future or former US president Jimmy Carter.
BBC Sport has contacted the Bay Area Hall of Fame for comment and is awaiting a response.
So how does the artwork compare to Ronaldo's famous statue?
Social media wasn't too kind on Chastain's plaque...