Unai Emery: 'I want Arsenal to be back among Europe's elite'
Last updated on .From the section Arsenal
Unai Emery said he wants Arsenal to be among Europe's elite once more when he appeared at his first news conference since being appointed as Arsene Wenger's successor.
He said: "Success next season would be developing, but how? By battling for every title.
"That's in Arsenal's and my history."
Arsenal failed to qualify for the Champions League in 2017 and won't feature in the 2018-19 competition having previously been in every year since 1998.
Gazidis revealed that the Spaniard was on an eight-man shortlist for the job, but was the club's main target.
"All eight took part in extensive interviews and none of them withdrew from the process," said the chief executive, who added that the job was the most attractive in world football.
"We were in a fortunate position to name our first choice.
"Our first interview was on 25 April and our last was on the 15 May. A formal recommendation to the board was supported by a 100-page dossier with a great degree of background information.
"All of the board members were energised and enthused by our decision."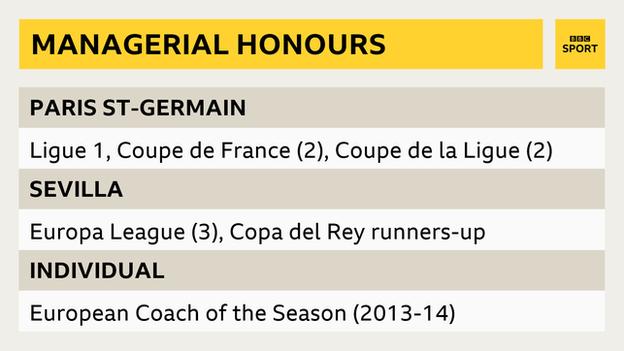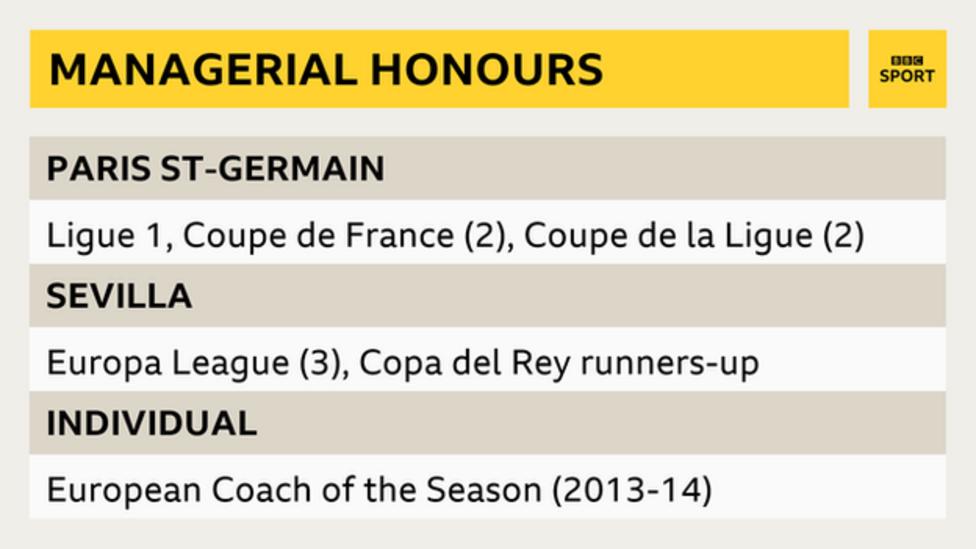 Gazidis said the former Valencia, Sevilla and Paris St-Germain boss impressed the interview panel with his "meticulous preparation".
"He was extraordinarily well prepared with a knowledge of Arsenal and an analysis of all of our players, their qualities and how he can help them develop.
"The thing that distinguished him above all that was the chemistry between us and the feeling for football in the room.
"He has a feeling and competitive energy and it is this passion, love for football and will to win that made us feel it as exactly right for Arsenal."
Emery told the gathered media he flew to Atlanta with Gazidis, head of recruitment Sven Mislintat and head of football relations Raul Sanllehi in order to meet the club's major shareholder Stan Kroenke and his family.
"We want to work on this club together," he added. "I know my ambition and my passion and to know how I want to grow up with Arsenal.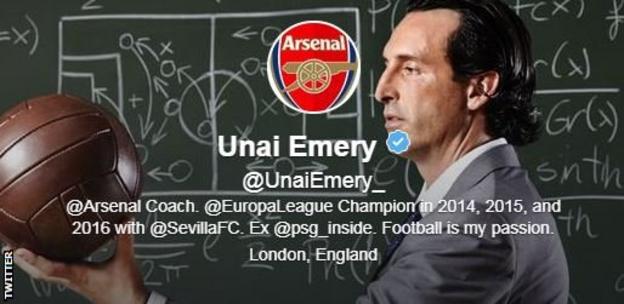 "All the conversations I have had with the club shows we share the same vision for the club."
The Gunners finished sixth in the Premier League last season - their lowest position since they finished 12th during the 1994-95 campaign. One of the complaints from supporters was the lack of quality in the current squad.
Asked whether he will need a recruitment drive this summer, Emery said: "I believe we can grow with the players we have.
"The objective is to work hard together and with these talented players.
"It's very important for the club, after two years outside the Champions League, to work to be the best team in the Premier League and also in the world."
He also paid tribute to predecessor Wenger, who was in charge of the club for 22 years: "I want to say thank you Arsene Wenger for your legacy," Emery said.
"For all the coaches in the world, he is a reference. We learned, I learned from him all the things in football.
"It's a big challenge for me, but I have worked also in other projects, big projects. For me, I am proud to be here and to work after Arsene Wenger."
What has Emery achieved?
Emery announced last month he would leave PSG when his contract expired at the end of the season, despite leading them to the Ligue 1 title.
During his two-year spell with the French giants, he also won four domestic cups, having joined from Sevilla in 2016.
It was in his home country that the former Real Sociedad and Toledo midfielder made his name as a manager, taking charge at Almeria and Valencia before moving to Sevilla in 2013.
There he won three successive Europa League titles as well as finishing runners-up to Barcelona in the 2015-16 Copa del Rey.
With a rebuilding job needed at Emirates Stadium following Arsenal's sixth-place finish in the Premier League, his meticulous, hands-on coaching may well be just what the Gunners need.