World Cup 2018: The making of France and Manchester United's Paul Pogba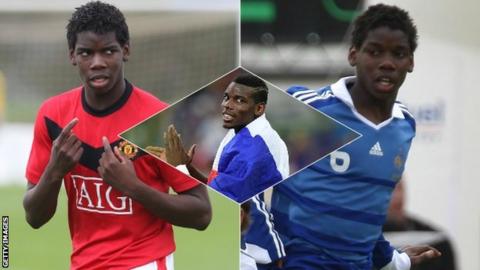 An £89m midfielder in the making, a world-record transfer waiting to happen.
Paul Pogba was already attracting the limelight before his 17th birthday, leaving his home country to join Manchester United from French outfit Le Havre.
While the move may have taken his coaches by surprise, the 16-year-old's ambition and desire to succeed did not. Pogba knew he wanted to be a professional footballer from the very early days of kicking a ball around in the suburbs of Paris with his older twin brothers.
But what sets a man who has won domestic and European titles and become an established France international apart from the dreamers who failed to make the grade?
From joining Roissy-en-Brie as a six-year-old to signing a contract in England a decade later, BBC Sport explores the making of Pogba with those who knew him best.
'Paul was the baby that needed mothering'
The son of Guinean parents, Pogba was born in March 1993 and raised in the East Paris commune of Lagny-sur-Marne with brothers Florentin and Mathias. The twins, three years his senior, would also become professional footballers. Despite his parents separating, Pogba's family played a key role in his formative football years, taking a keen interest when he joined his first club Roissy-en-Brie, based a few miles south of his hometown.
Sambou Tati, club president of Roissy-en-Brie: "They still looked after his every need just like any good parents would do. Paul was the youngest, and the baby that needed mothering, so his mum pampered him like she had done the twins.
"But with Paul being the youngest, well, when you're the youngest of three brothers you're always going to be the most overindulged - the parents did a marvellous job.
"Dad was always there when it came to football, he'd help them and take them out on the open ground and he'd get them to practise with a hard ball, so they could all strike the ball really well."
Zakaria Timera, who played with Pogba from aged seven: "The brothers were always together, in all the sports they played. They were very united, supportive of each other - they always stuck together, the three of them.
"Even 'though they were not the same age, they always hung out and they were always behind him."
Fabian Taupin, assistant coach at Roissy-en-Brie: "We used to meet his parents regularly, but beyond this, although his family were a big support, it is really the support of a whole community - the community of the club, of the town, of the south of his neighbourhood. That was the real support for Paul.
"Paul and his brothers have always been driven and this was very lucky for the three of them to have known from day one what they wanted."
'He consumed nothing but football'
Pogba joined Roissy aged six and began life at the club as a striker, immediately displaying the sort of determination and discipline that would take him all the way to the top.
Taupin: "He already had an atypical and very strong, determined character. He was a very good player already, but he was not the only one as we really had a good year of players.
"You could tell him he had to be at the club for 6am - he was there at 5.45am, he was ready at 5.30, he was available and he always, always wanted to play football. He always wanted to do more, he never stopped.
"Training was on Wednesdays and if he could not do a certain move we would tease him. On the following Saturday, he would come back and say: 'Look, I am doing it right now, so, anything to say?' That was Paul all over.
"There are plenty of players as talented at that age, but he worked very hard and this is something you cannot take away from him. He looks so at ease when he plays that we tend to forget all his success is down to his hard work, down to his dedication."
Tati: "Morning, afternoon and night he consumed nothing but football, football, football. If he had a training session at 2pm, he'd want to stay until 7pm when his brothers were training and then he'd just be playing with a football by himself alongside the pitch.
"In the younger age-groups he'd been a striker, so when he was in Poussins [aged 10-11] and Benjamins [aged 12-13] he'd played right up front. When he came to me to play 11-a-side at the age of 13, I played him in the hole, just behind the main striker. That way he had a free role to do what he wanted.
"Whenever the team was losing or things weren't going well, that would give him the chance to really shout at his team-mates to get them going. Even though he wasn't the official skipper, he was a natural leader and captain."
Timera: "He was someone with a huge amount of quality and ability, well ahead of his time, ahead of us and much stronger, too. He was a leader from the start."
'If he was kicked a few times, he'd cry'
Alongside his school studies and playing for Roissy, Pogba would spend hours honing his skills at the 'City Stade', a synthetic multi-sports pitch near his house, as well as turning out in inter-district games with his older brothers.
Timera: "Paul was a decent student who worked hard at school, but he was definitely more interested in football. It was very simple, if there was no school we would go and play at the City Stade pitch from 1pm. We could stay up there until 8 or 9pm.
"The field was right next to our houses, just a couple of minutes away. In fact, the only thing that could prevent us from playing was if we were thirsty and then we would go and have something to drink and head back to the pitch and we were off again. All that mattered was football."
Tati: "The maturity he had in his game at a very young age was gained from playing with older kids. He was still quite small and in the district games he was playing with kids three years older than he was.
"I know his brothers would go in deliberately hard on him because there were times in games when he would cry if he'd been kicked. They would say to him, 'No, no, no, you mustn't cry! This is just how it has to be'.
"It was his brothers and also his brothers' mates who really pushed him hard to get tough. Playing with an older age group helps you to be mentally stronger, and physically it makes you very solid and tough."
Catching the eye of Le Havre
Pogba may have been impressing in his local club's under-13s team, but he failed to earn a place at France's famous Clairefontaine national football centre. However, professional club Le Havre were already monitoring the talented youngster's progress and, via a stint with sixth-tier Torcy, signed the 14-year-old to their academy.
Franck Sale, head of recruitment at Le Havre: "I heard about Paul Pogba in the suburbs of Paris from my colleagues who saw him play when he was very young - about 11 or 12 - so we went to see him pretty quickly. He was playing on a City Stade.
"We soon spotted his qualities and quickly went to see him play on a full-size pitch. Paul was already playing with much older boys.
"There were lots of other clubs interested but not many got the opportunity to go and see him play, because we were quick off the mark. We discovered him quite early. Of course, Paris St-Germain could see him because he was in the suburbs of Paris.
"There were already a few foreign clubs looking, but not many of them. That's where we were lucky. We did all that was needed for him to sign up with us - it went very, very quickly.
Paul Pogba
Age: 25
Senior clubs: Manchester United, Juventus, Manchester United
France caps: 52
Trophies: 3 x Serie A, 2 x Coppa Italia, 1 Europa League, 1 x League Cup
"I asked him to sign up when we were at his dad's in Paris. His dad was absolutely adorable. We talked a lot about African football, especially Guinean football, and we ended up talking so much about football we nearly forgot to talk about the whole reason we were there, which was to get Paul's contract signed!
"We had to wake Paul up and we signed the contract at 5am."
Tati: "Since he was a boy who loved football so much and was determined to make it in the profession, by then Paul was certainly ready to play. He'd already left Roissy to go and train at Torcy and play in Division d'Honneur, which he managed comfortably and he never missed a training session.
"After all that, when the chance comes around to go to a club academy, I don't think he is the type of kid that is going to say 'no' - even if at times it was difficult for him. But he's given his all to be able to get to where he is today."
Leaving the Pogbas behind
Joining Le Havre meant leaving home for Pogba and moving into a room at the pre-academy headquarters around an hour and a half from his family home in Paris. That did not faze the teenager, whose real displays of emotion came on the pitch.
Sale: "It was not difficult for him as he already had this ambition to become a professional footballer, and also because Paris and Le Havre are not too far apart.
"He could go home easily and it was easy for his family to come and visit him too, but he was so focused that we cannot really say he was left with the typical heartbreak of leaving one's family behind - it went really smoothly for him.
"His personality makes him a very special player who very quickly integrated into the team and the group well. We could nearly talk about a certain arrogance about him, as it seemed all so easy. He was popular with the other players. That was down to the personality and character he had, the lads liked him a lot."
Michael Lebaillif, coach at Le Havre: "When boys arrive here at 14, they are already listening, they are discovering the structure of playing, they are discovering a way of coaching, and on the training pitch I would say everything went more or less well.
"Then there were other requirements, like the schooling side of things which we had to put into place for him, as he was still finding his strengths and his way in training.
"Paul was a very technically gifted young player, very good on the ball, but at the same time he was very competitive. He refused to lose, he hated losing, so he would occasionally have difficulty managing his emotions when things went wrong and he was on the losing side in a match, or if certain things didn't quite come off right for him."
'We were strict with him, demanding'
It was not all plain sailing for the young midfielder at Le Havre. Pogba clearly had talent and a determined work ethic, but his coaches believed he must apply himself even more to realise his potential.
Sale: "He was a hard worker, but it was all so easy for him that it could be difficult with the coaches at times. Because of his personality he could sometimes appear arrogant.
"We can even talk about a feeling of self-importance at times, which can still be found in his character these days in certain games. He was a hard worker, but he could work much harder and that's why we were quite strict with him.
"We knew he would become a top-level player in the future, so we were quite demanding because Paul would produce three or four actions but then would slip back into a quiet rhythm, thinking his job was done for the game, as he still does at times as a professional in some games.
"You need to prick him as he tends to let things go."
Lebaillif: "As a club we always have the intent to try to pit the boys who are doing particularly well in their age group against players who are already playing at the higher age levels, to help them up to the next level.
"Not in his first year for Paul, as he was still quite short, but in his second year suddenly he would train with boys who were already one year ahead of him, so as to help him cope with this physically, to help him run that bit faster.
"In his first year Paul had the characteristics of any other boy and he was developing normally, but really towards the end of that year he stepped up a level and when he reached 15 he started to play under the auspices of the France national team.
"He went on to another level from there. But it's not a given that all players who make it to the France national youth setup go on to be where Paul is today."
Spotted in Scotland, heading to Manchester...
Making the France Under-16s team suddenly thrust Pogba under the noses of a host of potential suitors. Italian giants Juventus were keen, as were Manchester United after Pogba represented his country at youth level on a tour to Scotland. Pogba would opt for Old Trafford, with Fifa approving the deal in October 2009 after a row between United and Le Havre over his contract.
Sale: "I had already warned my bosses that it was a very dangerous move to let our players go on tours as the English clubs pay close attention to our youngsters.
"Being aware of how talented he was, I was not surprised at all that Manchester United were showing an interest in him. But there were many other clubs already interested.
"It was very disappointing as a coach, because we wanted to bring him into our professional team. At the time, his contract was a bit vague and Manchester United saw the opportunity there.
"It was quite clear that he was still a long way from playing in a professional team but on the administrative level, he should have been signed up and I am sure he would not have gone to Manchester United straight away."
Lebaillif: "Of course, we are very proud to have had a player like Paul. The only regret we can have is that we did not have him for a longer period, to have been able to see him progress further, up to our senior team, to professional level.
"But everyone has their own path in football, and yes, we are very proud to have had him here."
Sale: "Personally, I was very disappointed because I like to accompany the players a bit longer. But then, when you look at the career that he had ahead of him, you know it was nothing but beneficial for him.
"I was not worried because of his personality. I knew he was armed and ready for it. He has such a very different character from other players that I was not concerned at all on that level.
"One can still worry a little about a young player going abroad, a bit of a doubt that he might find it hard to establish himself, because he was going to one of the biggest clubs in the world.
"It was not easy, but it has been proven that the career path he took has enabled him to become a top level player."
Material gathered by Ben McCarthy. Written by Alex Bysouth.