Arsenal: Gunners fans condemn 'violent' Spanish police at Atletico Madrid game
Last updated on .From the section Football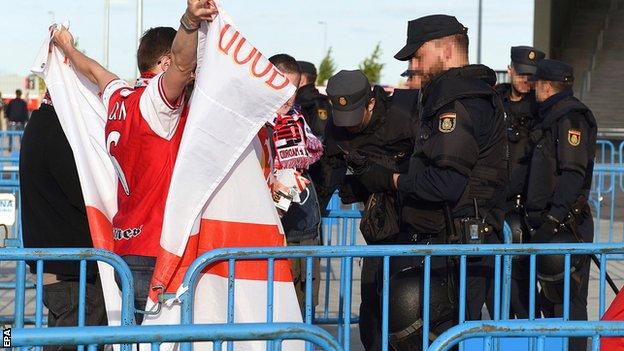 Arsenal fans have asked for Spanish police to be investigated after facing "inexcusable violence" in Madrid.
Gunners' supporters have written to Spain's UK ambassador describing police as "violent uniformed thugs" following their 1-0 Europa League defeat at Atletico Madrid.
The letter from the Arsenal Independent Supporters' Association (Aisa) was also sent to Uefa and supporters' groups.
"The violence of police officers in Madrid was inexcusable," Aisa said.
"The behaviour of some police officers was that of violent uniformed thugs.
"Without any provocation, police officers hit Arsenal fans with their batons. Among them were women, children and older supporters.
Written by Aisa's Lois Langton, a lawyer and member of the Women in Sport group, the letter also offers video evidence and witness statements if required.
Following the European semi-final this month, footage emerged online showing Arsenal fans being hit over the head by police batons outside the Wanda Metropolitano.