Champions League final: Jurgen Klopp 'used 2016 Europa League defeat to inspire players'
Last updated on .From the section Liverpool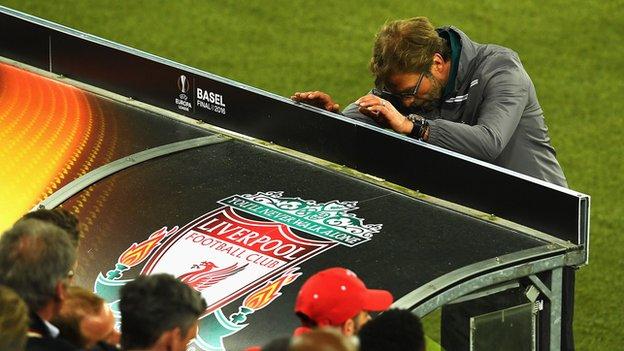 Liverpool captain Jordan Henderson says a speech by manager Jurgen Klopp after a cup final defeat inspired them to reach Saturday's Champions League final where they face Real Madrid.
After the defeat, Klopp addressed the Liverpool players in their hotel.
"He had this sort of vision that made me think we would get to another final," said Henderson.
Former Borussia Dortmund manager Klopp replaced Brendan Rodgers in 2015 and has since signed an extended six-year contract with the Reds to keep him at the club until 2022.
"He looked at the bigger picture and the future, and he felt it could be a big moment in our careers to learn from the experience," added Henderson, 27.
"He wanted to use the experience of that final to keep us together and use it as a positive. If we got to another final we would be ready.
"At that moment I sensed that he could see that he was confident about getting to another final.
"I definitely remember that night. I think you can see how he has taken the team forward since then has been fantastic.
"He has created a special dressing room with special players."