Andrew Robertson can be at Liverpool for 10 years - Steve Nicol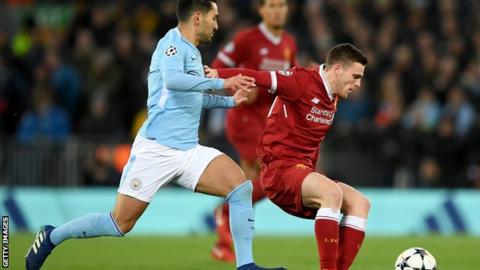 Former Liverpool and Scotland full-back Steve Nicol believes Andrew Robertson can cement a place at Anfield for the next 10 years.
Nicol was at Liverpool from 1981 to 1994, winning the European Cup in 1984.
Now Robertson can emulate that feat in his debut season as the Reds prepare to meet Real Madrid in Saturday's Champions League final.
"Everyone at Liverpool now feels they have a proper left-back," Nicol told BBC Scotland.
"A guy they can rely on, a guy they know what they're going to get from, and who actually gives you a lot more."
Robertson, 24, made the move to Liverpool last summer from Hull City for a fee of £8m.
And Nicol agrees with former team-mate Mark Lawrenson that the defender's value is now worth five times that amount.
"Obviously it's taken him a little time to settle in, which is normal," said Nicol, who was capped 27 times.
"You're joining a team of superstars and that takes time to not only fit in with them, but for them to trust - that's probably the word. You can see every single person on that team trusts Andy.
"I think Andy's goal now is to be Liverpool's left-back for the next 10 years. To do that he's going to have to play at a very high level of consistency and excellence."
Robertson, who was at Queen's Park and Dundee United before his switch to Hull in 2014, made more appearances for Scotland (five) than he did for Liverpool in his first four months at Anfield.
He did not feature in any of Liverpool's Champions League group stage matches but has been a regular since December and scored his first club goal on the final day of the Premier League campaign as Jurgen Klopp's side finished fourth.
'Old school left-back'
Nicol, 56, who won four titles with the Reds, thinks Robertson is something of a throwback with his tough tackling and drive to get forward.
"Andy is 100% an old school left-back," said the US-based TV pundit.
"Good defenders, it matters to them if anyone beats them or not, they take it personally.
"You can see the determination written all over him. And that's not something you see very often these days, that's just not the way the game is played anymore."
Should Robertson feature against Real Madrid in Kiev, he will become the first Scot to play in a final since Paul Lambert lifted the famous trophy with Borussia Dortmund in 1997.
And Nicol has urged him to not to approach the game thinking it will be the toughest test of his career as the storied Spanish side chase a third consecutive success.
"I hope he's not looking at it in those sort of terms," he said.
"What he and Liverpool need to do is forget what team they're playing against and concentrate on what they do best."