Grant Holt: Former Norwich striker intends to keep playing despite wrestling 'challenge'
Last updated on .From the section Football
Former Norwich City striker Grant Holt says taking up wrestling will be a "challenge" but it is one he will take seriously.
He is scheduled to team up with Roy and Zak Knight, known as the UK Hooligans, at Fightmare 3 in 2019.
"If I want to do something, I do it properly," he said.
"I love a challenge. It's going to be great, a big show next year in June, which will be fantastic, so I'm really looking forward to it.
"Everyone knows how big it [wrestling] is in America but there's a lot of stuff going on in the UK and I just don't think it gets enough press. Hopefully, off the back of this, it will."
Holt has scored more than 200 goals in over 600 career appearances, with the likes of Aston Villa, Hibernian, Nottingham Forest, Shrewsbury and Rochdale also among his former clubs.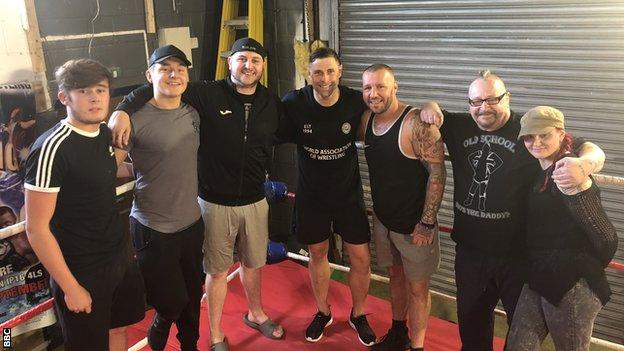 He failed to score in 23 appearances for Barrow in 2017-18 but intends to keep playing next season.
"Football is the most important job, so when the season finishes next year, I'll start training and we'll see what happens in June," he said.
"Some would say I haven't played football all year! But this is something I want to do with my spare time.
"What a way to work out - I hate going to the gym, I hate lifting weights, so for me this is perfect."