World Cup 2018: Fabian Delph faces possible dilemma should England reach knockout stages
Last updated on .From the section England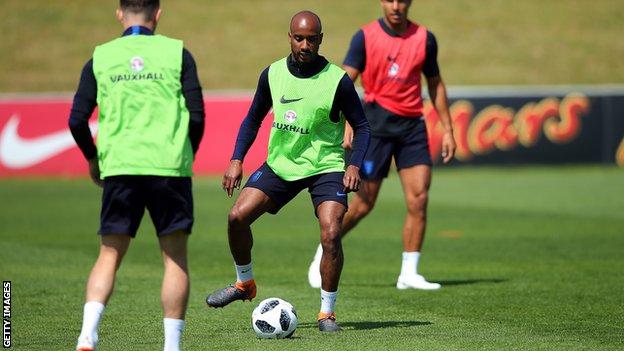 For most players, football is all that matters heading into a World Cup.
But for Manchester City midfielder Fabian Delph, 28, it could throw up a major dilemma - his wife Natalie is due to give birth to the couple's third child on 30 June.
That's just two days before a prospective last-16 fixture should the Three Lions top Group G in Russia.
But what if he's in the middle of a match when the call comes?
"She's tough, she's a Yorkshire lass so she'll deal with it," joked Bradford-born Delph, who won the Premier League this season.
Delph has already discussed the matter with England manager Gareth Southgate, and will try to fly home to be at the birth if possible - even if that means missing a game.
"We're not 100% certain, with a game on the 28th there might be an opportunity to fly back and then get back fast," he said.
"Gareth has been fantastic. There's nothing more important than family to me - family always comes first and always will."
Delph - who previously played for Leeds and Aston Villa before moving to the Etihad in 2015 - last played for England three years ago.
But his performances under Pep Guardiola during City's title-winning season have earned him a recall into Southgate's 23-man squad, despite playing out of position for much of the campaign at left-back in place of the injured Benjamin Mendy.
And while Delph would prefer to play in his natural position of midfield, he's happy to go wherever the team needs him.
"I'm a team player and I think the manager [Guardiola] values people like me, who pretty much put themselves last and put the team first," he said.
"I played left-back as a young kid, but not many times and I played there probably one or two times under Gerard Houllier at Aston Villa.
"But wherever I'm asked to play, I'm all about the team. I've been that way since I was a really young guy, and I'll continue to be that way throughout the rest of my career."