SFA: Rangers call for director suspension after fans' slur claim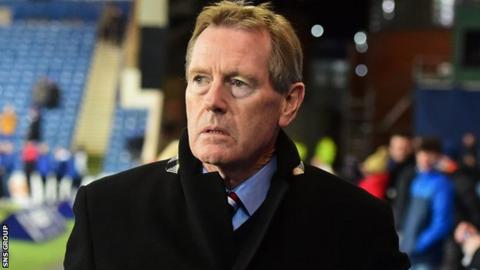 The Scottish Football Association board is reviewing claims that director Gary Hughes previously made derogatory remarks about Rangers supporters.
Ibrox chairman Dave King has called for Hughes to be suspended by the governing body.
It follows a newspaper article containing copy from a 2006 article credited to Hughes.
The piece from The Publican magazine referred to Rangers fans as the "great unwashed".
Hughes was chief executive of the trade magazine's publisher at the time.
In a statement given to the Daily Record, King said: "I can confirm receipt of information, that would appear to be credible, and which merits immediate and thorough independent investigation.
"Mr Hughes should be suspended pending this investigation. I also believe steps must be taken to ascertain whether any other SFA individuals were aware of what Mr Hughes said about Rangers supporters before he was appointed a non-executive director of the governing body in 2015.
"It is important to discover if there has been a breach of the SFA duties and responsibilities to all clubs."
The SFA has made no comment but it is understood the board is reviewing the matter.
Hughes was appointed as an independent non-executive director of the SFA in April 2015. His three-year term is due to end this summer but he would be eligible to be nominated for re-election for another term at the SFA's annual general meeting.