John Toshack: 'My heart tells me Liverpool but my head says Madrid'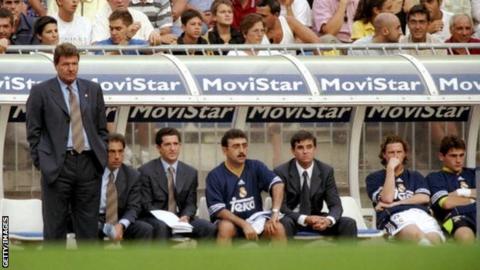 John Toshack says he is hoping Liverpool will lift the Champions League title on Saturday despite thinking Real Madrid will win in Kiev.
The 69-year-old has allegiances with both clubs having twice managed the Spanish giants, including in 1989 when he led them to the La Liga title.
Despite his connection with Los Blancos, Toshack says he will be routing for Jurgen Klopp's Liverpool.
"From a neutral's point of view I'm really looking forward to it," he said.
"With the players on show it has every opportunity to be a classic.
"I'm just hoping it's 90 minutes of great entertainment and Liverpool lift the trophy at the end."
Asked if he believed Liverpool could overcome Real Madrid to win their sixth Champions League title, Toshack replied: "My heart tells me Liverpool but my head says Madrid."
The former Wales and Macedonia manager, who has managed 13 teams across nine countries, told BBC Sport Wales he is expecting a "spectacular" game.
"When you look at the attacking potential of both sides it seems impossible that we won't witness anything that's not spectacular," added Toshack.
"But very often in these games when it starts the nerves get the better of you and you start off not wanting to make mistakes.
"It wouldn't be the first game to become a disappointment."