Gary Smyth delighted to make Glentoran return as assistant manager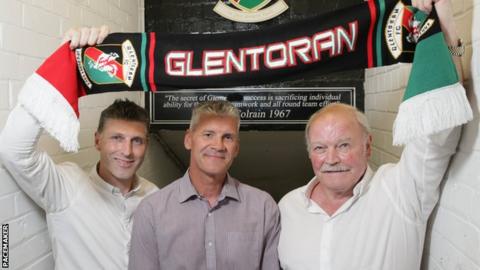 Gary Smyth is back at Glentoran as assistant manager and he's relishing working under Ronnie McFall.
The former Glens defender quit as H&W Welders boss to return to the club while former Oval team-mate Paul Leeman has also joined the coaching set-up.
"This is my club and I had to accept the chance to contribute to a new, positive era here," said Smyth.
"I'm coming in at a difficult time but I'm looking forward to working with Ronnie to start putting things right."
Former Portadown boss McFall agreed to remain at the helm following his temporary stint until the end of last season.
Smyth will join Kieran Harding as an assistant to McFall, who plans to trim his playing staff for next season.
"When the chairman raised this possibility a couple of weeks ago to stay on to help stabilise the club I was only too happy to do so," said the 70-year-old.
"As manager one of the big priorities is to provide the best possible grounding for Gary at Premiership level.
"For this season we know what we need to do to bring about the right level of improvement.
"It's obvious we have far too many professional players at the club so a number will need to go over the summer.
"As a manager I've always preferred working with a smaller but higher quality squad."