Eastleigh: Ownership changes agreed after Stewart Donald Sunderland takeover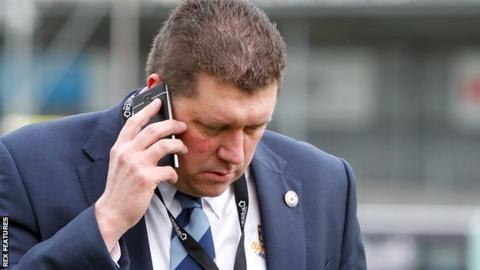 Eastleigh have received approval for a change of ownership after former chairman Stewart Donald completed his takeover of Sunderland.
Donald had to agree to sell National League club Eastleigh as part of his £40m acquisition of the Black Cats.
Chief executive Mark Jewell and directors Kenny Amor, Tom Coffey and Joanne Sprigg have purchased a controlling interest of the Spitfires.
Meanwhile, director of football Richard Hill has left by mutual consent.
Eastleigh finished 14th in the National League in 2017-18 under manager Andy Hessenthaler, who moved up from assistant to Hill after the latter changed roles.
Hessenthaler and his number two, Ben Strevens, have signed contracts that will see them in charge of the team next season.
At board level, Jewell becomes the club's new chairman, with Amor replacing him as CEO.
"We appreciate the fans' patience during this transition period," the club said in a statement.