Newport County: Fans 'in favour' of hybrid ownership model
Last updated on .From the section Newport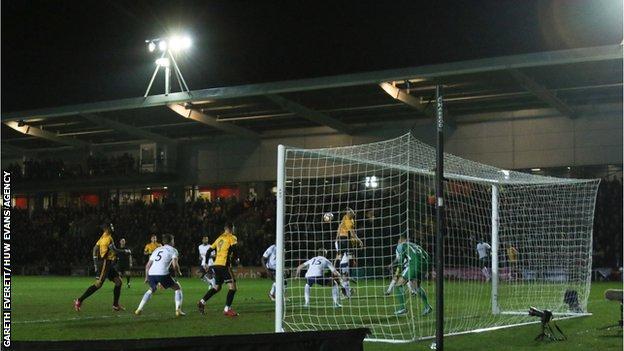 Newport County could be put up for sale as the club seek external investment.
The League Two club launched a consultation with fans asking whether to continue its current ownership model, invite outside investment or even takeover offers.
At a Supporters Trust meeting it was confirmed around 75% of 750 fans polled were in favour of a "hybrid ownership model."
That comes as the club say their FA Cup run saved them from a loss of £541,300.
The club say they will now continue to work on proposals to present to fans at a supporters' meeting on Thursday, 20 September.
Newport's Supporters Trust completed a takeover of the club in October 2015 with an elected board of directors.
A hybrid ownership model would potentially be similar to that at Swansea City, where the Supporters' Trust retain a 21.1% stake in the club.
The Exiles reached the fourth round of the FA Cup last season and enjoyed televised matches with Leeds United and twice against Premier League side Tottenham Hotspur.
The club, who are operating on a reduced budget this season, say that their management accounts, prior to audit, show a profit of close to £200,000, but only because of the cup run.
The club recorded a loss of £351,456 in their most recent accounts (year ending June 2017).
However, fans were told at a public meeting that relying on such cup runs and player sales to boost donations from their 1,500 members - currently amounting to £30,000 a year - was not sustainable.
The club have also called for talks over the cost of remaining at Rodney Parade.
County has signed a lease with the venue's owners - the Welsh Rugby Union - until 2023 but claim that costs have "increased by 100%."
Director Kevin Ward told supporters there has been no change to the original deal agreed by the club's previous board, but said: "It wasn't very good."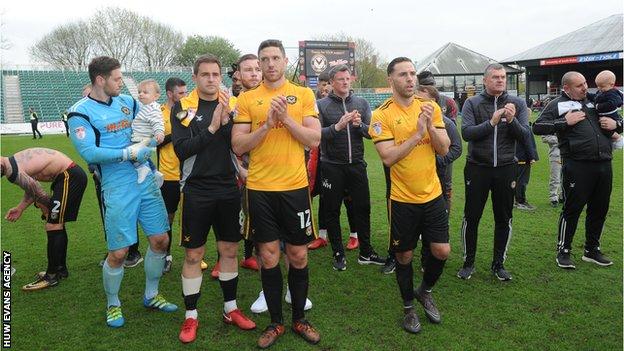 He added: "The value of us being at this ground is important.
"The future of us being here isn't one we can answer, the whole of the city has to be involved in it and that's why we're in the process of speaking to different stakeholders of how we go forward.
"My view is the preferential position is to remain at this venue, but if we were to carry on with our current situation (and) the current terms of the licence we play under, that's not viable - and we have to make those decisions fairly quickly."
In an document handed to supporters on behalf of the board, the club stated they had spoken to the WRU over the issue and that there are areas where the club "do not agree with what it is being asked to pay."
Directors say they do not blame the WRU, who have levied additional costs to meet health and safety requirements, but are committed to paying £50,000-per-season over five years following the installation of a new pitch and drainage, funded by the WRU at a cost of around £750,000.