Sunderland: Tony Davison named club's managing director after stint as mascot
Last updated on .From the section Sunderland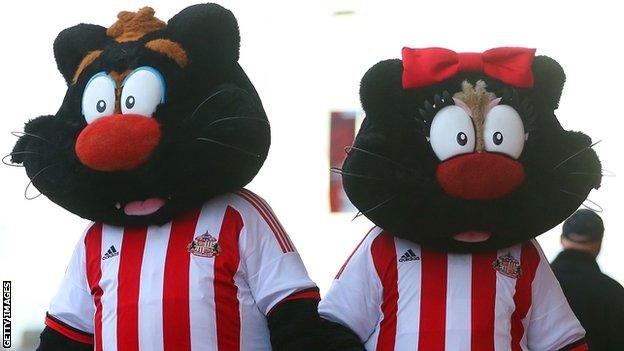 When there's a divide between a club and its supporters, who's the one person who can bring everyone together again?
A big-money striker? A billionaire owner? Well, Sunderland have turned to the man who used to dress up as their mascot to help repair the damage of successive relegations and off-field turmoil.
Lifelong fan Tony Davison worked in the club's marketing department between 1996-2005 - which included a spell as Samson the Cat on matchdays.
But he has now been appointed managing director at the Stadium of Light.
The return of Davison, who had been working in Tottenham's commercial department, comes after a boardroom reshuffle sparked by Stewart Donald's takeover of the relegated Championship side.
"Having worked with Tony in a variety of roles over the last decade, Stewart and I knew from the start that he was the man with the experience, desire and contacts to implement the vision that we have for the re-engagement of Sunderland AFC with its fans and the local business community," said executive director Charlie Methven.
"Tony is passionate about Sunderland and the fact that he has left a senior executive position at a top Premier League club and taken a lower wage to come back to his home city, demonstrates what his values are."
Samson forms part of a mascot double-act at Sunderland - so what does the future hold for his partner in crime, Delilah?
It is believed she was only a whisker away from gaining a role on the new-look Black Cats board.