Glentoran: Coaching reshuffle left in doubt
Last updated on .From the section Irish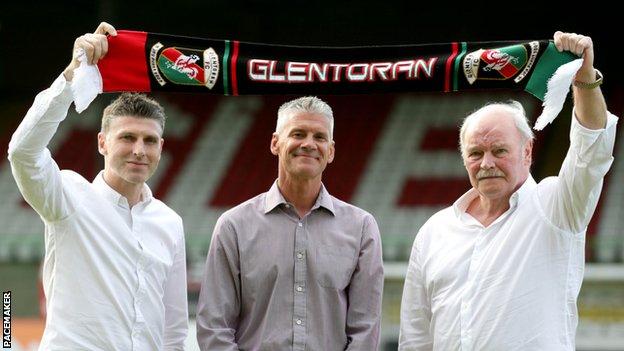 The Irish Football Association has put Glentoran on notice that an unqualified manager will not be permitted to engage in 'shadow management' at the club.
Ronnie McFall is to remain in charge of the Glens with ex-players Gary Smyth and Paul Leeman joining his staff.
But the IFA has informed the club that neither Smyth or Leeman can succeed McFall until they obtain the necessary UEFA 'A' coaching licences.
The club says the IFA is reacting to "uninformed media speculation".
In response to the Association's statement, Glentoran said they are: "extremely disappointed that the IFA has reacted so inappropriately to nothing other than uninformed media speculation in the days leading up to the announcement of our new management team and to attention seeking social media activity immediately following the announcement.
"The club totally refutes any insinuation contained within this statement or anywhere else."
Earlier, the Association said that Smyth and Leeman would not be able to earn their 'A' coaching badges until 2021 and said their Club Licensing Committee will continue to monitor the managerial set-ups at all licensed clubs in the Irish League.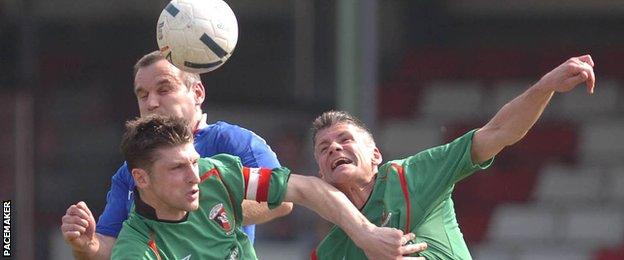 "Glentoran FC has been made fully aware that subject to successful completion of UEFA 'A' Licence requirements which Mr. Smyth and Mr. Leeman are scheduled to commence next month," the IFA statement read.
"The earliest that either Mr. Smyth or Mr. Leeman would be eligible to commence the UEFA Pro Licence with the Irish Football Association would be May 2021 as they would not have concluded their UEFA 'A' Licence course before the commencement of the next IFA UEFA Pro Licence course in May 2019."
Smyth and Leeman have both agreed three-year contracts with the Premiership side as part of an extensive overhaul of the club's coaching structures.
Smyth, the former H&W Welders manager, has been named as joint assistant manager alongside Kieran Harding, who will take responsibility for first team coaching.
Leeman has been appointed to help develop the club's underage players and provide a pathway for them to get experience with the senior team.
Glentoran confirmed that McFall will continue to fulfil all the functions of club manager and said any suggestion to the contrary would be an insult to the veteran manager and the club.
"Ronnie holds the UEFA Pro License and has been managing our first team since 22nd February this year, most recently 13 days ago in the Europa League playoff final," the club statement added.
"Ronnie is continuing in that role as has been made clear in all communication from this club.
"Kieran Harding also possesses the Pro License, Paul Leeman is enrolled on the A License and Gary Smyth will commence the course next month as the IFA has acknowledged in its statement.
"Glentoran has put in place a team and a strategy for the short term improvement and long term success of the club with these appointments. This has been done with complete integrity by everyone involved."