Rangers: Closing gap on Celtic should be Steven Gerrard's first target - David Weir
Last updated on .From the section Rangers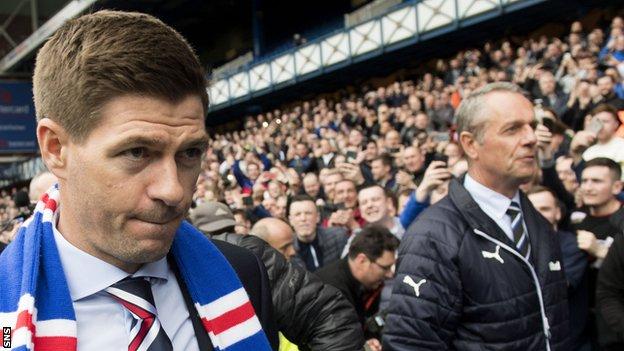 Steven Gerrard's initial target should be to bridge the gap to get Rangers closer to Celtic, according to former captain David Weir.
But Weir, 48, believes fans' expectations will be to compete for the Premiership, in which Rangers have finished third in the past two seasons.
"It's a tough, tough league," said the former Ibrox defender.
"Playing in it, trying to get wins in it, it's a really difficult place to come and play."
Gerrard takes over at Rangers next month, moving from a coaching career with former club Liverpool's academy.
Weir, who won three top-flight titles as a player at Ibrox, returned to Rangers as assistant manager Mark Warburton in 2015, leaving in early 2017.
"What the expectation should be is to get closer to Celtic, I think," he said. "Hopefully cup finals and potentially winning a trophy.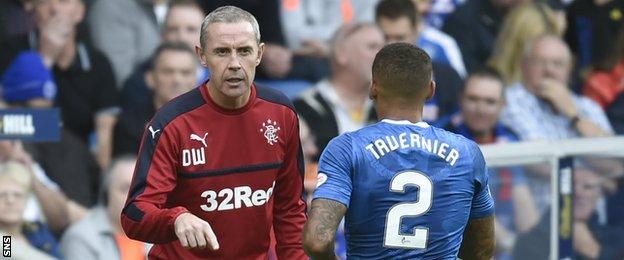 "But, realistically it'll be winning the league. I think that's always the case at Rangers, that's what the fans expect. That's what they want.
"Celtic are going for eight [titles] in a row, the panic button's starting to get pressed and it's a really difficult situation to be in but he looks like he's up for the challenge.
"It's a gamble on both parts. It's a gamble for Rangers because he's got a lack of managerial experience but it's a gamble for him because he's starting off in his managerial career chasing a really good Celtic team.
"It's a massive gamble, it's going to be really, really interesting. I think we're all fascinated to see how it pans out.
"We all know up here if you're not winning the league at Rangers then you're in a very precarious position."
Recruitment challenges
Rangers have already signed up two free agents - midfielder Scott Arfield and goalkeeper Allan McGregor - for next season, the latter to begin a second spell at Ibrox, while a permanent deal has been struck for winger Jamie Murphy.
"They need some experience, they need some sort of know-how to come into the league and both those lads have that," Weir said.
"You could look at the squad and say the manager needs to improve in all areas to challenge Celtic but it's not easy done.
"Where do you get those players? How do you afford those players? You go to the Championship [in England], you're getting good players but they're on big, big money and money probably above what Rangers are willing to pay now."