Champions League final: Liverpool goalkeeper Loris Karius 'infinitely sorry' for mistakes
Last updated on .From the section European Football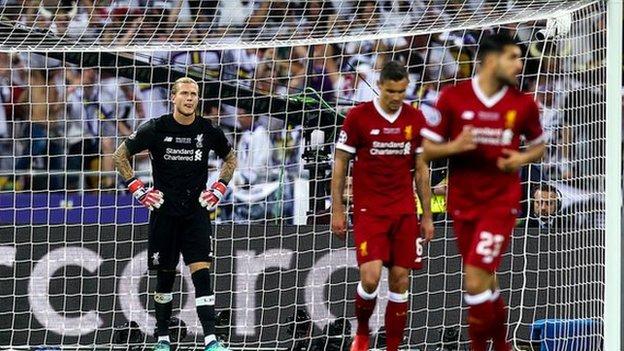 Liverpool goalkeeper Loris Karius says he is "infinitely sorry" after his two mistakes helped Real Madrid beat the Reds in the Champions League final.
The 24-year-old gifted Real striker Karim Benzema an easy goal for the opener in Kiev.
Karius later allowed a Gareth Bale shot to squirm in for Real's third as the Spanish club won 3-1.
"I know I messed it up with the two mistakes and let you all down," said a message from Karius on social media.
"Haven't really slept until now," he wrote the day after the match. "The scenes are still running through my head again and again.
"I'm infinitely sorry to my team-mates, for you fans, and for all the staff.
"I'd just like to turn back the time but that's not possible. It's even worse as we all felt that we could have beaten Real Madrid and we were in the game for a long time.
"Thank you to our unbelievable fans who came to Kiev and held my back, even after the game.
"I don't take that for granted and once again it showed me what a big family we are. Thank you and we will come back stronger."
I feel for him - Klopp
Liverpool boss Jurgen Klopp, who is still seeking his first trophy since joining Liverpool in 2015, says he feels sympathy for Karius.
"The second mistake is because of the first. It's really difficult to get rid of the bad thoughts in your mind," he said.
"Loris knows it, everybody knows it. That is a shame in a game like this, in a season like this.
"I feel for him. He is a fantastic boy."
Karius was beaten by a stunning overhead volley by Wales forward Bale after Sadio Mane had cancelled out Benzema's opener.
"Gareth Bale's bicycle kick was unbelievable," said Klopp.
"We did what we could and the boys tried everything but it was not the best script for us.
"Everything was great until tonight. You go to the final to win it. It was a proper chance for us and we did not take it."
'We win as a team and we lose as a team'
Liverpool captain Jordan Henderson refused to blame Karius' errors for Liverpool's third defeat in major finals under Klopp - having lost in both the League Cup and Europa League in 2016.
Their last success in a final came when they beat Cardiff City on penalties in the 2012 League Cup.
"It is not the mistakes Loris Karius made, we got to the final as a team and lose as a team," added England midfielder Henderson.
"It is about everybody. We were not good enough on the night.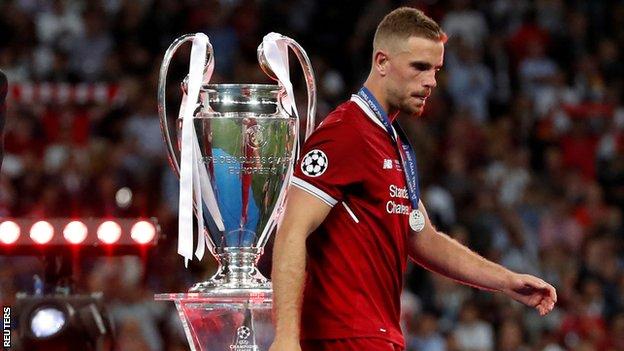 "I am so proud of the players and the fans who came out for us on the night.
"I hope we can carry on and get into more finals and use it going forward.
"We have to be proud of getting here. It will hurt for a while but we have to keep going."
'It will take three months to recover'
Sports psychiatrist Dr Steve Peters, who has worked with the England national team as well as the British Cycling squad said Karius will need time to recover from his mistakes.
"This is sport and on the day sometimes things go wrong. The most important thing is to accept that he hasn't lost any talent or ability. It's just a couple of glitches so it's usually best to face the demons. He'll probably never make the same mistake again.
"As a general rule of thumb it will take about three months to get over it. We don't know why this is - the mind takes about this time to process something. With professional support you can process this effectively so that when you come out of this it strengthens you rather than weakens you."
'He will have to live with that for the rest of his life'
Former England goalkeeper Ray Clemence, who won the European Cup on three occasions with Liverpool between 1977 and 1981, says it will be a long summer break for Karius, who has not been named in Germany's World Cup squad.
"He's made two horrendous errors at vital times in the game and he has to live with that," Clemence told BBC Radio 5 live's Sportsweek.
"He's got the whole summer to think about it and when you make mistakes in massive games like that they will be with you for the rest of your life, because people will remember them and keep reminding you of them.
"Everywhere he goes now away from home he is going to be reminded of it."