Gareth McAuley: Veteran West Brom defender aims to continue club career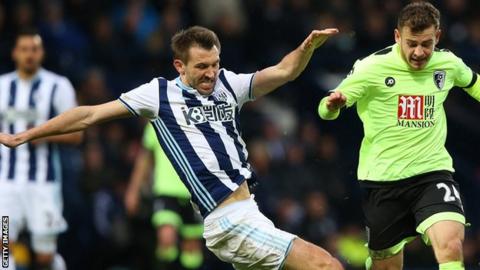 Northern Ireland's veteran West Brom defender Gareth McAuley intends to continue his club career even if it is away from the Hawthorns.
The 38-year-old's contract with the Baggies expires next month after seven years with the club.
He was largely out of favour this season as the club were relegated.
"I want to play next year - I've not spoken to West Brom, or no-one has been in contact with me since the end of the season," said McAuley.
"I don't know where that sits. I haven't been told, 'We want you there or we don't want you'. I'm not sure what the club is thinking about me."
McAuley's 'difficult season'
McAuley played just 456 minutes in West Brom's disastrous top-flight campaign and admits he frustrated at his lack of opportunities under Tony Pulis, Alan Pardew and then Darren Moore.
"It's been a difficult season - not having played an awful lot as well and it's the first time I've experienced that in my career," McAuley said.
"I am absolutely fine with Darren Moore - he's been great since he's gone in there and put the values back into the club that were missing and leaving for a while."
McAuley only started five Premier League games all term and what may prove to be his final Baggies appearance came in February.
Given the team's struggles and the way McAuley was continuing to impress at international level, the centre-back was perplexed by his omission.
"I was trying my best to get back into the team but the reasons I was being given for not being included didn't sit very well with me," he added.
"But, in saying that, everyone wants to play and if you are not then you still have to support the boys who are pulling on the shirt."
Northern Ireland face Panama on Tuesday
With West Brom providing no clarity over his future, McAuley is prepared to continue playing elsewhere and he is open to the possibility of his next destination being abroad.
"Abroad would possibly interest me, but it doesn't have to be somewhere warm or anything like that, I just want to be playing regular football.
"Hopefully I'll have a couple of options to look at."
McAuley is with the Northern Ireland squad in Panama for Tuesday's friendly against the World Cup qualifiers.
Northern Ireland will then face Costa Rica in San Jose in their second match of their Central American tour on 3 June.