Women's Championship: Crystal Palace 'hugely disappointed' as licence bid is overlooked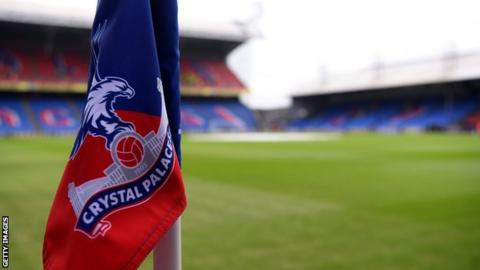 Crystal Palace have expressed their "overwhelming disappointment" after missing out on a licence to join the new Women's Championship for 2018-19.
With England's women's leagues - run by the Football Association - being restructured, 14 teams applied for five vacancies in the part-time second tier.
Manchester United, third-tier champions Charlton, Leicester City, Lewes FC and Sheffield United were all successful.
Palace claim their bid was "viable and credible" and was "based on integrity".
Southampton and Derby were among the other clubs who missed out along with Palace, while West Ham United will move from tier three to tier one, after pledging to turn professional.
And current top-flight side Sunderland and second-tier Watford and Oxford are to drop out of England's top-two tiers after their bids were unsuccessful.
"Despite what has been described as a credible and strong application, it has been decided that our bid was edged out by others," Palace Ladies chairman Richard Spokes said in a statement.
"We were ready for this transition and had presented a viable and credible case.
"[The club] submitted a bid based on footballing provenance and progression throughout the pyramid, integrity, incredible support, sustainability and innovation.
"The club awaits feedback from the process, to establish the areas that affected the final decision, and will study these as a means of assessing immediate and future opportunities. It remains our intention to be a significant part in the future of women's football."
'Yes, there are casualties' - Baroness Campbell
The FA's head of women's football, Baroness Campbell, said she appreciated some clubs would be upset, but stressed licences were awarded "on merit".
Responding to a question about Sunderland's fall from tier one, she told BBC Radio 5 live: "They were in a very competitive competition to get in to the two leagues and we had to judge people on merit.
"Yes, it's tough on them, but unfortunately, whenever you create these kind of step-changes, there are casualties, and I'm afraid they're one of them.
"As we move the WSL to full-time, in order to improve competitive balance, get better broadcasts and eventually better commercial income. Some clubs couldn't make that step.
"Others have stepped up to the mark. It has to be a commitment from the club to step up and move forward together with us.
"We're in a very good place and I think in a few years from now, we'll have a league that is the envy of the world."
Which clubs did earn a licence?
| Women's third-tier North table, 2017-18 | Women's third-tier South table, 2017-18 |
| --- | --- |
| 1st: Blackburn Rovers Ladies | 1st: Charlton Athletic Women |
| 2nd: Leicester City Women | 2nd: C & K Basildon Ladies |
| 3rd: Middlesbrough Women | 3rd: Crystal Palace Ladies |
| 4th: Stoke City Ladies | 4th: Coventry United Ladies |
| 5th: Fylde Ladies: | 5th: Lewes FC Women |
| 6th: Huddersfield Town Ladies | 6th: Portsmouth Ladies |
| 7th: Derby County Ladies | 7th: West Ham United Ladies |
| 8th: Bradford City Women | 8th: Chichester City Ladies |
| 9th: Nottingham Forest Ladies | 9th: Gillingham Ladies |
| 10th: Guiseley Vixens Women | 10th: Cardiff City Ladies |
| 11th: Wolverhampton Wanderers Women | 11th: Queens Park Rangers Ladies |
| 12th: West Bromwich Albion Women | 12th: Swindon Town Ladies |
Charlton earned their place after winning Sunday's third-tier play-off against Blackburn, the winners of the third-tier Northern Division this term.
Palace finished third in their division behind Charlton, but above Lewes as well as top-flight-bound West Ham.
The Hammers were the only one of the 15 bidders to apply for tier one rather than tier two, and will therefore move up two divisions this summer.
Of the other successful applications, Sheffield United currently play in the fourth tier, while Manchester United have not had a senior women's side since disbanding their team in 2005.
Campbell added that she was "delighted" that Man United - who had faced widespread criticism for not fielding a senior women's team - had "felt this was a good time to step forward and get involved".
What next for the demoted clubs?
Of the 20 clubs who were in the top two divisions in 2017-18, Sunderland, Watford and Oxford will be dropping down the leagues, after their bids were turned down.
All three clubs opted not to apply during the initial, closed phase of applications last autumn, but did submit new bids in March during the second window.
BBC Sport understands they will all be offered spots in the third tier, the new Women's National League.
A statement from Sunderland said: "Following today's announcement, we will take some time to fully consider the options available to us in relation to Sunderland AFC Ladies."
The Lady Black Cats reached at least the quarter-finals of the Women's FA Cup in each of the past three seasons
Watford, who were the second tier's bottom side in May, said: "The club will be funded in all aspects of its operational infrastructure at existing levels, which is hoped will facilitate a return to the second division at the earliest opportunity."
Oxford added on social media: "We remain fully committed to the development of the women's game and we will keep fans updated of our plans."
Could the new divisions have been larger?
One particular aspect of the restructure that has frustrated some fans and unsuccessful clubs is the decision to cap the new second tier at a maximum of 12 teams, despite 14 sides bidding for the five vacancies.
For 2017-18, there were 20 teams in the WSL, with 10 teams in WSL 1 and 10 in WSL 2.
The FA had said that up to 14 teams could play in the new WSL, with up to 12 in the new Women's Championship.
It is understood that the budgets agreed with second-tier sides would have meant that playing additional league fixtures beyond 22 rounds of games would not have been affordable for all clubs.
The 2018-19 FA Women's Championship
Aston Villa Ladies
Tottenham Hotspur Ladies
Doncaster Rovers Belles
Charlton Athletic Women
Durham Women
Leicester City Women
London Bees
Lewes FC Women
Millwall Lionesses
Manchester United Women
Sheffield FC
Sheffield United Ladies
Katie Brazier, the FA's head of women's leagues and competitions, told the FA's website: "We have 11 teams [in the top tier] because just one club applied for tier one within the open application phase.
"We will even the numbers for the following season via promotion and relegation.
"With promotion and relegation now established across all levels of the pyramid there are opportunities for clubs to progress in the future."
Reacting to his side's successful bid, Leicester City manager Jonathan Morgan said: "It's a fantastic day for the club, I feel it's thoroughly deserved, and something that we have worked towards for the past four years."
Sheffield United's chief operating officer, Andrew Birks, said the club are "absolutely thrilled that the ladies will mirror the men's team in playing in the second tier next season".
Meanwhile, following their unsuccessful bid, Derby stressed they would "now look to secure promotion via the conventional league route".
| Current league name | New name from 2018-19 onwards |
| --- | --- |
| Tier One: Women's Super League One | FA Women's Super League |
| Tier Two: Women's Super League Two | FA Women's Championship |
| Tier Three: Women's Premier League Northern / Southern Division | FA Women's National League North / South |
| Tier Four: Women's Premier League Division One [four regions] | FA Women's National League One [four regions] |
You can now add WSL 1 notifications for line-ups, goals, kick-off, half-time and results in the BBC Sport app. Visit this page to find out how to sign-up.