World Cup 2018: The making of Uruguay and Barcelona forward Luis Suarez
Last updated on .From the section World Cup
"The story of love was an objective, more important than being successful in football."
Luis Suarez: serial winner, prolific goalscorer, headline-maker and, probably less well known, a romantic who left South America as a teenager to follow his childhood sweetheart to Europe.
The 31-year-old has won the Champions League and multiple La Liga titles with Barcelona, claimed the Premier League Golden Boot and Player of the Year trophy with Liverpool, and is Uruguay's all-time leading scorer.
But his footballing tale begins with him borrowing boots in Montevideo, and is one motivated by the constant desire to reunite with girlfriend Sofia after her family moved to Barcelona when he was 16.
From joining Urreta as a seven-year-old to becoming one of the game's most sought-after talents at Ajax, BBC Sport explores the making of Suarez with those who knew him best.
'Crafty kid in borrowed shoes'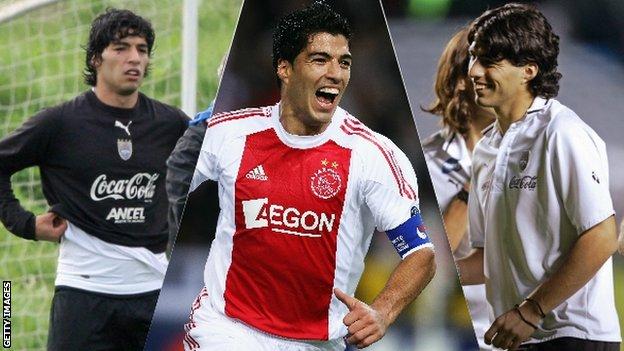 Suarez was born in Salto in January 1987, moving to Montevideo aged seven with his parents and six brothers. It was here he began playing "baby football" for Urreta FC.
Pablo Parodi, friend and neighbour of the Suarez family in Montevideo: "He was a quiet kid, he wasn't someone who would stand out. He always spent time with his brothers. He was very relaxed, very quiet, very respectful. But he had his personality, he was also a little crafty.
"Sometimes he'd come to the bakery, wolfing down a cake or something sweet, so he didn't have to share with his brothers because there were loads of them.
"At the weekends they'd go to the pitches and play at Urreta. They'd go out early and get back late at around seven or eight at night, all wiped out - they'd come back pleased because they always won and there were goals.
"They were a very close family. In terms of money, they were very poor. They didn't have a lot and work was down to the mother."
Antonio di Candia coached Suarez when at Urreta: "He'd come here with his mother and his brother and he played on Saturdays, so they'd spend the entire day here.
"He'd moved from Salto and generally the children are quieter and don't say as much. He didn't speak much, but on the pitch he was pretty unbearable."
Wilson Piris, Suarez's first agent: "His brothers, all of his family, they were very humble, yet were working people with drive and I think he soaked all that up at home.
"Sometimes he didn't have shoes and played with ones he'd borrowed. If you needed to get shoes for him, you got shoes for him. He'd often walk to training to save money and take it home.
"At 12 years of age, these aren't things that everyone would do. Luis had that personality, to help at home in a way he felt he could at that moment. And then at the weekend, he earned money from us for goals.
"We'd laugh because we'd always have 'bets' to encourage him. And, as you could imagine, for him to help his family was the most valuable thing there was."
Already dreaming of Barcelona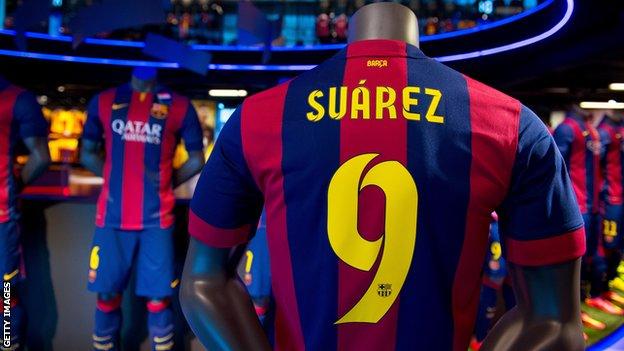 The youngster's ability caught the eye of one of Uruguay's biggest clubs, Nacional, and he joined the Montevideo-based side's youth set-up as a 14-year-old.
Di Candia: "Luisito was already standing out as a goalscorer. Sometimes games would end 5-0, 8-0, 8-2, and he'd get four or five goals. So the signs were already there that he was going to be a great player.
"He was really strong and he had a temper back then, just like now. Luisito would argue with his team-mates if they didn't pass to him, over a free-kick, a penalty. He had a fiery temper."
Piris: "There were few of us who really believed in Luis, because he had a very particular personality and playing style. He was the type of kid who would fall over the ball and, where other kids would miss the target, Luis would score.
"I suspected he might make it and have that future, because he said that he was going to play for Barcelona.
"I'd always say the same to him: 'What are you talking about, playing at Barcelona, when you're a sub in the seventh team at Nacional? There's no way you can make it.' And that was his personality, in that he always thought he would get there."
Mario Rebollo, who first spotted Suarez playing for Nacional Under-15s while he was coaching Montevideo Wanderers: "Luis was part of a really good crop of players at Nacional.
"He wasn't the outstanding player that he is today, but he played in a strikeforce with Martín Cauteruccio, Bruno Fornaroli and this was the best generation of players out of all of the teams around here.
"Then we saw each other again two years later, in 2004. I moved on to be assistant coach to Santiago Ostolaza, who was the coach of Nacional, and that pre-season we made Luis come back from Spain.
"Luis was going out with Sofia and he still holds it against me to this day that we made him report for pre-season training, cut short his holiday, and then didn't pick him for the first-team squad."
'This kid has a long way to go'
Suarez would soon break into the first team, making his debut as an 18-year-old and scoring 10 times in 27 matches as Nacional won the Uruguayan title.
Martin Lasarte, who handed Suarez his debut at Nacional: "The first time I saw Luis was arriving at the pitches for a training session. It was a double session, he missed the one in the morning because he'd travelled from Spain and had been at his girlfriend's house.
"His demeanour stood out for me, he'd come here straight from the airport. He surprised me a great deal. He had a lot of desire, willingness and was excited about the period he was about to go through.
"We quickly realised he was going to be something different. He had qualities that I hadn't seen in older players. Perhaps there were still things to work on, he was still a rough diamond, but his potential was well above average for a kid of his age.
"He'd always talk about his dreams as we walked around the pitches, saying he was going to play for Barcelona. At 18 years of age I thought, 'this kid has got a long way to go', but obviously he made it."
Diego Arismendi, a team-mate of Suarez at Nacional and Uruguay: "You could see that he was destined for great things. In the Under-20 national team he was one of the oldest, so he had to be one of the more responsible ones.
"With those closest to him his personality is that of someone who likes to joke around, but not so much within that group because he was one of those that had to behave more responsibly."
Lasarte: "Once he started playing regularly, he immediately gave you the impression he was a player who, instead of being 18, was 25 or 26. He made decisions, he got stuck into opponents, making them angry.
"He wasn't intimidated, he didn't get scared if a senior player hit him or got in his ear. In fact, he wanted more. He got angry with himself when he didn't score, even if they were winning."
An 'impulse buy', Suarez moves for love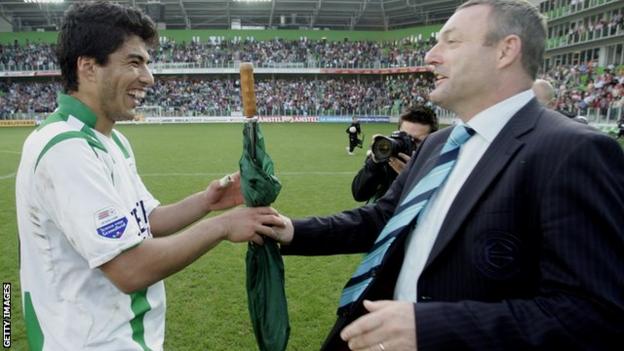 In 2006 Groningen sent scouts to Uruguay to watch a transfer target - they came back with Luis Suarez after the tenacious teenager wowed the travelling Dutch contingent. But Suarez had more than football reasons for wanting a transfer to Europe...
Lasarte: "He started telling me about his girlfriend and the distance, which was the only thing that separated them because they were really very in love. The story of love was an objective in itself. It was probably more important than being successful in football, because it was very powerful.
"He'd always mention she was far away, and he missed her, or they missed each other. If there was a chance to see each other they did."
Former Groningen head coach Ron Jans: "It was my holiday at the beginning of June and I got a phone call from my director: 'we are going to buy the most expensive player we have ever bought?' He is always very impulsive.
"It was a mistake, because they went to Uruguay for another player. They went to a game, saw Luis Suarez and said: 'We want him!' In those times, the data scouting wasn't there. So it was an impulse buy. It's been one of the best decisions the club ever made."
Rebollo: "He did the impossible. Sofia lived in Barcelona - it wasn't your everyday relationship - and he did whatever he could to be close to her."
Overweight and out of the side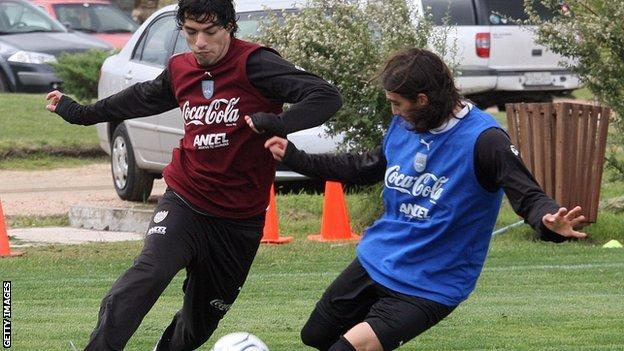 Having completed the £720,000 purchase, Groningen allowed Suarez extra time off after his season ended with Nacional. He arrived overweight, but keen to learn Dutch and integrate into the side.
Jans: "He came late in pre-season. It was better in the long term because your body and mind need a break. But he was too heavy. So I told him he wasn't in the starting XI. He showed in one training session that he didn't like it.
"I said to him: 'If you train like this you will never come in the first team and if you don't lose weight you will never play. The first task is to lose two kilos before I am serious about starting with Luis Suarez.' It helped so much our relationship, but it also gave him motivation to do things.
"He didn't have any patience, he wanted to start and play and score - after that it grew only better and better. In December he came in and we started with him."
Piris: "For Luis to make that big move to Europe, and to Dutch football, was the best thing that could have happened to him. If he'd gone to a big league from the start, perhaps he would have found it a bit tougher.
"What he learned there was to play European football, that defined him and developed him much more. It showed him what it meant to play in Europe and that's why he excelled in the way he did. Groningen was key."
Suarez makes his own luck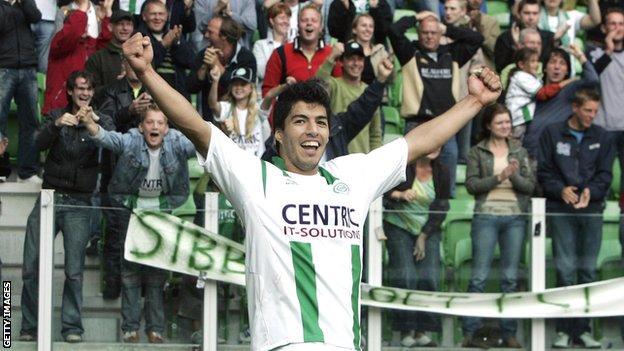 Suarez forced his way into the side and finished the season with 10 goals in 29 league appearances, including two in the final 10 minutes of a 4-3 win over Vitesse. He also made his debut for Uruguay, but with the goals and international recognition came the attention of Dutch giants Ajax.
Jans: "The game before Vitesse I made a substitution and took him out. He wasn't happy with that, I wasn't happy with his reaction. But after that we were cheering the crowd together and it was good.
"For me the turning point was making the starting XI. Physically he needed a little bit more time, but he became known - not famous yet - as a special striker.
"He was happy here. He saw that he was getting better, and when you get appreciation from your fellow players, then you get so much confidence.
"It was all practice. After training sessions he always took free-kicks, he also loved to be the goalkeeper. In one v one we always thought he was lucky, but when 7/10 times you are lucky, it isn't luck."
Rebollo would work with Suarez again as Uruguay's assistant coach: "He had a permanent desire to improve. He always wanted to get better.
"He went to Europe and became a true professional, not just in training, but in other aspects of his life that players require to be at elite level."
Heading for Amsterdam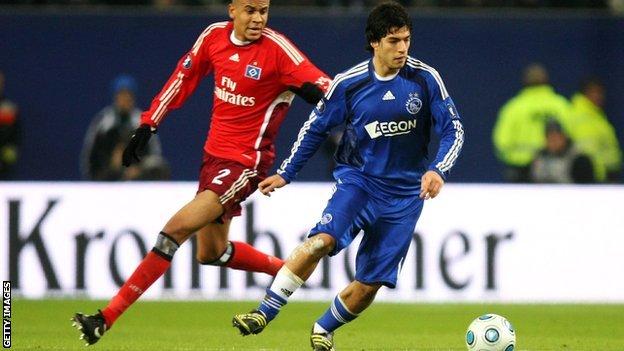 Suarez put pen to paper on a £6.75m move to Ajax in August 2007. It followed a year of impressive progress for the Uruguayan: arriving at Groningen, breaking into the first team and making his international debut.
Jans: "When you get better at Groningen you create interest from other clubs and Ajax came. It was not a good situation because he wanted to go, he wanted to leave.
"His ambition I understood. I talked to him, but the club were in negotiations with Ajax and it lasted a few weeks and there was some trouble.
"I am amazed how quick he learned on the pitch, in the dressing room, in the team but also as a person. The whole career for Luis is evolution - from Uruguay, to Groningen, to Ajax, to Liverpool, to Barcelona."
Frank de Boer, who was coaching Ajax's youth team when Suarez arrived: "He was a really interesting player for Ajax. Of course it helped he was at Groningen, he learned a little bit about the Dutch league, what he could expect.
"When he came to Ajax he learned to cope with the pressure of the stadium, to win every game. He coped very well, also tactically. He is a player who really adapts very quickly in all kinds of levels.
"He brings something different; energy, a winner's mentality. You could already see at that moment he wanted to score so many goals."
The two sides of Suarez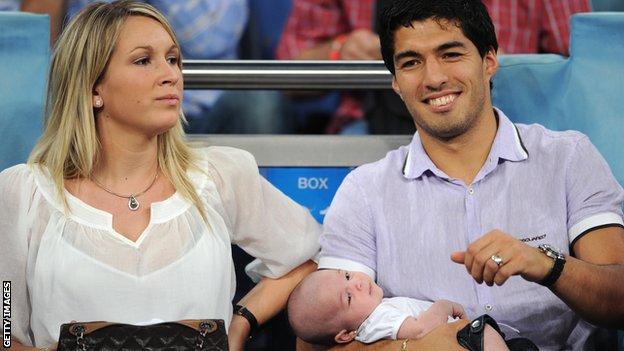 Suarez may have been finding the net during his early years in the Netherlands, but the forward's feisty approach was also landing him in trouble with critics and referees.
Jans: "He is all about winning, doing everything. In Holland and England it is the same, we don't like when you dive or ask for yellow cards.
"Off the pitch he is nice, not arrogant, simple. He always likes to make fun, make a game and he always wants to put money on it. He's a family man, social. His first girlfriend is his wife. He's great with his family and the kids now. He's not in the publicity with those kind of things, just the football."
De Boer: "He wants to score, score, score. It doesn't matter how. If he has to cheat or something like that, it doesn't matter. It is so important to win and to score a lot of goals. It is in his genes, maybe a little bit the South American temperament.
"He couldn't cope with losing. That winning spirit is in his blood, especially on the pitch. He was a good example for everybody. Dennis Bergkamp was a little bit the same. It's not cheating, but it's how far the referee will allow you to go.
"He's such a fantastic guy outside the pitch. One of the guys that is always friendly, first in the dressing room to say 'hello'. That is fantastic about Luis. It's like he switches a button and suddenly is a different person."
Piris: "This craftiness he has always came from his will to win and this means doing anything that's within the rules on a pitch. In Europe it's very difficult because it's not the done thing and we know it's very difficult for them to understand him."
Rebollo: "Luis is a warrior who overcomes adversity and doesn't give up. On the other hand, he's really sensitive, very nice, very much a family man and he's a loveable character, too.
"He doesn't want to lose and he moans at the referee in the training games and he fights with his opponents. That's the way he is. That temperament kept under control is a real asset."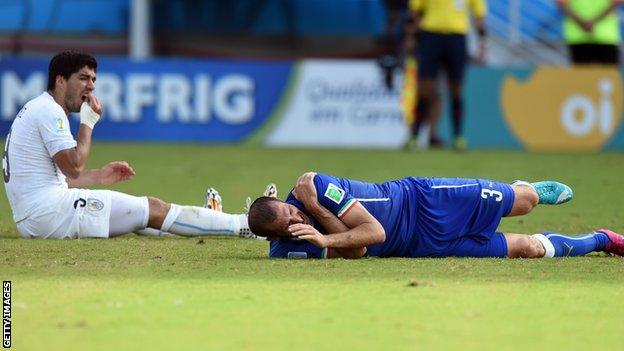 It was while at Ajax that Suarez received the first of three bans for biting - a seven-game suspension for an incident with PSV Eindhoven's Otman Bakkal.
De Boer: "It was the first real thing with him, the concentration of the media because of course you don't do it.
"It was difficult for everyone. You want to get him up again and try to avoid those kind of things, but it is somewhere deep in him. He is much more mature now. But for everybody, especially him, it was a difficult period.
"He did some stupid things at Ajax and he did stupid things at Liverpool. Everywhere he is, he does stupid things. But he is just eager to win and to score goals - that's also a very important quality, that's why he reached so far and is playing for Barcelona."
Jans: "I was afraid after that situation he would maybe lose his winning mentality on the pitch but it is still there. He is more in control now. Everybody worried it could have been the end of his career, but he learned without losing that mentality."
Leaving Ajax as a legend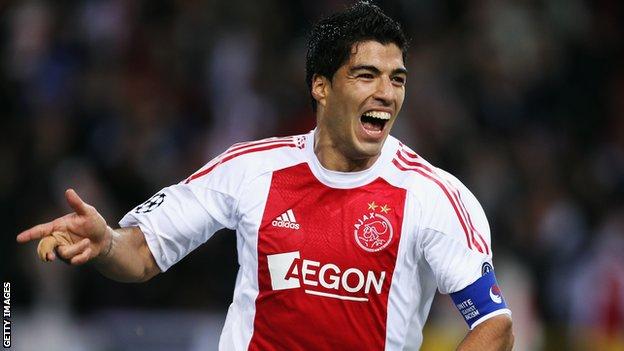 In a three-and-a-half-year spell in Amsterdam, Suarez scored 111 goals in 159 appearances. Liverpool's attention was piqued during his final full season at the club, when the Ajax captain scored 35 goals in 33 league games, making it 49 in all competitions as his side won the KNVB Cup and he was crowned Footballer of the Year. It prompted the Reds to pay £22.7m for the forward, with Suarez heading to Anfield in January 2011.
De Boer, who became Ajax boss at the beginning of the 2010-11 season: "He was the captain, which means the group have accepted you. He is a talent everyone loves, because he is working, fighting to win for the club. The supporters like that. Every fan wants to see 100% energy. Fighting spirit on the pitch.
"We knew he was a very good player. That he reached the level he has now, nobody could predict that. Of course, you saw a lot of talent - the heart to get on to that level. Every time he surprises you he can be better and better.
"There came a period when he was a little bit above this league. You hear the rumours Liverpool are interested and I knew when I became the new manager it was not going to take long, he was going to go to a big league somewhere else. Liverpool came, then you know he has gone and his head is already there.
"He was no problem. That is the destiny of Ajax and we have to accept that. We thanked him for everything and said 'continue what you are doing…'.
"Everybody is proud of Luis. He is a product of Ajax, it is really here that you saw Luis could be a very interesting player for the big leagues."