Antonio Conte: Chelsea manager's exit continues title-winning trend
Last updated on .From the section Premier League33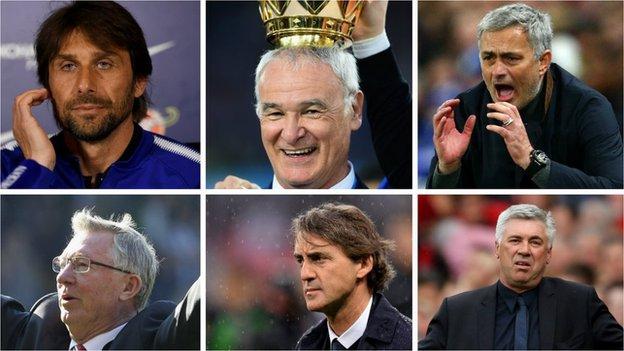 Chelsea's sacking of boss Antonio Conte means for the sixth time in eight seasons the Premier League's title-winning manager has left his job the following summer - if not earlier.
Since 2009-10, Carlo Ancelotti, Roberto Mancini, Jose Mourinho, Claudio Ranieri and Conte have all been sacked - with Alex Ferguson retiring - within about a year of winning the title.
Legendary United boss Ferguson in 2010-11 and Manuel Pellegrini at Manchester City in 2013-14, who both saw out two more seasons, are the exceptions.
Chelsea have been responsible for three of the six quickfire changes.
The Premier League title has not successfully been defended in the past nine years.
The last eight Premier League title winners (not including this season)

Season
Club
Manager
What happened next?
2009-10
Chelsea
Carlo Ancelotti
Sacked at end of following season

2010-11

Man Utd

Alex Ferguson

Managed two more seasons before retiring

2011-12
Man City
Roberto Mancini
Sacked near end of following season
2012-13
Man Utd
Alex Ferguson
Retired after winning title

2013-14

Man City

Manuel Pellegrini

Lasted two more seasons

2014-15
Chelsea
Jose Mourinho
Sacked in December
2015-16
Leicester
Claudio Ranieri
Sacked in February
2016-17
Chelsea
Antonio Conte
Sacked at end of following season
What did it used to be like?
In the first 17 Premier League seasons before this recent spell, no title-winning manager left the club within a year - although it was a different era.
There were only four title-winning teams or managers in that time - Ferguson at United (11 times), Arsene Wenger at Arsenal (three times), Mourinho at Chelsea (twice) and Kenny Dalglish at Blackburn (once).
Dalglish won the 1994-95 title with Blackburn and then immediately became director of football - before leaving the club 14 months later.
Why always Chelsea?
No Chelsea manager has kept their job for four years in the Premier League era - only Mourinho (the first time), Ranieri and Glenn Hoddle have lasted for three entire seasons.
But their system somehow seems to work. Roman Abramovich has appointed a new manager 11 times since his 2003 takeover, including caretakers who have been in charge for several months, and seven of them have won trophies.
In fact, no Chelsea manager hired by the Russian has been in charge for a full season and not won a trophy. The Blues have never gone more than one year without winning a trophy in his reign.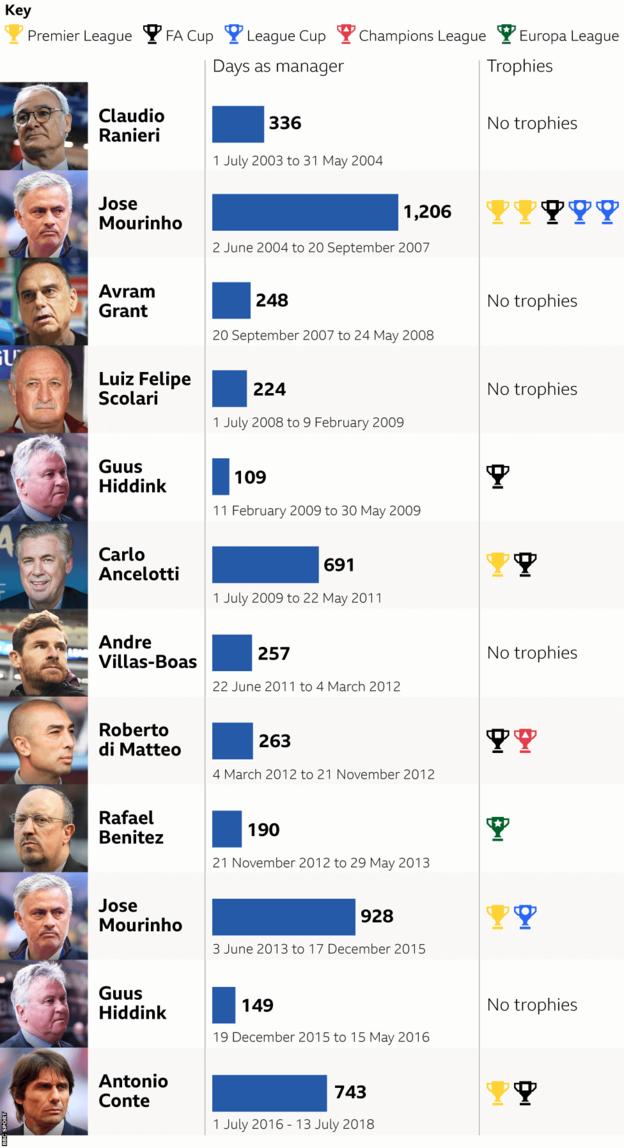 How does the Premier League compare to the top leagues?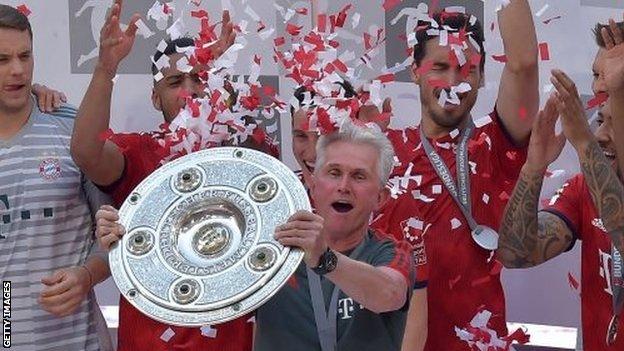 The Premier League's six managerial changes in eight years is more than Europe's other four top leagues, although maybe not as much as you might expect. The huge caveat here is that the other leagues are mostly dominated by one or two teams. In fact two of the four champions have already changed manager this summer.
You will notice a lot of the same names from the Premier League list coming up here on several occasions.
Bundesliga (five times)
In five of the eight seasons this piece is discussing, the title-winning manager has not been there for more than a year afterwards - all of them Bayern Munich.
However it is only actually four managerial changes in question - as Pep Guardiola's exit straight after the 2016 title also meant he had left a year after the 2015 crown.
Louis van Gaal was sacked the April after winning the 2010 Bundesliga, Heynckes was replaced by Guardiola immediately after winning the 2013 treble and Ancelotti was sacked in September after winning last year's title.
It is six in nine, including this season, with Heynckes (again) being replaced by Niko Kovac.
The only managers to stick around for longer than a year are Jurgen Klopp with Borussia Dortmund in 2011 and 2012 and Guardiola in 2014.
La Liga (four times)
In five of the previous eight seasons, the winning La Liga title manager has left within a year, although mostly of their own volition.
Guardiola stepped down at Barcelona a year after winning the 2011 title, Mourinho left Real Madrid by mutual consent 12 months after the 2012 crown, Tito Vilanova left straight after winning the 2013 league with Barcelona having been diagnosed with cancer (sadly dying the following April) and Luis Enrique exited Barca a year after the 2016 title.
Zinedine Zidane left Real Madrid this summer after three consecutive Champions Leagues - 12 months after leading Real to La Liga.
The managers to stay are Guardiola after 2010, Diego Simeone with Atletico Madrid after 2014 and Enrique after 2015. Ernesto Valverde won this year's league with Barca.
Serie A (three times)
Italy's figures are skewed by Juventus' dominance - they have won seven consecutive titles. Three times in the eight years has a title winner left within a year - but it is only two managers in question.
Mourinho left Inter for Real straight after the 2010 treble and Conte left Juve for the Italy job after the 2014 title - meaning he departed a year after the 2013 success too.
Massimiliano Allegri won the 2011 title with Milan - but lasted two and a half years before being sacked - and is still at Juventus having won the past four leagues. Conte won in 2012, as well as 2013 and 2014.
Ligue 1 (four times)
French football has seen four of the eight title winners go within a year (like Germany and Italy, two titles are counted for one managerial exit) - five of nine including this year's.
Rene Girard left Montpellier for Lille a year after their shock 2012 title, Ancelotti departed Paris St-Germain for Real Madrid the following year. Laurent Blanc left PSG straight after their 2016 success (having also won in 2015). Meanwhile, Unai Emery has already gone from PSG after winning this year's title, since joining Arsenal.
Didier Deschamps (Marseille, 2010), Rudi Garcia (Lille, 2011), Blanc (2014) all stayed for exactly two years after those titles and 2017 champion Leonardo Jardim is still at Monaco.