Phil Marsh: Rhyl striker released by text message from new manager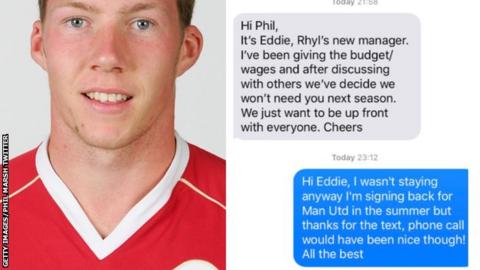 Sir Alex Ferguson sat Phil Marsh down in 2007 and told him why he was being released by Manchester United. Marsh's latest club did it this week by text message.
The striker left Old Trafford with first-team opportunities limited by the likes of Cristiano Ronaldo and Wayne Rooney.
Marsh went on to play for Blackpool, Forest Green Rovers and Salford City during his 20-club career so far before spending last season with Welsh second division semi-professional side Rhyl, whose new boss sent the text.
"It's not the first time I've been released but it's certainly the first time in this way," he told BBC Sport. "It's about decency. It's bad when they can't even pick up the phone.
"I would have respected them more if they called me in face to face but to just get a text - I was shocked. It's pretty bad really."
Marsh, who said other Rhyl players had received similar texts, replied to the message and published the exchange on social media.
"I was the last of our group to get the message so I texted Eddie back, tongue in cheek, and he didn't reply," he said.
"People have a perception of footballers as molly-coddled but I decided to tweet the text to show what it can be like at the lower levels. The response has been pretty sympathetic.
"I always respected Sir Alex for the way he went about it when I was released. He said it was for the good of my career with the quality they had and gave me genuine advice.
"Everyone deserves a bit of common decency."
Marsh made one senior appearance for United, when they beat Crewe Alexandra in the Carling Cup in 2006, three years after a horrific car crash almost ended his career.
The player, from St Helens in Merseyside, had played for United at every youth level and signed for Blackpool after being released aged 21.
A career in the lower leagues followed and he joined Rhyl last October, helping them to a sixth-place finish in the Cymru Alliance under Mark Connelly.
"We had a good end to the season and in the last five or six games I scored about six," he said. "But the manager resigned and the club brought in new people.
"New managers sometimes want a fresh start and to bring in their own people. It happens."
Marsh, who is a Uefa B-licenced coach, is exploring other options to carry on playing next season and wants to further his coaching career.
Maurice-Jones and a spokesman for Rhyl FC declined to comment.