Marco Silva: New Everton boss seeks 'great connection' between players and fans
Last updated on .From the section Everton512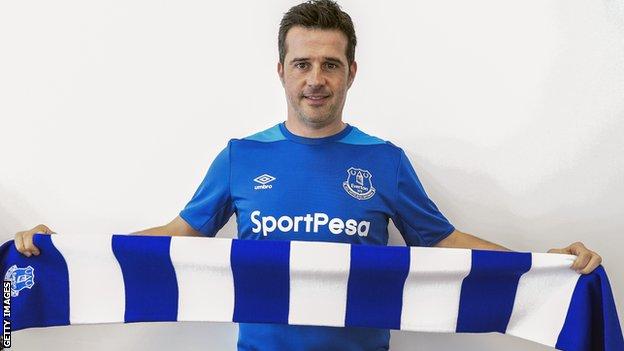 New Everton boss Marco Silva hopes to build a "great connection" between the players and fans after being confirmed as Toffees boss on a three-year deal.
The 40-year-old replaces Sam Allardyce, whose style of play came under constant scrutiny. He was sacked at the end of the season after six months in charge.
"I know what our fans expect - they expect results but not only results," Silva explained.
"I want our fans to be proud when they see our team on the pitch."
Everton finished eighth under Allardyce last term but their fans frequently expressed their displeasure at the lack of attacking flair under the former England coach, who replaced Ronald Koeman in November.
Silva insisted: "We want to build a great connection between the squad and the fans, and I'm sure that with our attitude and demands of commitment then our style of play will see that, I believe.
"Everton is a really ambitious club and that is what I want. What we are seeing now are good changes at the club. The club is changing its approach.
"But one thing we cannot change and nobody wants to change is the huge history and ambition of the club.
"Everybody knows Everton's history. When you are a club like Everton, you only have one solution - to aim to win.
"In football it is impossible to win every match but we must do everything to show in every game that we have ambition.
"I'm excited and I'm really happy to take this big challenge for us as a club and for me as a manager."
Everton's major shareholder Farhad Moshiri described Silva as a "young, dynamic, energetic and very modern manager".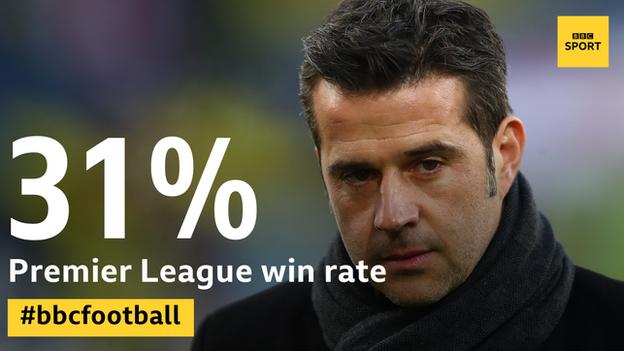 Moshiri added: "His abilities are underpinned by a strong footballing philosophy and a fierce work ethic.
"His enthusiasm in embracing Everton, our values and our ambitions has hugely impressed me, as I hope it will each and every Evertonian."
Marcel Brands, Everton's new director of football, said: "One of the most important things is that he's a guy who wants to play attractive, attacking football and also wants to work in the structure we have at Everton."
Silva will be joined by long-term assistant manager Joao Pedro, plus goalkeeping coach Hugo Olivera, technical scout Antonis Lemonakis and fitness coach Pedro Conceicao.
Everton have also confirmed their former striker Duncan Ferguson will continue as part of the coaching team.
Silva was sacked by Watford in January, with the Hornets blaming the decision on Everton's approach for the Portuguese in November.
The former Sporting Lisbon and Olympiakos boss spent four months at Hull in 2017 but left after they were relegated from the Premier League.
Two days after leaving Hull he joined Watford in May 2017 and took the team into the top four during his first few months in charge.
But he was dismissed after a dismal run that saw them win just one of his last 11 Premier League games.
The Hornets fiercely resisted the Toffees' approach and complained to the Premier League with a demand for compensation.
During his time in charge of Estoril Silva guided them into the Portuguese top flight and they qualified for the Europa League the following season.
In one season at Sporting he won the Portuguese Cup, and in his year at Olympiakos, who he also managed in the Champions League, he took them to the Greek League title.
Compensation row still to be resolved
Ian Dennis, 5 live senior football reporter
Everton have still not reached a compensation figure with Watford for what they view as an "illegal approach" for Silva.
The Premier League will be keen that the two clubs can find a solution without the need to take further action.
Analysis
BBC Sport's chief football writer Phil McNulty
Silva arrives after Everton owner Moshiri fine-tuned the foreign model he has always wanted for his management structure.
The owner's first attempt ended in failure when Steve Walsh came from Leicester City as director of football, his role bolted on to that of manager Ronald Koeman, who had already arrived from Southampton.
Their relationship never looked anything more than an arranged sporting marriage, resulting in a hotch-potch transfer strategy that never seemed coherent.
The result is both have now been sacked and the key director of football role is now held by Brands, who has a built a glittering reputation at PSV Eindhoven and AZ Alkmaar.
Brands will be calling the shots, in co-ordination with Silva, on transfer and overall strategy and he has already made it clear his role will be hands-on.
The Dutchman rubber-stamped Silva's appointment after insisting Everton must have a "modern" manager prepared to work with young players.
Moshiri, who simply cannot afford the failure of another key relationship at the top of club, will hope Brands and Silva find the harmony and success that appeared to elude Koeman and Walsh.