Frank Lampard: Derby County boss on taking risks, being his own man and not signing Messi
Last updated on .From the section Derby47
"Everything is a risk on both sides."
New Derby County boss Frank Lampard might be inexperienced but he is certainly not unprepared.
The former West Ham, Chelsea and Manchester City man has signed a three-year deal with the Championship side in what will be his first managerial position.
After more than two decades as a player he is keenly aware that his high-profile appointment will be under the microscope from the off.
"I don't have a management CV and don't proclaim to," he told BBC East Midlands Today. "Any job has its risk elements but you take them on and you do so with a positive nature.
"I am delighted that they have taken that risk and chosen me and I want to prove them right and get success."
But who is actually taking the bigger risk - Lampard or Derby County?
BBC Sport takes a deeper look into the job he faces, what has been going on at the Rams and why his appointment and that of Steven Gerrard at Rangers are "encouraging".
'The first year will be the hardest'
Former Chelsea and Scotland midfielder Pat Nevin told BBC Sport that Lampard will have done his "due diligence" before accepting the position.
On whether bringing Lampard in carried a greater risk than appointing an experienced manager, he said: "From the club's perspective there is a risk with a rookie manager, of course, but it's only slightly greater as long as he gets the support he needs.
"He needs to have people in place who can help if needed and it looks like he is doing that. But the club know he is totally committed. He has shown that throughout his career and was always a 100% player.
"The first year will be the hardest - that's something everyone says because it is such a big learning curve, so the club must be available.
"The structure has to be in place. Everyone needs to know the policy when it comes to acquisitions and if that is not settled from day one then they will have trouble brewing. I strongly suspect he has the promises in place."
'We won't be signing Messi'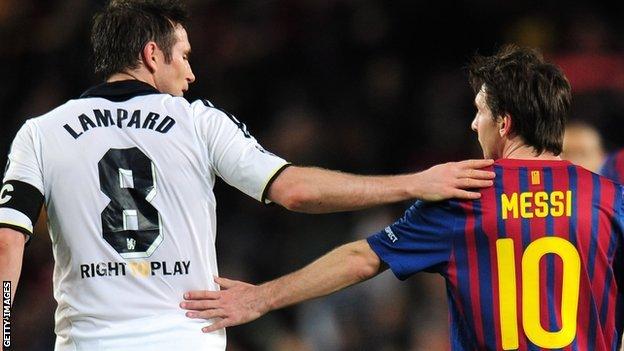 Lampard spoke confidently in his first news conference as Rams boss on Thursday afternoon.
He said that while he was not under an objective to achieve promotion in his first season, his ambition was to lead the club back to the Premier League.
After another failed bid to gain promotion to the top flight ended with a play-off semi-final defeat by Fulham, chairman Mel Morris acknowledged that Financial Fair Play regulations mean the club can not continue to spend as they have done in the past.
Lampard was seen at Monday's League Two play-off final at Wembley between Coventry City and Exeter City, leading one journalist to ask if that was the level of player he would be looking to bring in.
He replied: "I'm going to the World Cup but that doesn't mean I'm going to be signing Lionel Messi!"
The 39-year-old does not expect to make a lot of changes to a squad that finished sixth in the second tier in 2017-18.
"I won't change the fighting spirit and it would be wrong for me to sit and say 'these are the changes I want to make'," he said.
"I don't have a list as such, but I know about the players and I know the style of play I want. It will be an ongoing process. I'm not coming in here to fix something that is broken."
A great appointment - Redknapp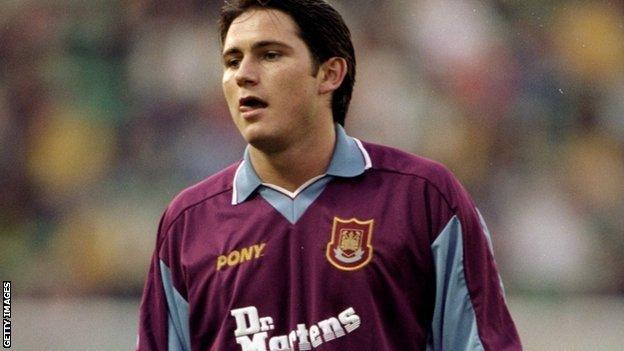 Lampard started his playing career at West Ham under Harry Redknapp.
The former Portsmouth, Tottenham and QPR boss, who is Lampard's uncle, believes the Rams have brought in the right man.
"It's a great appointment from Derby's point of view and a great opportunity for Frank," he told BBC Radio 5 live.
"He was a great player, a fantastic professional and trainer - without doubt the best I've ever come across. I think it's a good fit.
"He's a very intelligent and very bright lad who knows the game, so I don't think he'll have problems in the dressing room. The players will be delighted to have him as their manager."
As well as playing for veteran boss Redknapp, Lampard went on to work with a number of Europe's leading managers during his time as a player - including Sven-Goran Eriksson, Jose Mourinho and Carlo Ancelotti.
"I've thought about being a manager a lot because I had the pleasure of working with so many great managers," he said.
"I'm not a clone of any one manager I had. I'll make my own judgements and I'll be open. The players are all on a blank canvas with me."
What is the situation at Derby?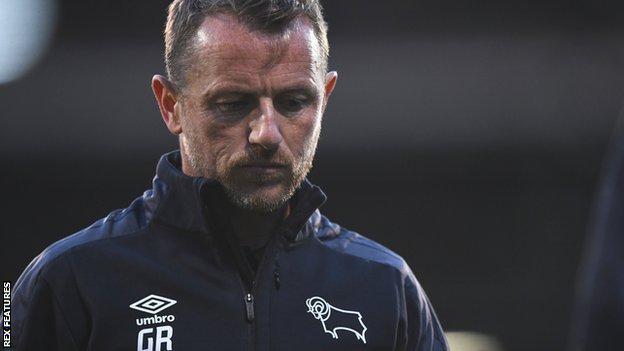 The Rams have finished in the top six of the Championship in three of the past six seasons.
However, the two-legged loss to Fulham after a sixth-placed finish in 2017-18 has signalled a big change at Pride Park.
Rowett's departure for Stoke perhaps suggests that he thinks the Potters - and their Premier League parachute payments - are a better bet than the Rams, who will have to look to balance the books.
Lampard may not be under immediate pressure to deliver promotion in 2018-19, but he will no doubt be aware that the East Midlands side have gone through six managers since sacking Nigel Clough in September 2013.
Former Chelsea and Aston Villa midfielder Andy Townsend believes Lampard will have sought assurances before taking on the job.
"I think Frank will want to emulate what Gary Rowett's done and will want to get to that sort of situation," he told BBC Radio 5 live.
"Once he heard of their interest, his immediate thought would've been 'why have other managers decided to either leave or been sacked so quickly?'
"That would've been his biggest concern going to work somewhere where it's quite volatile.
"As a new manager going in, Frank would've wanted to find out where the lines would be drawn and as long as those don't get blurred and he agrees all that with the owner, he should be fine."
Gerrard v Lampard... Again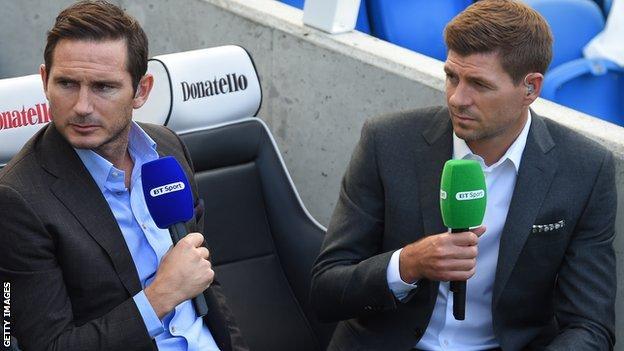 Football fans of a certain vintage will have very, very vivid memories of the endless conversations, columns and TV debates about whether Steven Gerrard and Lampard could play in the same England team.
For more than a decade the discussion rumbled on over whether the two talented midfielders could be played in a way to complement one another.
Ultimately both players finished with over 100 caps for the Three Lions but failed to bring any success beyond the quarter-finals of major tournaments.
It is perhaps fitting, then, that both should start their managerial careers at the same time after Gerrard was appointed Rangers boss on a three-year deal earlier this month.
Like Lampard, the former Liverpool captain faces a huge task as he bids to end Celtic's domination of the Scottish Premiership after they recorded their second successive domestic treble.
Former England full-back Graeme le Saux, who played alongside Lampard for Chelsea, is hopeful both players can carry over their playing success into their managerial careers.
"It's exciting to see Frank and Steven going into management at the same time," he told BBC Radio 5 live.
"That generation of players are now looking at football management and starting to improve the depth of English managers coming into the system.
"Hopefully they can be successful and that creates an environment where people will be encouraged to get into that side of the game.
"It's good to see the level of experience that Frank and Steven have had as players - I really feel that's going to help them in their journeys through management."
Additional reporting by BBC Sport's Owen Phillips