Kilmarnock: Billy Bowie aims to mount Premiership title challenge

By Jonathan Sutherland
BBC Scotland
Last updated on .From the section Kilmarnock
Kilmarnock director Billy Bowie is aiming to build a club capable of breaking the traditional league dominance of the Old Firm.
No club other than Celtic or Rangers has won the title in Scotland since Aberdeen in 1985.
But Bowie is a man who knows about making it big from modest beginnings.
Asked if Kilmarnock could challenge, he said: "I would like to think so. We have to be modest. It would be great if we could do it next year."
Bowie has gone from starting a waste disposal operation with just one truck to building a business worth £20m.
Now he hopes to grow Kilmarnock in a similar way that would, one day, see them challenge at the top of the Scottish game.
"This is a big stadium, a 19,000 stadium," he told BBC Scotland. "Slowly, we are getting there - season-ticket sales are going great at the moment.
"If we can start to fill the stands here, do more commercial work, raise more funds towards the club, then the more we can improve the player budget."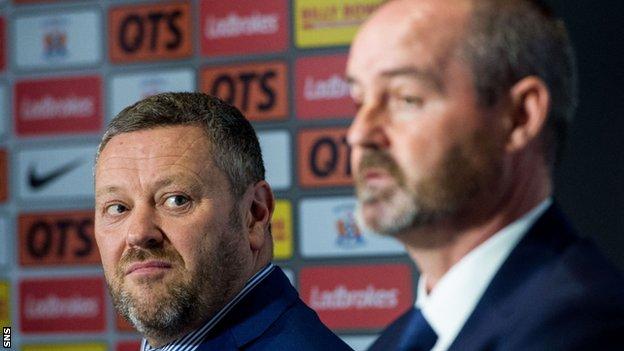 But, in reality, can a side like Kilmarnock - or Aberdeen, Hearts, Hibs - really aspire to break the stranglehold the Old Firm has had on league football in Scotland for the past three decades?
"We have really just got to see how we play, how the other teams have fared up," Bowie said.
"Every year, turnover has grown, employment has grown within the club. Our media department has three people in it. When I came there was one guy sharing media and hospitality.
"We've got the backroom staff, we've refurbished the gym, we've got a sport scientist.
"The way I look at it, we have got all the tools for the job. We need to make sure all the facilities are there for the players. Every year we're going to build on that."
Although his ultimate ambitions are big for Kilmarnock, it is clear Bowie's feet do still remain on the ground. For now, simply surviving in the Premiership is the immediate aim.
"We need to stay modest," he said. "The other teams out there have got to up the ante and raise their game. It will be very competitive next year but, ideally, we'll finish top six.
"My strategy with my own business is that, year on year, we grow by 10%. Ideally, I would see that as being something achievable here at Rugby Park as well."
Last season was almost revolutionary at Kilmarnock. Gone is the doom and gloom that clouded the air while the unpopular former chairman Michael Johnston reigned supreme.
Steve Clarke then arrived and took a failing side off the floor of the Premiership to fifth place - Kilmarnock's highest league finish in seven years.
Bowie positively brims with enthusiasm as to what he sees as the possibilities at Kilmarnock. It's an optimism fuelled by what he has already achieved in his business life and good old-fashioned community spirit.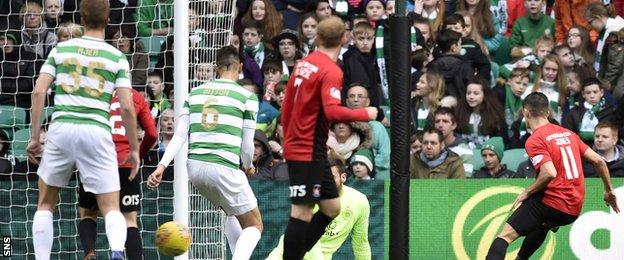 "I'm very community minded. I love doing things for the community," Bowie said. "I'm buzzing with ideas for other things to help other junior football clubs out as well.
"I like helping. I like doing things that I can do. It's not all money either, a lot of the time it's just giving up a bit of time.
"Really, I just felt I had to do something for the football club - and even Kilmarnock.
"Kilmarnock had lost Johnnie Walkers. They used to have carpet factories here and this was a major employer, and one thing that couldn't happen here was for Kilmarnock to lose its football club."
Bowie's own success story is about steady progress. Building things from the ground up seems to be the Bowie mantra from his first days in business in the early 1990s.
"I saved up £5,000 and went out and bought one truck, refurbished it in 1991, and went out driving that myself doing industrial cleaning and whatever you could do with a tanker - cleaning up floods, drains," he recalled. "One truck led to two trucks, two led to four.
"In 2000, I bought a site in Moorfield, because at that time I had 40 trucks and I was upsetting the neighbours because I stayed on a C-class road.
"Since 2000, it's just helped us grow again to the extent that Moorfield was a 10-acre site and we've outgrown that as well. So, every year, I like enhancing things. I don't like to stand still.
"So, from one truck in 1991 to where I am now, it's been a fair whirlwind."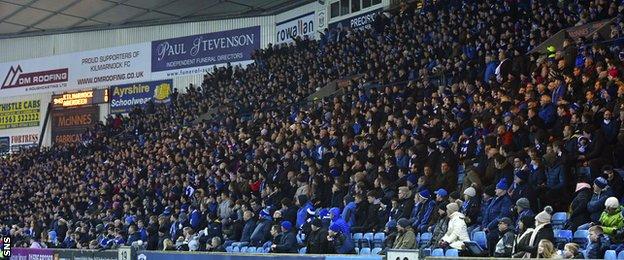 It's maybe not quite a whirlwind yet at Kilmarnock, but there is now certainly a sense of breezy optimism in the air.
Bowie is aiming to sell 4,000 season tickets this summer - that would be a rise of a third on last season. Money from that would be used to increase Clarke's playing budget.
Plans are also afoot to have a bespoke training centre up and running within the next 12 months.
The club is no longer in a position where it has to sell prize assets, as they did with striker Souleymane Coulibaly, with hopes still high that midfielder Youssouf Mulumbu will stay with the club for next season.
But what about the manager?
"I'm confident he'll be here the next two years, unless a bigger club come along and give him an offer he can't refuse," said Bowie. "But, to be honest, he's happy here. The fans love him.
"Sometimes you have to take all that into consideration - the feel-good factor and the respect he's got - and everything seems to be going the way he wants things to go."