World Cup 2018: BBC to show tournament in Ultra HD & virtual reality
Last updated on .From the section World Cup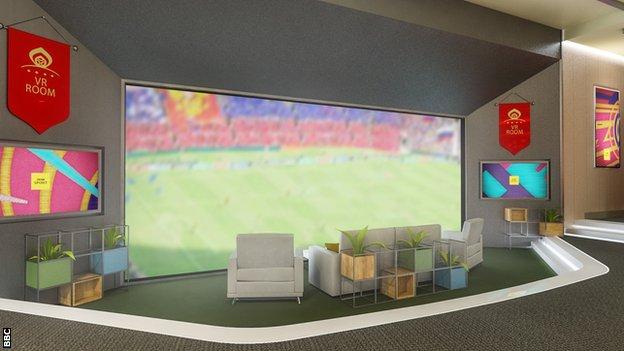 Fans will be able to watch this summer's Fifa World Cup in Russia in Ultra HD and virtual reality as BBC Sport trials cutting-edge technology.
Users will be transported to a fully immersive stadium experience, through headsets, as if they are sitting in their own hospitality box.
All 33 matches broadcast by the BBC will be available for free on BBC Sport's VR 2018 World Cup app.
And the 29 matches on BBC One will also be available in Ultra HD.
Ultra HD TV can be accessed through a high-speed internet connection and will be available on a first-come, first-served basis.
The HD stream will be available from the BBC iPlayer home screen as soon as programme coverage begins but the number of users granted access will be limited to "tens of thousands of people".
Matthew Postgate, BBC chief technology & product officer, said: "From the very first tournament on TV in 1954 and England's finest hour in 1966, to the first colour World Cup in 1970 and then full HD in 2006, the BBC has brought major live broadcasting breakthroughs to UK audiences throughout the history of the World Cup.
"Now, with these trials we're giving audiences yet another taste of the future."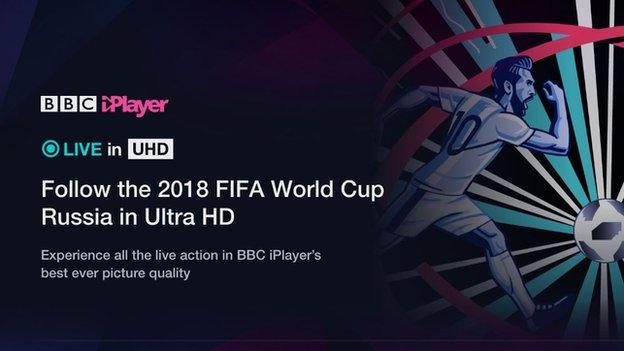 Analysis
Leo Kelion, BBC Technology desk editor
The term 4K - which is sometimes referred to as being ultra-high definition (UHD) - refers to the fact that an image contains four times as many pixels as a 1080p high definition picture.
This can reveal details that would otherwise be obscure - including the notes written on a yellow or red card, or the time on a referee's watch.
The technology takes advantage of the fact modern TVs can go brighter and/or darker than they used to, providing a greater dynamic range.
As result, the shadows of an image can be made less murky while the highlights - including glints of light reflected off metal or water - can be given more impact.
To enjoy the optimum experience, the BBC says audiences will need a 40 megabit per second (Mbit/s) internet connection - which is faster than that to which most households have access.
Those with slower download speeds may find they are provided a lower-resolution image.
VR will be made available closer to the time on iOS and Android devices, as well as the Gear VR, Oculus Go and PlayStation VR headsets.
It will allow users to switch location to get the view from a "luxury private box" on high or from behind either of the two goals.