Tottenham may look to play opening games of next season at Wembley
Last updated on .From the section Tottenham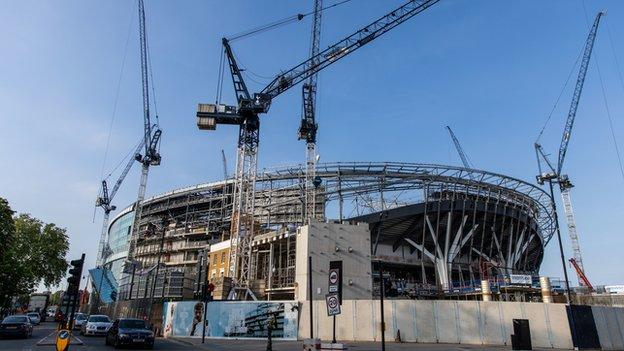 Tottenham will need the agreement of the Premier League board if they want to carry on playing at Wembley for part of next season.
A deadline for Spurs to tell the Wembley authorities whether they want to continue using the stadium has been pushed back to the middle of June.
That is to coincide with the fixture announcement for the new campaign.
Spurs' new home is close to completion but they have yet to confirm if it will be open for the start of the season.
Chairman Daniel Levy has repeatedly stated the ground, built on land adjoining their previous home at White Hart Lane, will be ready to use next season and an NFL game is scheduled there for October.
BBC Sport understands the plan remains for the ground to be in use in August, when at least one of the three test events that must be held before the ground is granted a safety certificate is scheduled to take place.
In recent years, both Liverpool and West Ham have been given permission to play their first few games away from home because of work at their own grounds.
Next season, there will be a minimum of four Premier League matches played prior to the first international break in September and it is envisaged there would be no problem should Spurs request that each those games be played away.
But Premier League rules forbid clubs using two stadiums as home grounds, should the building work drag on until September.
Therefore, if Tottenham were to require special dispensation to use Wembley for an additional period next term, while still planning to relocate, it would require approval from the Premier League board.
In theory, this could be requested at any stage, although once the fixtures are out, the situation becomes problematic due to clubs being able to sell tickets for matches and also the demands of broadcasters.