Jack Ross: Sunderland manager will wait to decide big-earners' futures
Last updated on .From the section Sunderland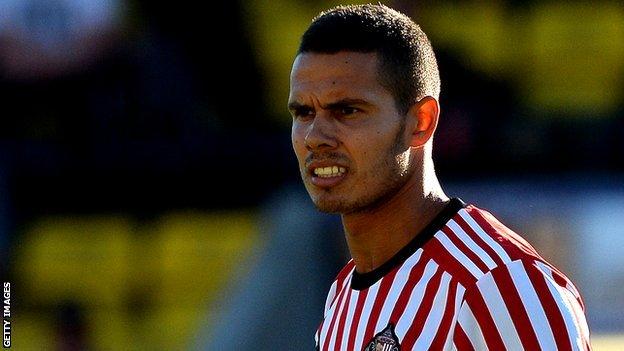 New manager Jack Ross will take time to assess the future of Sunderland's high-earners - such as Jack Rodwell and Lee Cattermole - as he builds a squad to challenge for promotion in 2018-19.
Ross, 41, takes charge of a group who, after back-to-back relegations, begin next season in League One.
However, with those players the Wearsiders are still shouldering a wage bill akin to a Premier League club.
"They're no different to any other players at the moment," said Ross.
"There are players who have been at the club from Premier League days. Players have to consider - do they want to play in the league? Can they be successful? Because ultimately that is what it is.
"For me coming in there are grander ambitions, but first of all we have to get out of this league. This job is to build a squad that will cope with that challenge."
While Cattermole was a relative regular for the Black Cats last season, Rodwell featured just three times for the first team and his current salary has only just been cut through clauses to a reported £40,000-per week.
Ross has said he will make an assessment of the squad over the coming days, after he was officially introduced to the media on Thursday.
The decision surrounding players could be decided by financial constraints rather than footballing reasons, although the former St Mirren boss is aware of the circumstances.
"It's really about us reflecting on what we need and what we can have, which are two different things," continued Ross. "As the manager you could ask for the stars and might only get halfway there.
"Coming in with owners who are very supportive is great but knowing what squad we'll end up with on the first day of pre-season is hard to predict.
"We've got a decent amount of time before now and then, so it'll be a busy period before we get that in place."
"Overhaul doesn't faze me"
Ross believes he is in an ideal position to react should there be departures at the Stadium of Light, given his track record.
He has enjoyed an upward curve since entering management at Alloa, leading them from the foot of the table towards promotion, and then achieving the same feat at St Mirren to secure the Championship title this season.
"The turnover of players for a manager during a window is something people on the outside may view as challenging," added Ross. "But with the circumstances of the jobs I've had to date I've had to do that.
"With my first job at Alloa, the nature of part-time football players is they sign one-year contracts so every year you have to rebuild your squad, so I've had experience of that and it doesn't really faze me.
"Recruitment is so key, and my role is to bring them together and get them to buy into what we want to do.
"Any high turnover of players, if that happens, doesn't trouble me. It's about backing my abilities to then get the best out of them when I get them together."