Scotland: Scott McKenna determined to give fans reason to party

By Alasdair Lamont
BBC Sport with the Scotland squad
Last updated on .From the section Scotland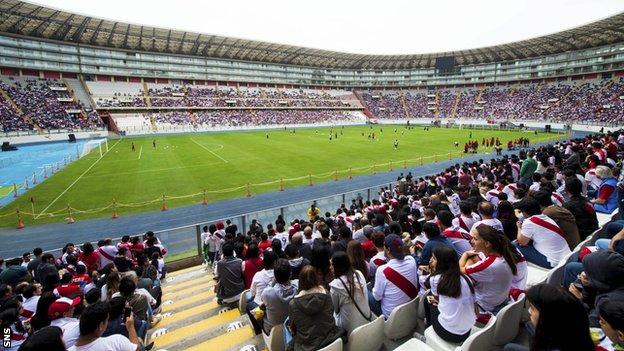 Scott McKenna says Scotland "have to" qualify for a major finals after seeing what it means to supporters in Peru.
On Wednesday Scotland lost 2-0 to Peru, who have qualified for their first World Cup since 1982.
And McKenna, who won his third cap in Lima, has been knocked out by the reaction from the locals.
"We have to get Scotland to that place where everyone is at Hampden, having a party before we go off to a major tournament," said McKenna.
"It was the whole atmosphere during the week. We went out to the coffee shops across from the hotel earlier in the week and were mobbed for photos, the sheer love of football out here is incredible.
"I am not sure if we were back home and the Peru team were walking around a shopping centre they would get the same amount of attention.
"On the bus to training, people were stopping their cars to take photos of the bus, it was incredible."
Alex McLeish's side have remained in Lima to train ahead of the weekend friendly with Mexico, as the training conditions are more preferable in Peru.
The squad fly to Mexico City on Friday night, and McKenna anticipates more World Cup fever when they arrive.
The Aberdeen defender said: "Tuesday night's atmosphere was incredible and the Azteca is double the capacity from the Estadio Nacional and it is their last game before they go to the World Cup, so it will be even better and it is something that all the boys have got to look forward to and enjoy.
"A positive result would be good, but as it is a young squad it is important that we put on a good performance."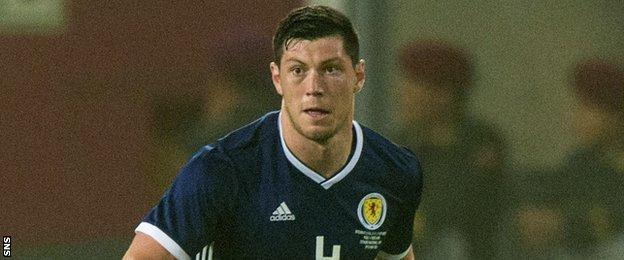 The temperature in Mexico City during the game is likely to be in the high twenties, with the added difficulty of altitude - the Azteca Stadium is 7,200 feet above sea level.
Cardiff City's Callum Paterson says the extended period the squad has had together has been of huge benefit.
"It's going to be hard to play in, but we're looking forward to it and we relish every challenge. You're here to play for your country - it's a massive achievement, a massive honour," said Paterson, who could win his ninth cap in the Azteca.
"It's gelled a lot (the squad). Sometimes inexperience works in your favour. There are a lot of boys with a point to prove. It's good to have a bit of youth and experience."